Does that jar of sauerkraut you just made – or bought – still sit in your refrigerator untouched?
Do you feel guilty knowing about all the health benefits of sauerkraut that are just one impossible bite away?
Do not despair. You are about to learn endless, easy ways to eat that delicious sauerkraut.
Don't have a jar of sauerkraut in your refrigerator? Learn how to make some with my proven method using this photo-rich recipe with numerous tips:
How to Make Sauerkraut In a Jar in 7 Simple Steps [Healthy, Flavorful, Easy]
General Tips & Tricks for Adding Sauekraut to Your Diet

Keep It Simple
First off, when looking for ways to eat sauerkraut, keep it simple. Eat some right out of the jar. Add a forkful to a salad. Or, place a bit of sauerkraut on your dinner plate.
You don't need an elaborate recipe nor do you need to eat a massive quantity to speed up your digestion or improve your health. Just one forkful of sauerkraut is teaming with enough beneficial bacteria to make noticeable, positive changes in your digestion.
As I see it, every day you do one of two things: build health or produce disease in yourself. – Adelle Davis

– Adelle Davis
Go Slow
Sauerkraut is rich in beneficial bacteria. If this is the first time for you to consume sauerkraut, start with just a small forkful so that you are not introducing more probiotics into your gut than it can handle.
How much sauerkraut should you be eating each day? Check out this infographic and post.
Sauerkraut Too Salty?
Just before eating, you can give your sauerkraut a quick rinse. This will wash off some but not all of the beneficial bacteria.
Save That Brine
If you're lucky enough to still have brine when you get to the bottom of a jar, drink its probiotic-rich goodness, use it in place of vinegar in a salad dressing, or pour it into another finished ferment in your fridge.
Avoid Heating Your Sauerkraut
If you want to enjoy the benefits of your naturally fermented sauerkraut, don't destroy the good enzymes and probiotics by heating it. It's fine to stir sauerkraut into a warm bowl of soup or sprinkle on the top of your meal.
If you're concerned that you'll never be able to eat your favorite sausage and sauerkraut cooked dish, don't despair. Just have some raw sauerkraut along with it. The best of both worlds.
This post focuses on ways to eat sauerkraut that doesn't involve cooking it. For cooked dishes, Taste of Home has a nice selection here.
FUN FACT:
The word "sauerkraut" is from German Sauerkraut which literally means "sour cabbage." From sauer "sour" + kraut "vegetable, cabbage."
See 51 Fascinating Facts About Sauerkraut and Cabbage [WHO KNEW?] for more interesting tidbits about sauerkraut.
Now, on to my growing list of easy ways to enjoy mouthwatering sauerkraut.
Enhance the Flavor of Any Meal or Snack
1. Sauerkraut as a Condiment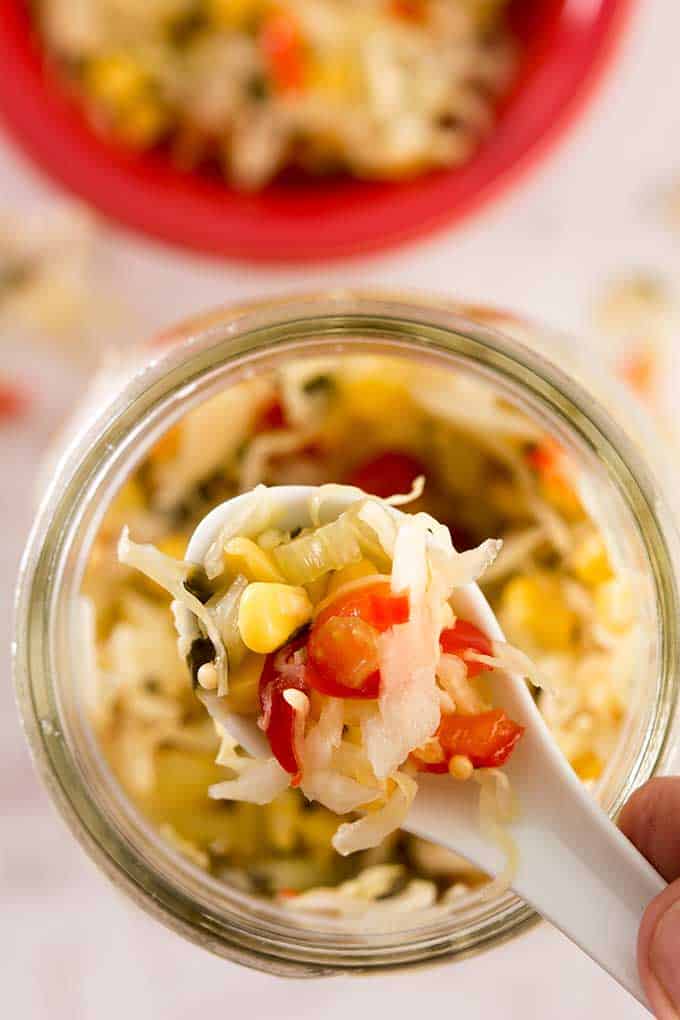 The easiest way to add sauerkraut to your diet is as a condiment to your main meal. This is how I eat 99.9% of my sauerkraut.
As you're setting the table, put your jar of sauerkraut out, leaving it in the quart jar that is was fermented in, and add a forkful or two to your plate. It pairs well with almost anything, aids in digestion, especially protein and fats, and contains many vitamins, antioxidants, and enzymes.
Don't like cold sauerkraut? Try to remember to pull it out of the refrigerator as you begin to prepare the meal. Or, I find if I place a serving of sauerkraut on my plate at the beginning of the meal, it has lost its chill by I time I'm ready to indulge.
2. Sauerkraut Straight Out of the Jar
Grab a fork and dig it. That simple.
3. Sauerkraut as a Topping for a Cheese Spread
Other of my favorite ways to eat sauerkraut is to take a slice of bread or favorite cracker, spread with cream cheese or goat cheese and top it with a bit of sauerkraut.
Also nice is to spread cream cheese on a slice of deli meat, add some sauerkraut and roll up into a tasty and satisfying snack.
4. Sauerkraut Avocado Boat
Cut an avocado in half. No need to peel; that's your bowl. Top with a large dollop of sauerkraut and dig in. An all-star snack with healthy fats from the avocado and the probiotics from the sauerkraut.
5. Sauerkraut to Ward Off the Flu
Tell-tale signs of the flu coming your way? It can't hurt to try a few bites of sauerkraut. Even just a few sips of the brine can help. British sailor Caption James Cook was famously credited with conquering scurvy (vitamin C deficiency) by bringing barrels of sauerkraut with him to sea and feeding it to his crews daily.
6. Sauerkraut as a Quick Pick-Me-Up
Have that afternoon slump and wish you could take a nap? Try a few bites of sauerkraut – yes, you can eat it right out of the jar – and see if you are soon re-energized.
7. Sauerkraut as a Hangover Cure
This article over at Russian Sauerkraut explains why the use of sauerkraut and sauerkraut juice work so well to cure a hangover.
8. Pasta a la Sauerkraut
Sauerkraut can also be stirred into pasta where it creates a whole new flavor profile and I find, takes away the "heaviness" of the pasta and aids in its digestion.
9. Add Sauerkraut to a Smoothie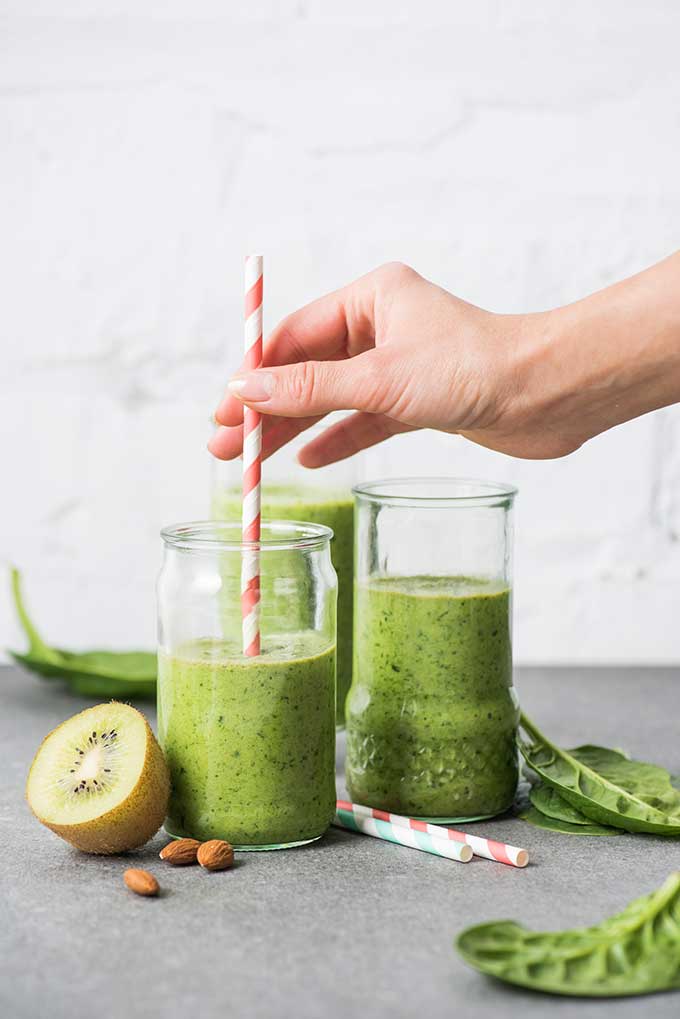 Add 1-2 tablespoons of sauerkraut to your favorite green smoothie recipe and blend well. Most will not even know that probiotic goodness is in there.
10. Cream Cheese and Sauerkraut Dip
This is an easy dip recipe to toss together for unexpected guests but is best if it can be made the day before needed.
Mix one cup of sauerkraut with 6-8 ounces of cream cheese, adding brine to achieve the desired consistency for dipping fresh vegetables or spreading on crackers.
11. Nori Rolls
Just the ingredients in this recipe for Raw Vegan Parsnip Rice Nori Rolls make my mouth water: Miso, shredded parsnip, avocado, trail mix, and cayenne. Adjust the recipe to personal preference and what ingredients you have on hand.
FUN FACT:
Sauerkraut is high in digestive enzymes that help to break down starches, proteins, and fats.
Make an Almost Instant Salad
Sauerkraut adds a nice zing to any salad. Go simple and just throw together what you have on hand or raise the flavor bar and take advantage of the suggestions that follow.
Flavor Note: I recently raised the bar on my choice of olive oil after listening to the podcast The Genius Life 31: How to Buy the Best Extra-Virgin Olive Oil | Nicholas Coleman, by Max Lugavere. Experience the power of high-quality olive oil.
12. Sauerkraut in a Tossed Green Salad
Tear up some lettuce leaves, add a few forkfuls of sauerkraut along with some brine, a splash of olive oil, a squeeze of lemon and a few grinds of black pepper. For a more fulfilling salad, add some chunks of cheese or leftover meat slices.
See Delicious Sauerkraut Salads with Local Vancouver Island Ingredients for two recipes using Passion Pink Sauerkraut, one that includes scallops.
13. Mango-Kimchi Salad
Or, notch it up with this salad idea. Peel and dice both a mango and an avocado. I like to use a whole mango and just half of an avocado. Add the juice of one lemon. Stir in one-half cup of Kimchi-Style Sauerkraut, and eat to your heart's content!
14. Persimmon Sauerkraut Salad
One of my readers likes to mix sauerkraut with persimmon for another delicious combination.
15. Sauerkraut with Kalamata Olives & Avocado
Mix sauerkraut with avocado chunks and kalamata olives. Delish!
16. Beat the Winter Blues with this Fermented Beet and Orange Sauerkraut Salad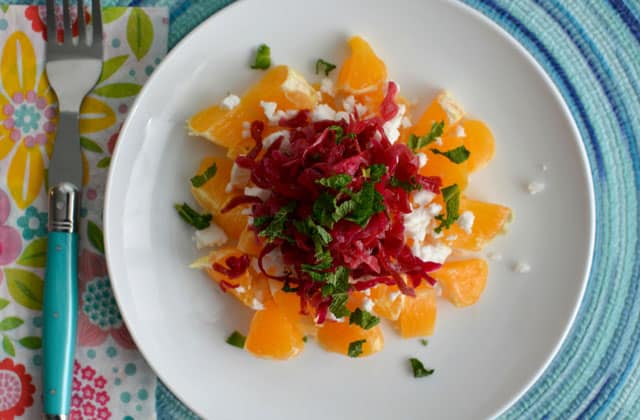 I have a detailed recipe for this salad here. It uses a peeled and chopped orange, some feta cheese, a few slices of fresh mint, and Passion Pink Sauerkraut. Ruby-Red Red-Cabbage Sauerkraut Recipe [Triple the Power] would also work well.
17. Fresh Carrot Slaw
Toss together some grated carrot, chopped parsley, and your favorite sauerkraut, perhaps Ginger Carrot Sauerkraut. Add some toasted nuts for crunch and you're set.
This is a great way to introduce sauerkraut to the hesitant. The sweetness of the carrots takes away the bite of the sauerkraut.
18. Tuna, Egg, Chicken, or Potato Salad Addition
Simply add sauerkraut – or replace the pickles/pickle relish – in your favorite recipe for tuna, egg, chicken, or potato salad.
19. Best Sauerkraut Salad
If you're looking for an actual recipe, this one from Stacie at Simply Stacie should fit the bill. Photos and simple, delicious ingredients.
20. Easy Sauerkraut Salad with Mango and Almonds from Happy Kitchen
These nutrient-packed ingredients make a powerful detox salad that is raw, revitalizing and simple while being incredibly flavorful and refreshing at the same time. You can put it together in 5 minutes and it makes a great lunch or starter. It's also portable, so you can easily take it with you to your office for lunch as well.
Easy Sauerkraut Salad with Mango and Almonds from Happy Kitchen
21. Ginger Carrot Sauerkraut Salad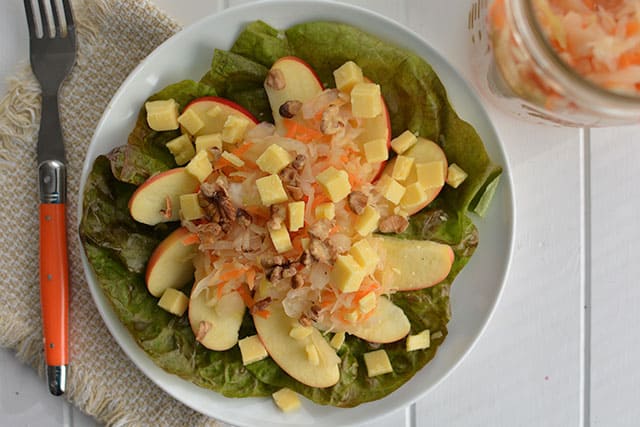 Chop – or slice – an apple into your serving bowl. Add some cubed cheddar cheese and Ginger Carrot Sauerkraut. Toss and top with toasted, chopped walnuts. Sure to please even the pickiest of eaters.
FUN FACT:
Sauerkraut is a time-honored folk remedy for canker sores. It is used by rinsing the mouth with sauerkraut juice for about 30 seconds several times a day, or by placing a wad of sauerkraut against the affected area for a minute or so before chewing and swallowing the kraut.
Add to a Sandwich, Wrap, Lunch Bowl, Quesadilla, Burrito, or Noodle Bowl
Sauerkraut adds a pleasant zing to any sandwich, wrap, taco or burrito. No matter what you put in there – veggies, cheeses, meats, relishes – a few forkfuls of sauerkraut will bring flavors to a new level.
To avoid creating a soggy mess, use a fork to remove sauerkraut from the jar, letting the excess brine first drip off.
22. Sauerkraut Layered in a Sandwich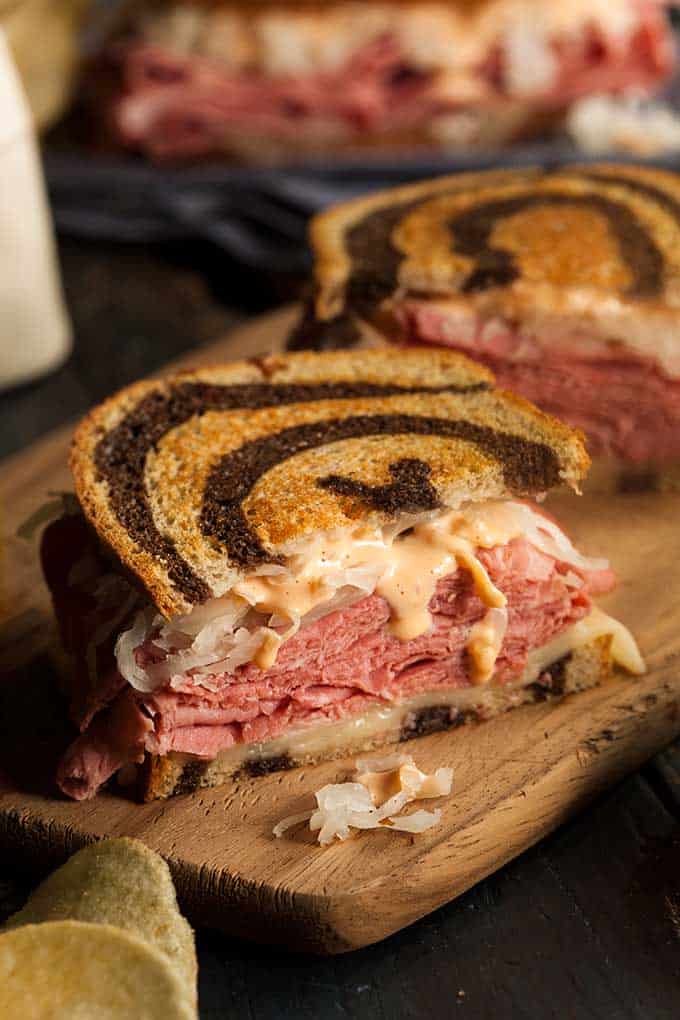 Make a boring sandwich scrumptious by adding a nice layer of sauerkraut to it, the classic being a Reuben Sandwich. To avoid a soggy sandwich, let the brine dribble off the sauerkraut before adding.
23. Try an Almond Butter Dill Sauerkraut Sandwich
Tracy (Cowichan Station, British Columbia) says her boys loved this combination when they were on a wheat-free diet.
Use rye bread (the kind sold in brick-like dense packages, double wrapped to last a year), preferred nut butter and dill sauerkraut. Make a sandwich, spreading nut butter on both slices of bread and add one layer of sauerkraut. Place in a heated skillet with a little bit of butter and fry on both sides until golden brown. Devour wildly!
24. Quesadilla Double Decker
Use two tortillas. Top one tortilla with your favorite ingredients – salsa, avocado, and diced sweet & spicy peppers, perhaps. Sprinkle on some cheese. Top another tortilla with just cheese. Bake both until melted and browned. Add some sauerkraut to the tortilla with all the other ingredients and top with the cheesy tortilla (cheese face down). Slice into pizza wedges.
25. Peanut Butter Delux
Now, this sounds good to me…
I have become an absolute lover of sauerkraut and one of my favorite things is thin grainy toast with sugar-free peanut butter and a healthy layer of sauerkraut. (Don't knock it until you've tried it. 🙂
Ann-Maree, Living Foods Lifestyle New Zealand

26. Upgraded Avocado Toast
It's perfect as a filling snack or mini meal – I love serving this kraut snack on gluten free bread as an "upgraded" avocado toast. This is also a great little dish for my kraut newbies; the avocado really mellows its flavor.
Robyn over at Your Healthiest You has a simple recipe for avocado toast.
27. Avocado Breakfast Toast
Toast a slice of bread to your liking. Fry an egg. Mash half an avocado onto toast. Add a few forkfuls of sauerkraut, letting excess brine drain into the jar, and top with egg. Season with salt and pepper.
28. Kimchi Noodle Bowl
Noodle bowls are a quick, healthy and delicious meal and an easy way to add some probiotic power to a dish.
29. Peanut Butter Kimchi Sandwich
A popular menu item at the Gyst Fermentation Bar is a peanut butter sandwich with one key ingredient.
Toasted focaccia roll + peanut butter + Kimchi + sliced green scallions + toasted peanuts.
I'm ready to move to Minneapolis just so I can support this tasty endeavor. Gyst Fermentation Bar
FUN FACT:
Sauerkraut originated nearly 2,000 years ago in ancient China. In summer, slaves building the Great Wall of China lived on cabbage and rice. In winter, the cabbage was preserved with rice wine which soured the cabbage to keep thousands of laborers healthy in the worst of conditions.
Use as a Classic or Not-So-Classic Topping
30. A To-Die-For Pizza Topping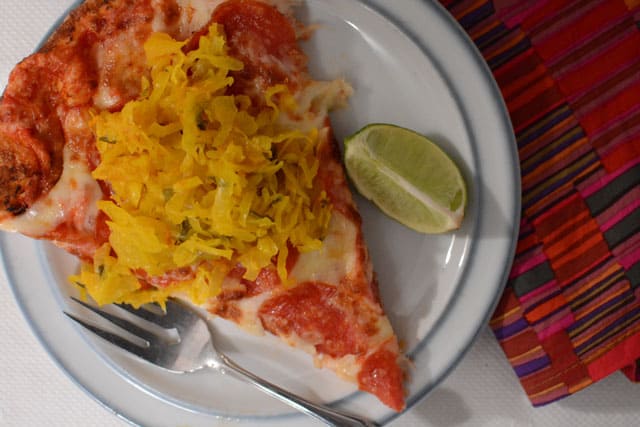 Hawaiian Sauerkraut (A favorite in my eBook: The SureFire Sauerkraut Recipe Collection.) is to-die-for as a topping on pepperoni pizza, but any combination will work. Don't knock it until you've tried it.
31. Sauerkraut on a Hot Dog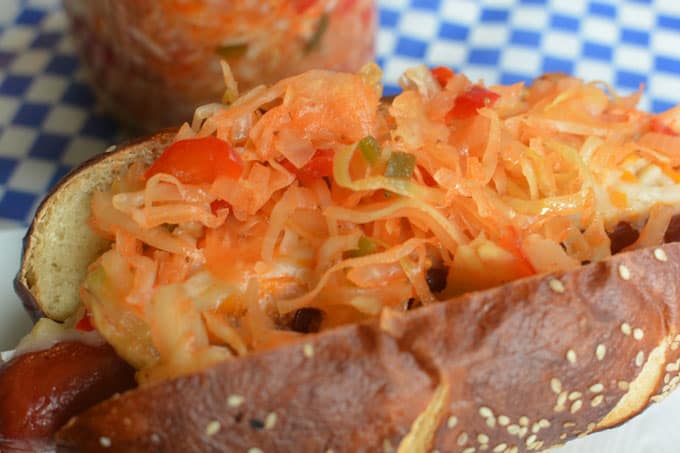 Another easy way to eat sauerkraut is no simpler than that steamy hot dog topped with sauerkraut for the classic combination! Try Baseball Park Sauerkraut, a relish-like sauerkraut perfect for the onion lovers in your family.
32. An Amazing Hamburger
From one of my readers…
I just had to share with you an amazing sauerkraut combination I had for dinner last night. I did a hamburger patty on the grill, topped with Swiss cheese until it was soft, then added a squirt of Dijon mustard, and topped it off with sauerkraut. Yum!!!

33. Sauerkraut to Add a Nice Zing to Scrambled Eggs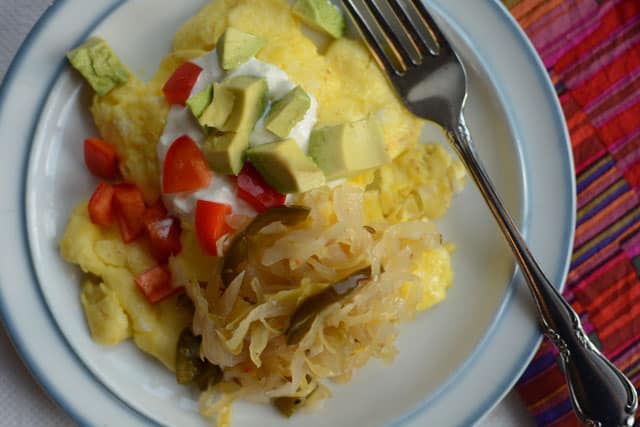 An easy way to eat sauerkraut first thing in the morning is to mix it in with your eggs. Try some spicy Kimchi sauerkraut and top with sour cream.
Or my latest creation, Firecracker Sauerkraut, sour cream, chopped avocado, and diced sweet red pepper.
Firecracker Sauerkraut Recipe
Jalapeño + red onion + oregano + cumin + red pepper flakes = Simply Delicious!
34. And Don't Forget Your Pets
Also from Bonnie…
I have 3 dogs: a 95 pound Golden Retriever, a 20 pound little white mop of a mutt, and a 10-pound Cairn Terrier– and they all love raw sauerkraut! Every time I have some with a meal, they all beg for it!

FUN FACT:
In order for the German immigrants who landed in New York City in the 1860s to make a living, they began selling their sauerkraut with sausage and milk rolls from pushcarts in the Bowery section. Eventually, the bun and sausage combination became a treat commonly known as hot dogs. To this day, a New York style hot dog is served with sauerkraut.
Which way sounds best to you – on your dinner plate, in a sandwich, on a salad?
Pick one, and enjoy a forkful of probiotic-rich sauerkraut with a meal today!
And… if you need to buy some sauerkraut, grab my handy guide.
Buy the Right Stuff! FREE Download
Use the button below to get your own printable Sauerkraut Shopping Guide.
Good Foods for You and Your Gut Buddies
Now that you know so many delicious ways to eat sauerkraut, there is so much more to explore.
Share your favorite way to eat sauerkraut in the comment section, below. I'll add them to this post as they come in.