Jump to Recipe
Baseball season or not, one can always use a flavorful, relish-like sauerkraut recipe to add a special zing to a freshly grilled hot dog, barbecued hamburger or just about anything.
When adding sauerkraut to a protein-rich meal, not only do you get the usual benefits – better digestion, increased nutrition, and support of your immune system – but the probiotics in sauerkraut greatly aid in the digestion of protein. A win-win situation.
If you're not a fan of onions, don't despair that this sauerkraut recipe calls for two whole onions. The finished product doesn't taste strongly of a pungent onion. The fermentation process mellows the onion flavor, which then blends well with the sweet red pepper and the spicy jalapeno to bring up memories of eating a relish-topped hot dog at the ballpark.
Baseball Sauerkraut is just one of many sauerkraut recipes found on my site. Passion Pink? Sweet Garlic?
Note: If this is your first time to make sauerkraut, use my teaching recipe: How to Make Sauerkraut In a Jar in 7 Simple Steps [Healthy, Flavorful, Easy], with its step-by-step photography, tips, and additional fermentation information first, then return to this recipe.
Notes and Tips to Get You Started on Baseball Sauerkraut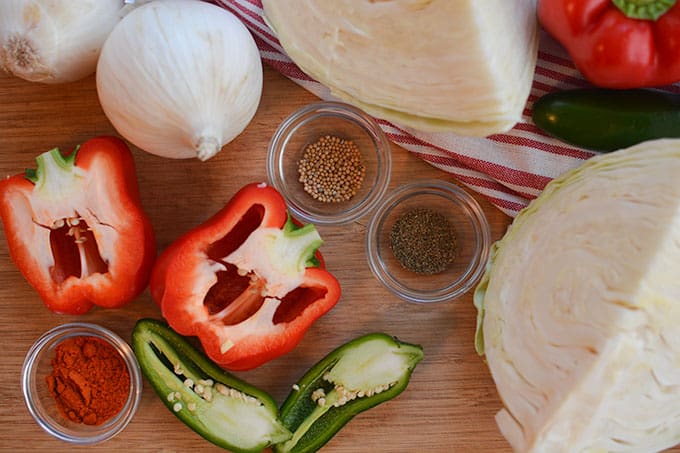 All About Onions
According to Kirsten and Christopher Shockey, authors of Fermented Vegetables, – my FAVORITE fermentation book, as reviewed here – onions are the only vegetable we know of that lack intrinsic lactic-acid bacteria, the bacteria we need to make fermentation happen. Adding cabbage to the sauerkraut recipe provides enough lactic acid bacteria to solve this problem.
I used white onions in this recipe, but it will work with any type of onion.
Yellow onions have a nice balance of astringency and sweet in their flavor and are most often used in cooked dishes.
White onions have a sharper and more pungent flavor than yellow onions. White onions tend to be more tender than yellow onions.
Red onions add a nice color to any dish and are often called for in salads, salsas, and other raw dishes due to their relatively mild flavor.
Prepping Jalapeno Peppers, How Much Heat Do You Want?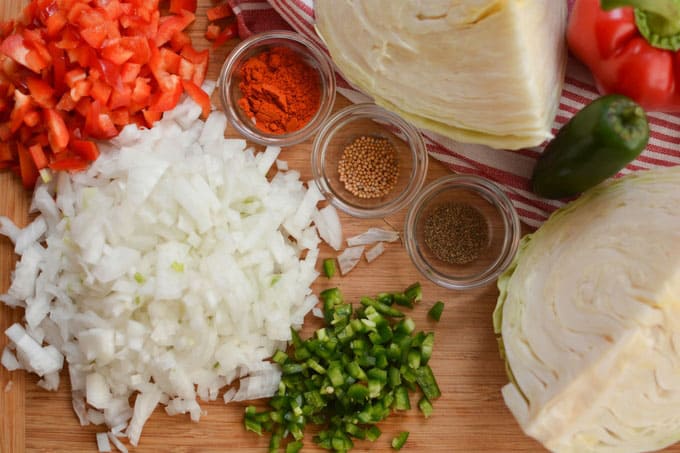 With hot peppers, the heat is in the seeds and the inner membrane. Vary the heat by how many seeds you leave in.
If you don't like super-hot & spicy foods, cut off the stem and slice lengthwise. You might want to wear a glove for this, or be careful and wash your hands well after. With the tip of a knife or a small spoon, scrape the seeds out. To remove even more heat, also scrape out the inner pithy membrane.
If you like the heat, leave in the seeds and inner membrane.
Don't Want to Irritate Your Hands with the Jalapeno Pepper?
If your hands are sensitive to the capsicum in the jalapeno pepper, don't add the jalapeno pepper to your bowl until you have mixed all your cabbage and vegetables together and created your brine. Then, add the diced jalapeno, quickly mix and then pack into your jar. You might also want to consider wearing a pair of thin plastic gloves when making this sauerkraut or use a large spoon when mixing and packing.
Sweet Red Peppers
The sweet red pepper adds a nice burst of color to a ferment, a burst of color that fades over time, sadly. In addition, the high water content of peppers causes them to eventually lose their nice fresh crunch.
Onion to Cabbage Weight
For those of you who follow my general guidelines of keeping your "flavoring" ingredients to 25% of the total weight with sliced cabbage making up the remainder, rest assured. This recipe breaks that rule. It is more like an onion relish than sauerkraut. You will probably end up with a good pound of onions. Don't worry. It will still ferment just fine.
5 Scrumptious Ways to Use Your Baseball Sauerkraut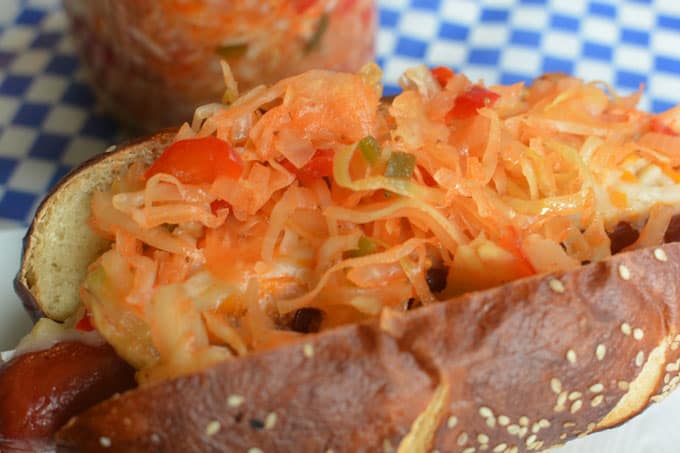 1. Straight Out of the Jar
Don't complicate matters and just add some to whatever meal you're having. Simple!
2. Egg or Tuna Salad Sandwich
Finely chop a few spoonfuls of Baseball Sauerkraut and add to your favorite egg or tuna salad recipe. A nice shift from the typical, overly-sweet relish.
3. Potato or Macaroni Salad
Adding a few forkfuls of Baseball Sauerkraut to a potato or macaroni salad will add a punch of tangy flavor.
4. Deviled Eggs
Chop finely and add Baseball Sauerkraut to your next batch of deviled eggs. Sure to be a crowd pleaser.
5. Hot Dog? Hamburger?
The classic combination. Use as a topping for that grilled hot dog. After all, that's what inspired this recipe.  😉
Also, see my ever-growing list of ways to enjoy your sauerkraut. Check out #13: To-Die-For Pizza Topping!
Are You Wanting to Ferment a Whole Crock of Baseball Sauerkraut?
Quantities for this sauerkraut recipe can easily be adjusted. It's best to make – and pack your fermenting crock – with successive 5-pound batches (triple the ingredients of a 1-quart batch) until your crock is about 80% full. Follow How to Make Sauerkraut In a Crock in 7 Simple Steps [Healthy, Flavorful, Easy] for all the tips and tricks to ensure a home-run success.
The Five Tools I Grab Every Time I Make a Batch of Sauerkraut
Fermentation Weight and Airlock Lid
White Plastic Storage Caps
A Scale: MyWeigh KD-8000 Digital Scale
Quart (Liter) Jar: Wide-Mouth
The Trellis + Co. Pickle Helix Kit is strong enough to hold your ferment below the brine throughout fermentation. Its design leaves plenty of room for brine.
Use for storing sauerkraut or as your lid during fermentation.
A bit pricey but a workhorse. Makes weighing your ingredients and salt a breeze.
My favorite fermentation salt. Broad range of minerals. Add subtle flavor.
Quart (Liter) Jar: Wide-Mouth
Fermentation Weight and Airlock Lid
The Trellis + Co. Pickle Helix Kit is strong enough to hold your ferment below the brine throughout fermentation. Its design leaves plenty of room for brine.
White Plastic Storage Caps
Use for storing sauerkraut or as your lid during fermentation.
A Scale: MyWeigh KD-8000 Digital Scale
A bit pricey but a workhorse. Makes weighing your ingredients and salt a breeze.
My favorite fermentation salt. Broad range of minerals. Add subtle flavor.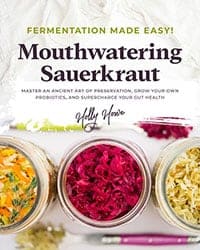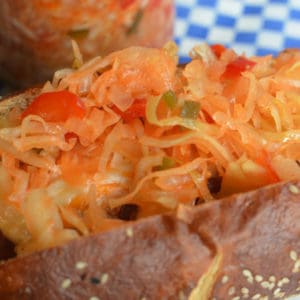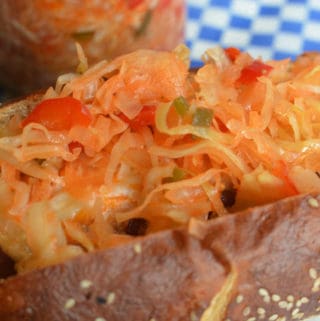 Baseball Sauerkraut
FERMENTATION LENGTH: 1-4 weeks
Why do I love this recipe? It's a flavor-rich substitute for relish that is rich in probiotics and will aid in the digestion of whatever you are putting it on.
You Will Need
Ingredients
1

small head fresh green cabbage,

1-1½ pounds

2

white onions,

baseball sized!

1

sweet red pepper

1

jalapeno pepper

1

tablespoon

paprika powder

1/2

teaspoon

mustard seeds

1/2

teaspoon

celery seeds

1

tablespoon (15 ml)

iodine-free salt (fine-grain)

iodine-free, fine-grain
Instructions
1. SET UP. Gather Supplies and Set Up Scale
In all my recipes, I have you use a kitchen scale to weigh your ingredients. Doing so really does make your life easier and your success almost guaranteed, because you add just the right amount of salt.
You don't want to include the weight of your bowl (the tare) in your measurements, so either zero out the scale (usually done with a button on a digital scale or a knob under the tray on a mechanical scale) or write down the tare (bowl) weight.

2. CHOP. Prep Your Vegetables and Cabbage
You'll now prepare all your flavoring ingredients and slice your cabbage into thin, ribbon-like strands. In this sauerkraut recipe, I have you dice your flavoring ingredients to try and duplicate the texture of a pickle relish.
Finely dice your onions and add them to your bowl on the scale.

With hot peppers, the heat is in the seeds and the inner membrane. Vary the heat by how many seeds you leave in.

For both the sweet red pepper and jalapeno pepper cut off the stem and scrape out the inner membrane and seeds, but leaving in the seeds of the jalapeno pepper if you like a lot of heat in your ferments.

Finely dice the peppers and add them to your bowl.

Measure into your bowl: 1 tablespoon of paprika powder, 1/2 teaspoon of mustard seeds and 1/2 teaspoon of celery seeds.

Discard the dirty or limp outer leaves of your cabbage, setting aside one of the cleaner leaves for use during the SUBMERGE step.

Quarter, then slice cabbage crosswise into thin ribbons. I leave the core in, using it as part of my "handle" - but don't actually slice it - because I find it helps to hold the layers of cabbage together making the slicing job easier. See my post on ways to slice cabbage for some more tips.

Add sliced cabbage to your bowl until the weight of your vegetables and cabbage is 1¾ pounds (28 ounces, 800 grams).
3. SALT. Create Your Brine
This is where the magic happens. With the help of some salt, that big bowl of cabbage is condensed down and able to fit into your quart (liter) jar. Really!
Sprinkle vegetables and cabbage with 1 tablespoon of salt and mix well.

Then, massage the vegetables with strong hands until moist, creating the brine. If you're worried about getting the hot oils from the jalapeno on your hands, use a spoon to mix and press the mixture to get your brine.

You should be able to tilt the bowl to the side and see a good-sized puddle of brine, about 2–3 inches in diameter. This process can take anywhere from 2 to 5 minutes. Notice how the mixture shrinks. If you're having trouble getting enough brine, read the tips in my post on dry sauerkraut.
4. PACK. Pack Mixture into Jar
Once you notice a small puddle of brine in the bottom of your bowl (you may need to tilt it to one side to see it), it is time to pack the moist mixture into your jar.
Grab handfuls of the salty, juicy cabbage mixture and pack them into your quart-sized (liter) wide-mouth canning jar, periodically pressing the mixture down tightly with your fist or a large spoon so that the brine rises above the top of the mixture and no air pockets remain.

To keep the outside of your jar clean, hold the jar over the bowl with a clean hand - usually your left - and then use your other hand for packing the sauerkraut.

Be sure to leave at least 1 inch of space between the top of the cabbage and the top of the jar. Because we weighed out just the right amount of cabbage to fit in your jar, this should happen automatically.

Pour any brine left in your mixing bowl into the jar and scrape out any loose bits stuck to the sides of the bowl or to the sides of your jar.
5. SUBMERGE. Hold Ferment Below Brine
To make sure your ferment is safe from the "bad guys," you'll use a weight of some sort to hold everything below the brine and a lid to keep out airborne molds and yeasts.
Take that cabbage leaf you saved during the SETUP step, tear it down to just fit in the jar, and place it on the surface of the packed cabbage. Forgot to save a cabbage leaf? No problem. You can fold a narrow piece of parchment paper to size or even cut an old plastic lid to size.

Place the 4-ounce jelly jar (or preferred weight) on top of the cabbage leaf, right side up with its lid removed.

Lightly (to allow for escape of CO2 gases), screw on the white plastic storage lid (or airlock of your choice, following manufacturer's directions).

I like to label my jars using green or blue painter's tape and a permanent marker. I note the flavor of sauerkraut I made and the date I started fermenting.
6. FERMENT. Ferment for 1 to 4 Weeks
Time now for the friendly bacteria to do their work while you watch and wait. Can you wait 7 days to taste the tangy crunch?
Place your jar of fermenting sauerkraut in a shallow bowl (to catch the brine that may leak out during the first week of fermentation), out of direct sunlight. Wait for 1 week before opening to sample.

You can ferment your sauerkraut for up to 4 weeks. The longer you ferment it, the greater the number and variety of beneficial bacteria that can be produced, though most studies show numbers peaking at 21 days. Many like to check their ferment at the one-week mark and then determine ideal fermentation length for their household. More in the post mentioned above.
7. STORE. Store in Refrigerator for Up to 1 Year
After fermenting your sauerkraut, it can be put in your refrigerator and is ready to be eaten.
Rinse off the outside of the jar. You can take the little jar out. Clean the rim if necessary (sometimes it can get sticky from the brine that overflows), and screw the lid back on tightly. Add to your label how long you fermented the contents.

Enjoy a forkful or two of your sauerkraut with your meals. It will continue to ferment – aging like a fine wine – but at a much slower rate than before. If the flavors are too intense, leave it the jar for a month or two and then eat it. You will be amazed at how the flavors have shifted. See 7 Easy Ways to Eat Sauerkraut for more ideas on how to enjoy your homemade jar of powerful probiotics.

If successfully fermented, your sauerkraut can be kept preserved in your refrigerator for up to a year... at least!
Infographic: 7 Sauerkraut Recipes (In Short Form) to Tantalize Your Tastebuds
Check it out below!
Enter your email address below to be sent a quick guide PDF for seven delicious sauerkraut recipes. It will look similar to the Infographic that follows, but fit on one page that can be kept on your refrigerator for handy reference.

Last update on 2020-10-29 / Affiliate links / Images from Amazon Product Advertising API