It warms my heart when it is the middle of winter and bags of colorful oranges – shipped from California – start appearing on grocery store shelves. Here on Vancouver Island, British Columbia when winter days can be long, dark and damp, there is nothing like a burst of sweetness from one of those oranges in a sauerkraut salad to brighten your day.
Here's a sauerkraut salad recipe I came up with to take advantage of those oranges and use one of my favorite sauerkraut recipes: Passion Pink Sauerkraut.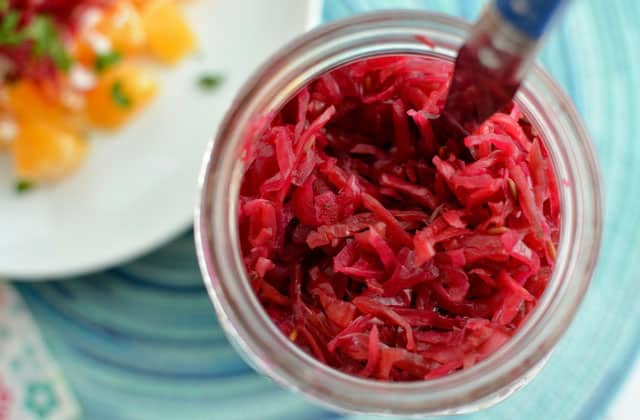 If you don't have a jar of Passion Pink Sauerkraut already fermented, here's the recipe for that.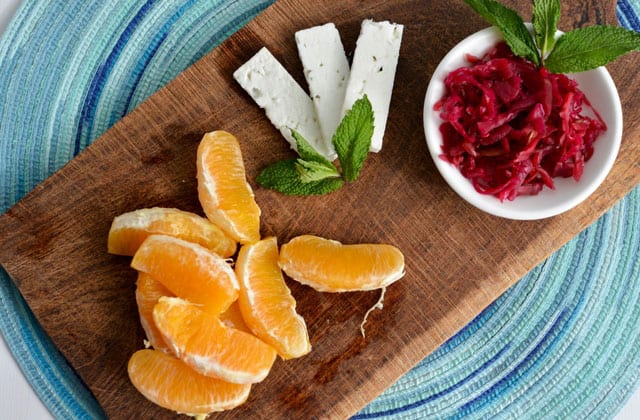 A few simple ingredients – orange, feta cheese, mint, honey – and you're ready!
The worst part of putting together this salad? Peeling the orange but LifeHack makes that look so easy. Video below.
Sauerkraut Salad Notes and Tips to Get You Started
Benefits of Beets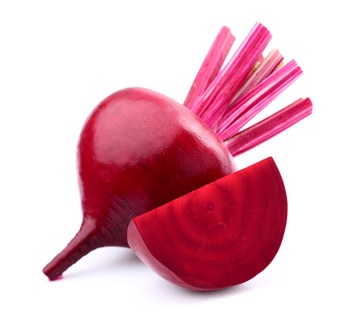 "Beets are so concentrated, nutritionally speaking, that many natural vitamins are derived from them. Dr. Bruce West recommends eating a few spoonfuls of beets per day as a sure method of ingesting adequate vitamins and minerals on a regular basis and as a way of detoxifying the body as well. They contain special properties that protect the liver and stimulate the flow of bile. Beets and beet juice have been used successfully in cancer therapists." – Sally Fallon Morell in Nourishing Traditions.
A daily serving of Passion Pink Sauerkraut is just one way that I build my nutritional stores through the food I eat. Steamed beets along with beet juice also help. I recently discovered Salus Red Beet Crystals that I now add to my daily glass of Fermented Coconut Water for a quick and flavorful way to drink beet juice.
How to Easily Peel an Orange
Thanks to YouTube and a few trial runs, I discovered that peeling an orange does not have to be a long involved sticky mess.
No more pithy peel stuck under your fingernails.
Flesh that comes off in one satisfying strip.
No juice squirting all over your clean shirt.
At least that's the theory. The biggest tip? Use fresh oranges whose peel has not yet lost its moisture and tightly adhering to the orange.
.

Fermented Beet & Orange Sauerkraut Salad Recipe [Beat the Winter Blues]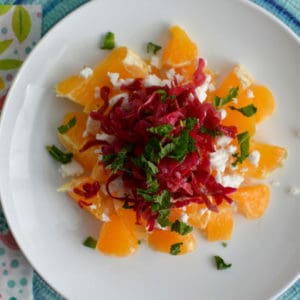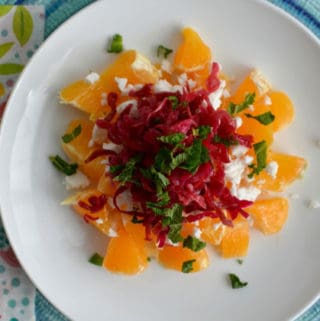 Fermented Beet and Orange Sauerkraut Salad Recipe [Beat the Winter Blues]
When oranges are in season, this is my go-to salad. Keep a jar of Passion Pink Sauerkraut on hand to make this salad in the time it takes to peel an orange. 
Print
Pin
INGREDIENTS
1/4

cup (50 grams)

Passion Pink Sauerkraut

1

orange

1

ounce (28 grams)

feta cheese

1

sprig

fresh mint
INSTRUCTIONS
Peel orange, cut into bite sized pieces and place on plate.

Crumble feta cheese over orange.

Top salad with 5-7 finely sliced mint leaves.

Sprinkle with a pinch of salt.

Feel free to drizzle with a bit of honey or maple syrup.

Enjoy this refreshing burst of sweetness.
Did you make this recipe?
Tag @MakeSauerkaut on Instagram
.
This is just one of many delicious ways to eat sauerkraut – and add the WOW! Factor to your meals – if you keep your refrigerator stocked with these "fast-food" ferments.
If you haven't yet fermented a batch of Passion Pink Sauerkraut, now's a great time to grab a few beets and a head of cabbage and start slicing:
Last update on 2023-11-29 / Affiliate links / Images from Amazon Product Advertising API