Are you looking to buy a gift for your food-obsessed friends or relatives?
Do you need help selecting that perfect gift for a special someone who is into fermentation?
Would you like to share your passion for making sauerkraut with family and friends by gifting them a few prized fermentation gadgets?
Or, perhaps you want to gift yourself that tool you have been coveting but have yet to purchase?
In this 2018 Fermentation Gift Guide, you will find perfect picks for beginner fermenters and pros alike, from the budget-conscious to the splurge-worthy. Selections range from a beautiful sauerkraut recipe PDF file (a free gift from me to you for the last-minute gift giver) to the Cadillac (Tesla?) of fermentation vessels as well as links so you can shop as you read.
I personally own and gratefully use just about every item recommended and discuss them each in even greater detail – with product review posts – on my Fermenting Supplies page. Dive now into my Fermentation Gift Guide.
1. Personalized Gift Certificate For a Sauerkraut Making Lesson
If you have already learned to make sauerkraut and would like to share your newly developed fermentation skills with a friend. Invite them to your home for a hands-on lesson on how to make delicious sauerkraut.
To make it extra easy for you, I put together a gift certificate. Just click the double arrows (>>) in the upper right-hand corner of the frame above and select "Print"
Fill in this gift certificate, put it in an envelope and Voila! you're done. Well, at least until it comes time to teach the time-honored skill of fermentation.
When you get ready to share your skills, pull together everything you need: the jars, weights, cabbage, and perhaps a bottle of wine and a few nibbles. You could even invite over a few extra friends and call it a party!
2. Fermentation Gift Basket: Sauerkraut, Recipes and Fermentation Weights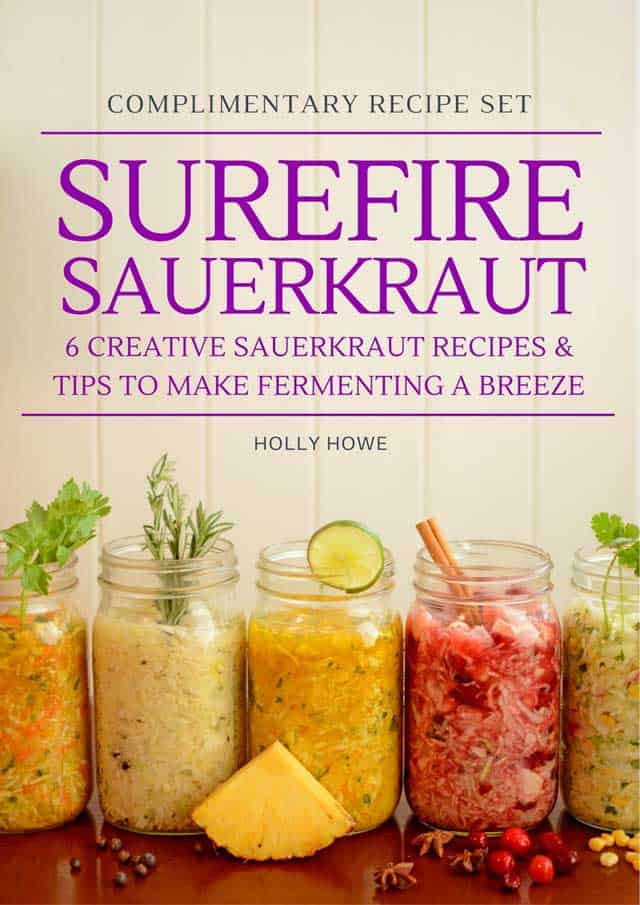 If your friend could just taste some of your homemade sauerkraut you know they would be hooked. It really does taste spectacular! Just look at all those beautiful colors. How about sharing some of the goodness?
I put together a SureFire Sauerkraut Complimentary Recipe Set eBook that you can gift to a friend or loved one. In a PDF file are all 6 of the sauerkraut recipes currently found on my website, including the somewhat hidden recipe for Firecracker Sauerkraut.
You'll have to opt-in to receive the PDF since it is too large to load on this page. It will be emailed to you.
Here's is what you could put into a gift basket for that special person in your life:
Put together a few sample jars of sauerkraut.

The small 4-ounce (125 ml) jelly jar that I recommend as a weight for first-time fermenters work great for sharing sauerkraut. Pack a few jars with some sauerkraut you already have stashed in your refrigerator.

Print out the SureFire Sauerkraut Complimentary Recipe Set.

It's the 6 recipes I have on my site along with links to my teaching recipe and mini email course.

Toss in a set of glass fermentation weights.

One of the key factors for successful fermentation is keeping everything below the brine. A glass weight sits on top of your ferment to hold the packed ferment below the surface of the brine. Below I list the top sellers on Amazon. I have a set of Easy Weights and appreciate how their handle makes for easy removal.
Sale
Bestseller No. 1
Bestseller No. 2
Bestseller No. 3
3. Super-Slick Fermentation Kit for Care-Free Fermentation
One step up from a glass weight is a complete fermentation set that includes both a weight and a lid for use when fermenting in Mason jars. The weights are designed to hold the ferment below the brine. The lid allows gases to escape so that yeasts and molds won't spoil a precious ferment.
Here are my four favorites with links belwo to extensive reviews:
3-Pack of Stainless Steel "Pickle Helix" Weights PLUS Airlock Lids
One Metal Spring-Style Weight PLUS Water-Sealed Fermentation Lid
3-Pack of Silicone "Pickle Pusher" Weights PLUS Airlock Lids
4-Pack of Glass Weights PLUS Silicone Airlock Lids
by The Ultimate Pickle Jar
3-Pack of Stainless Steel "Pickle Helix" Weights PLUS Airlock Lids
One Metal Spring-Style Weight PLUS Water-Sealed Fermentation Lid
3-Pack of Silicone "Pickle Pusher" Weights PLUS Airlock Lids
by The Ultimate Pickle Jar
4-Pack of Glass Weights PLUS Silicone Airlock Lids
See how effective the Pickle Helix spring weight by Trellis & Co. is in this post.
Kraut Source Fermentation Lid REVIEW [Solid Design]
Pickle-Pushing No-Float Jar-Packer Review: Ingenious
Pickle Pipe Pickle Pebble [MasonTops] REVIEW: Delightfully Simple
For my Canadian readers who get frustrated trying to find many of the items I've shared, please be aware that you can purchase some of the MasonTops products online at WalMart.
4. Just The Essentials: Scale + Salt
The best sauerkraut is made when you can weigh your ingredients and add in just the right amount of salt. Required items?
A digital scale and some iodine-free salt.
Not everyone has a digital scale or that extra-special salt in their home. Help your friend get started on the right foot by gifting them a scale and some salt.
And, don't forget to direct them to my teaching recipe: How to Make Sauerkraut in a Jar in 7 Simple Steps [Healthy, Flavorful, Easy]
Sale
Believe me, they will really, really appreciate this gem. It is the Cadillac of scales. I love that it doesn't automatically shut off and is so versatile. I reviewed the MyWeigh KD8000 scale here.
Sale
Sherpa Pink Gourmet Himalayan Salt - 5 lbs. Fine Grain
100% NATURAL PINK & CERTIFIED: Our Sherpa Pink Himalayan Salt is is Kosher Certified, Non-GMO,...
FINE GRAIN: This Sherpa Himalayan pink salt is in our slightly larger than standard table salt...
TASTES GREAT: Our 100% pure Himalayan Pink Salt is the perfect addition to any meal! Sherpa...
I love the depth of flavor that a mineral-rich salt imparts to a batch of sauerkraut. This is the only salt I use in my home and is what was used for all my recipes on my website and in my eBook.
5. Gochugaru, Korean Red Pepper Powder
Gochugaru – Korean red pepper powder – is traditionally used to flavor and add some heat to Kimchi as in my Kimchi-Style Sauerkraut Recipe [A SPICY DEPTH OF FLAVOR!]. When I made my first batch of Kimchi over 10 years ago, Korean Gochugaru red pepper powder wasn't readily available, so I substituted red pepper flakes which worked fine, but now that Gochugaru is available in Asian stores and on the internet, I've started using it instead of the red pepper flakes and, there is no going back.
Gochugaru is a coarsely ground red pepper with a texture between flakes and powder that disperses throughout your sauerkraut coloring it beautifully and adding a complex flavor not found with red pepper flakes. The highest quality Gochugaru is made from sun-dried chili peppers.
Store Gochugaru powder in your freezer to extend its shelf life.
Here are two popular, high-quality Gochugarus, or Korean red pepper powders.
Korean Chile Flakes (Gochugaru), 8oz.
Top-quality Korean chile flakes made from premium peppers
Essential for making the best-tasting homemade kimchi
Unique balance of earthiness, spiciness and complexity
Sale
6. Perhaps a Favorite Book? My Top 5 Picks
Sale
Currently, my favorite fermentation book. Anytime I get a question from a reader wanting to know if they can ferment beans, cauliflower, basil, okra or whatnot,  I recommend this book. Great for a gardener or that foodie who makes weekly trips to the farmer's market.
Their Fermenting Vegetables A to Z chapter comes in real handy. Just harvested a bunch of beets? After sharing their knowledge on beets, recipes for Simple Beet Kraut, Curtido Rojo, Curried Golden Beets, Beet Kvass and Golden Ginger Beet Kvass with Meyer Lemon follows. Endless inspiration with recipes that work for any vegetable under the sun. Review here.
Sale
For the person who likes details, historical insights and coverage of every ferment conceivable, this encyclopedia – 500 pages – on anything and everything that can be fermented will be greatly appreciated.
Author Sandor Katz was instrumental in getting fermented foods on the map. Though his recipes are not often detailed, there is plenty of in-depth information to get you headed in the right direction.
The SureFire Sauerkraut Recipe Collection: 12 Creative Recipes & Tips to Make Fermenting a Breeze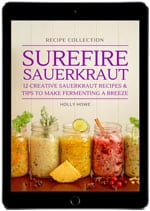 You can never have too many sauerkraut recipes. My first ebook contains 12 delicious, mouth-watering sauerkraut recipes that range from classic Juniper Berry Sauerkraut to popular Hawaiian Sauerkraut with turmeric, pineapple, and a few other goodies.
Four Bonus Recipes introduce other types of ferments: Citrus-Pickled Red Onions, Cranberry Orange Relish, Simple Simon Carrot Sticks and Thyme for Leeks Relish.
Sale
If you are looking for a book that covers preserving not only by fermentation but by also by canning and pickling this book by Stephanie Thurow makes a great choice.
I love her set of fermentation recipes and just finished a lunch salad topped with Brussels Sprouts Kimchi. Delicious and would you believe this was the first time in my life that I've ever tasted brussels sprouts? I can't wait to try her set of fruit-infused Kvass recipes.
In addition, I'm honored to have my recipe for fermented Thyme and Leeks Paste included in her book.
Sale
A wide range of flavorful and well-researched recipes. Sauerkraut Pickled Eggs? Japanese Tsukemono Pickles, Polish/Ukrainian Sauerkraut Steak (Fermented half or quarter heads of cabbage.)
7. Take Fermentation to the Next Level with a Water-Sealed Fermentation Crock
Water-Sealed Ceramic Fermentation Crock from Stone Creek Trading direct from Stone Creek Trading
Handcrafted with the rich, abundant clay by local artisans in the Boleslawiec Region of Poland, this crock is crafted by those with 60 years of experience.
In addition, these crocks come with lead-free glass weights – heavier than any other weights I've seen – and recipes for pickles and sauerkraut. Impeccable customer service as evidenced in this message just in from one of my readers:
"Well, you were right about Stone Creek. They are the best people I've had the pleasure of crossing paths with in a long time. I sent Emily 2 photos of the salt line circling my crock and that was enough for her to send me out a new pot with no other questions asked. I can't really say enough good things about them."
Read my in-depth review here.
Available in three sizes and four colors. A 5-liter crock can be packed with 10 pounds of cabbage to make 5 quart (liter) jars of sauerkraut.
This fermentation vessel by Kilner is made from glass so that you can witness the fermentation process in action, an added benefit for those new to fermentation who might be hesitant to trust what is happening inside a standard ceramic crock.
Included in the Kilner Fermentation Kit are 1 wooden lid (with a rubber seal), 1 airlock, 1 bung (for inserting the airlock into the lid), 2 ceramic stones (to hold the ferment below the brine) and 1 recipe and instruction leaflet. Everything the lucky gift recipient would need to get started on making sauerkraut. Except for cabbage and salt, of course.  😉
The size of this jar is listed as "101 fluid ounces" which is about 3 and 1/2 quart (liters). The perfect size for a 5-pound batch of sauerkraut!
8. And To Go Along with that Beautiful Fermentation Vessel…
Sale
My favorite tool to efficiently slice cabbage, especially when filling a crock. Talked about here.
Sale
And it doesn't hurt to throw in a pair of protective gloves to ensure some extra safety when using a super-sharp slicing device, like the mandoline.
SureFire Sauerkraut Complimentary Recipe Set
Enter your email address to receive the PDF file.
Last update on 2019-11-07 / Affiliate links / Images from Amazon Product Advertising API