Are you looking for a way to use up a bountiful harvest from your garden?
Do you find items in your weekly CSA box that you have no idea how to use?
Do you want to know how to ferment peppers, cauliflower, beets or?
Would you like to have some flavor-packed, ready-to-use seasoning pastes on hand?
Then, I have just the book for you. It is my most-referenced fermentation book. Its A-to-Z section always has an answer for me along with a ferment to try. And, I've yet to try a recipe in it that did not awaken my taste buds and add a depth of flavor to my meal.
NOTE: See Immune-Boosting Fermented Garlic-Plus Paste for a more comprehensive recipe for making fermented garlic, ginger, and/or onions paste.
Fermented Vegetables, by Kirsten Shockey & Christopher Shockey
Creative Recipes for Fermenting 64 Vegetables & Herbs in Krauts, Kimchis, Brined Pickles, Chutneys, Relishes & Pastes
Publisher: Storey Publishing, 2014
Paperback: 376 pages, color; sections cover fermentation fundamentals, mastering the basics, fermenting vegetables from A to Z and recipes using ferments.
Number of Recipes: 120+ Krauts, kimchis, brined pickles, chutneys, relishes and pastes along with various dishes incorporating ferments and even cocktails using the brine from ferments.
About the authors: Kirsten Shockey and Christopher Shockeycreated more than 40 varieties of cultured vegetables and krauts to sell through their farmstand food company. Selling led to teaching, and they now host classes and workshops at their farm. They live on a 40-acre hillside homestead in the Applegate Valley of southern Oregon.
Website: FermentWorks
I highly recommend this book for anyone wanting to learn how to ferment a variety of vegetables infused with modern flavors.
The first three chapters cover the fundamentals of fermentation to include the science of fermentation and the tools needed. The next set of chapters cover mastering sauerkraut, condiments, brine pickling, and Kimchi. Also included is a section on storage and troubleshooting.
My favorite section is the next part: In the Crock, Fermenting Vegetables A to Z. Vegetables from Arugula to Zucchini and Other Summer Squash are covered along with everything in between. Foraged vegetables and fruits are also briefly covered.
For those of you wanting to know how to eat all these goodies, the last chapters in the book have recipes for breakfast, snacks, lunch, happy hour, dinner and dessert. In summary, Fermented Vegetables has:
Creative and well thought out recipes.


The Shockeys took 3 years to develop the recipes for this book and it shows. For example, if you turn to the A to Z section for Carrots, not only do they have a Carrot Kraut recipe but they show how to use the carrots in a pickle recipe: Vietnamese Pickled Carrot and Carrot.

Clear instructions for four types of fermenting: sauerkraut, condiments, brine pickling, and kimchi.


A few years ago, I started experimenting with fermenting relishes and pastes. My greatest discovery was how handy it was to have a jar of ready-to-use paste when preparing a meal or being able to grab my Cranberry-Orange Relish for a flavorful addition to cheese and crackers when friends dropped by unexpectedly. Fermented Vegetables has sections devoted just to these types of condiments.

Vegetables that you don't want to ferment indicated.


You really can ferment any vegetables, but.. for some, the resulting texture or flavor just isn't worth it. They'll let you know which vegetables aren't worth the effort to ferment.

A special section on fermenting foraged vegetables.


This is not something often seen in other books but is a great addition for those of us who like to wildcraft. Each Spring, I have good intentions to try fermenting nettles. They're done the experimenting for me: Fresh Nettle Kraut.

An engaging writing style.


With a mixture of stories, fun quotes, tips, and failed adventures, it's easy to read the book from cover to cover or just dive into the material you specifically need.

No whey or other starters called for.


Vegetables come with all the necessary bacteria for fermentation, as I discuss here. When searching the internet, I find so many of the recipes call for the use of whey. Not so in this book, though you will see the occasional use of brine – from a previous ferment – to kick start the fermentation process for a vegetable without lactic-acid bacteria or when needing an extra bit of brine.
Fermented Vegetables: Visuals and Audibles
If you want to see the Shockeys demonstrating how to make sauerkraut, learn about the benefits of fermentation or hear the deeper story, here is a video along with some podcasts for your listening pleasure.
Video: Fermented Vegetables at the San Francisco Public Library
This is great coverage, by Kirsten and Christopher Shockey, on fermentation; how it works and why you want to keep everything below the brine. Too bad we don't get to taste the ferments that the audience in this video were able to sample.
It's convenience food… For weeks you have this instant live, fresh, salad. Fermented salad that's just ready to go. Throw it on a soup. Throw it on a sandwich. Just eat it out of the jar. It kinda takes the pressure off when you really don't have anything else healthy to eat. Just throw it on that.
– Kirsten Shockey, Fermented Vegetables

– Kirsten Shockey, Fermented Vegetables
And here they explain how they capture young and reluctant children during sauerkraut demonstrations. This is how Christopher Shockey explains what is happening in the jar of fermenting goodness.
These guys that are living on there, they are eating sugar and they are… farting.
– Christopher Shockey, Fermented Vegetables

– Christopher Shockey, Fermented Vegetables
Podcast: How to Make Your Own Fermented Foods at Home with Kirsten Shockey
People would say, "No, I don't like sauerkraut." [But] if we could get them to try it and realize that this sauerkraut that we're talking about here has nothing to do with the canned yucky stuff that people think of.
– Kirsten Shockey, Fermented Vegetables

– Kirsten Shockey, Fermented Vegetables
Here's an April 7, 2014 interview with Kirsten Shockey by Jennifer Fugo of Gluten Free School (27:54)
Podcast: New Fermented Vegetables Cookbook
Sinking in the brine conquers evil every time.
– Kirsten Shockey, Fermented Vegetables

– Kirsten Shockey, Fermented Vegetables
Here's an October 24, 2014 interview of Kirsten Shockey by Branden Byers of FermUp, The Fermented Foods Podcast (39:04)
Fermented Vegetables Sample Recipes
What follows is my making of fermented Garlic Paste using the recipe in Fermented Vegetables. I used a variety of garlic that was growing in my garden. However, look at the experiment the book's author, Kirsten Shockey undertook:
Fermented Garlic Paste Recipe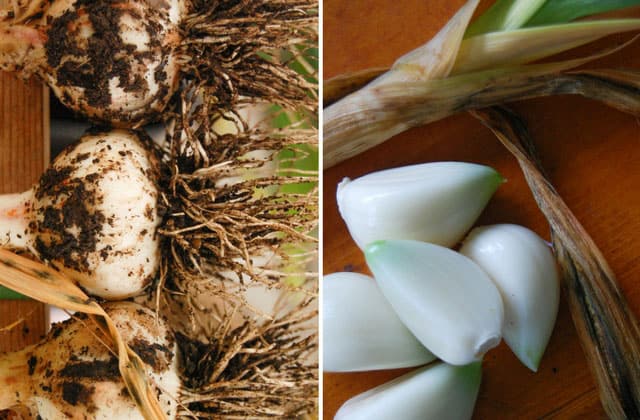 About the only thing I've managed to find the time to grow in my garden is garlic. Here in British Columbia, we plant the cloves by Halloween and then harvest the bulbs in early summer. This year I fermented the edible scapes from my garlic plants into a delicious Garlic Scape Paste which I add to sauteed greens or lightly spread on ham and pork sandwiches.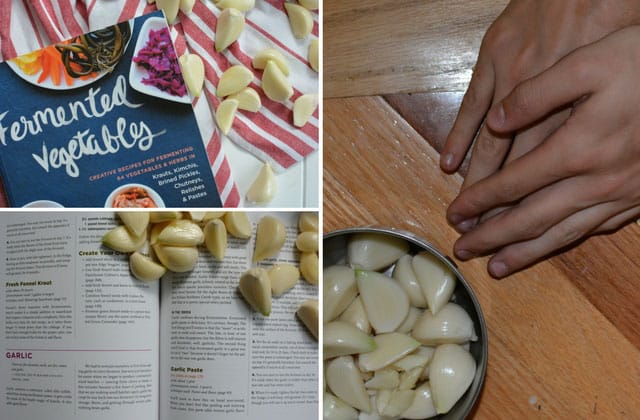 Then, after reading in Shockeys' book how helpful Garlic Paste is to have on hand year-round, I enlisted the family for peeling garlic cloves and fermented a batch of Garlic Paste. It is so handy to have when you don't feel like peeling and mincing fresh cloves. A jar kept in your refrigerator makes for an easy way to add instant garlic flavor to any dish.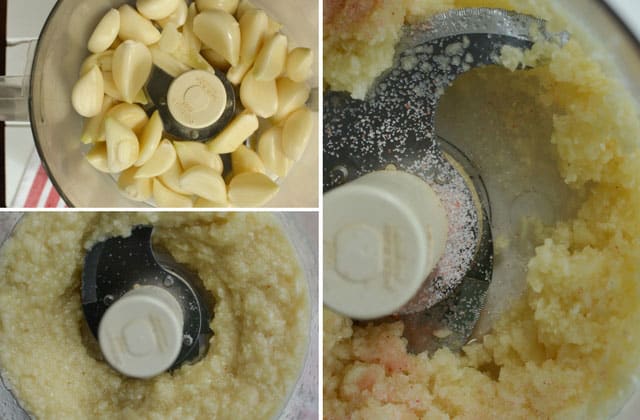 Her recipe calls for 6-8 heads of garlic. and 2 teaspoons of salt. For those who know how much I like to weigh my salt, I did make note of the weight of my garlic, but… misplaced those notes. All turned out just fine.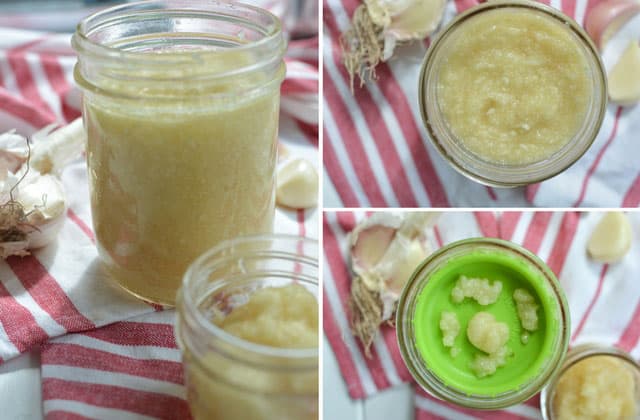 I packed the pureed paste into a wide-mouth pint (500 ml) jar with a bit left over that went into a 4-ounce (125 ml) jar. I used the Plunger from the Ultimate Pickle Jar to hold the paste below the brine. (Here's my review on that product.) I probably tried too hard to push it below the brine and ended up with paste – instead of brine – oozing through the holes in the Plunger.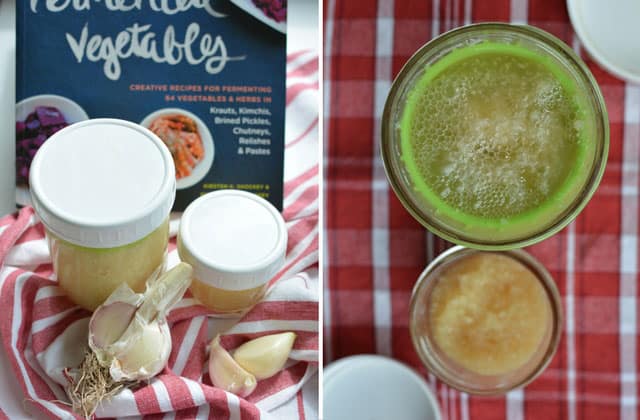 I left it to ferment for 23 days and unscrewed the lid take in a sweet aroma and a mild garlic taste. In the jar that I used the Ultimate Pickle Jar Plunger to hold the garlic paste below the brine, there were plenty of bubbles and no visible mold. The little jar with no system to hold everything below the brine also looked just fine.
I have since been using my fermented Garlic Paste to season my sauteed greens, toss with homemade oven fries and even spread on toast. The flavor is subtle but, oh so good.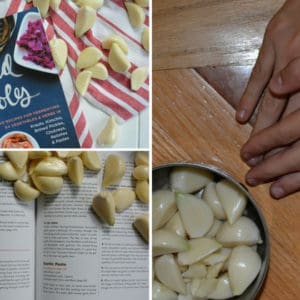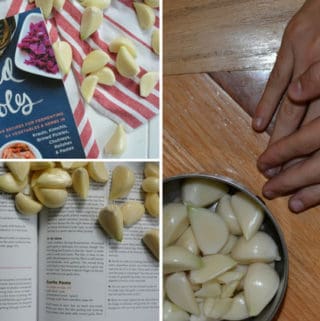 Fermented Garlic Paste
FERMENTATION LENGTH: 14-21 days
Condensed recipe from Fermented Vegetables by Shockey & Shockey. You'll want to have this on hand year-round. When you don't feel like peeling and mincing fresh clovers, this paste adds instant garlic flavor to any dish.
Print
Pin
INSTRUCTIONS
Process garlic to a paste consistency in food processor.

Sprinkle in the salt and mix well.

Press the paste down into a pint jar, packing any leftovers into a smaller jar.

Screw on lid and leave to ferment for 14 to 21 days.

You can start to taste the garlic paste on day 14. It's ready when the garlic is milder than when it was raw.

When it's ready, tighten the lid, then store in the refrigerator. It will keep for 1 year, though you will use it up much sooner than that.
Did you make this recipe?
Tag @MakeSauerkaut on Instagram
Leekchi Recipe
This Leekchi Recipe is based on the recipe in Fermented Vegetables. Video introduction:
Link to the Leekchi recipe by Kitchen Vignettes for Food.
A Few Other Recipes
Give one of these recipes a try or purchase the book to delve into a recipe of your choosing.
Pickled Cranberries? Kimchi Mary? Or, Habanero Jicama, rich in prebiotics?
From one of my readers:
Once again, you've presented an EXCELLENT topic with panache and thoughtful consideration. I have owned their book and have yet to be disappointed in their recipes. I've loaned the book out to several friends and received my copy back with a card inside saying they've either ordered or gone out to buy the book at one of our local book stores.
David - Cornish, New Hampshire

Other recommend fermentation books are shown on my Fermenting Supplies page along some highlighted in this post.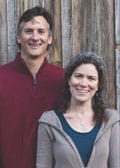 Check your local library, independent bookstore or Amazon (Affiliate Link) for:
Fermented Vegetables by Kirsten &Christopher Shockey.
Disclosure of Material Connection: Some of the links in the post above are "affiliate links." This means if you click on the link and purchase the item, I will receive an affiliate commission. Regardless, I only recommend products or services I use personally and believe will add value to my readers. I am disclosing this in accordance with the Federal Trade Commission's 16 CFR, Part 255: "Guides Concerning the Use of Endorsements and Testimonials in Advertising."
Holly/MakeSauerkraut.com is a participant in the Amazon Services LLC Associates Program, an affiliate advertising program designed to provide a means for sites to earn advertising fees by advertising and linking to amazon.com or endless.com, MYHABIT.com, SmallParts.com, or AmazonWireless.com.
Last update on 2023-10-03 / Affiliate links / Images from Amazon Product Advertising API