Do you want to raise the bar on you sauerkraut production? Would you like to know how to slice cabbage in order to achieve an even-textured ferment, the texture that you prefer?
Or, have you been slicing your cabbage with a knife and want to know if there is a better way?
And, you might be at the age – or have false teeth – and you are finding sauerkraut difficult to chew. I have a solution for you.
Thin, uniformly-cut slices of cabbage make for sauerkraut with even texture. Fermentation unfolds evenly. You don't have some thick slices – that ferment slowly – and some thin slices – that ferment more rapidly.
For this post, I did sample cuts with my trusty chef's knife, a few mandolins, various options on a food processor and even a Russian cabbage knife I happened across on eBay one day. Check them out and see which texture will match the style of fermented sauerkraut you prefer.
How to Slice Cabbage with Knives
A large sharp knife is simple. It's readily available. And, most of us own a knife that can get the job done. To make your job easier, remember to sharpen it regularly. For small batches of sauerkraut, a knife works great. But, when you graduate to fermenting in a water-sealed stoneware crock, slicing 10-20 pounds of cabbage with a knife may become a bit daunting.
Chef's Knife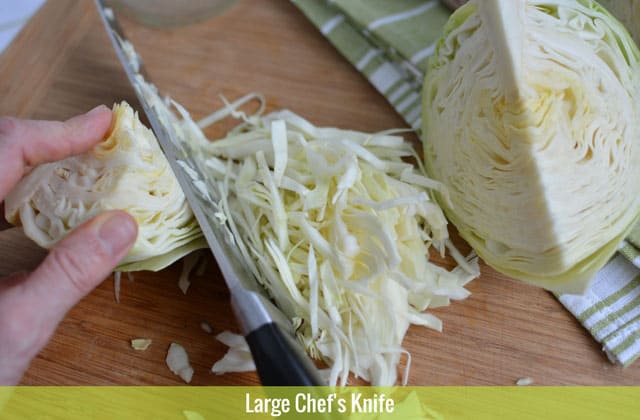 Wide price range to fit any budget.
Most already own one that will get the job done.
Quick and easy to clean.
Hard to get consistently thin and even slices.
Not efficient for large quantities of slicing.
Needs to be regularly sharpened.
Here is a short and helpful video on the best way to prep your cabbage for slicing. Nothing fancy, but enough to get you headed in the right direction. No need to rinse your sliced cabbage as shown in the video.
.

Cabbage Knife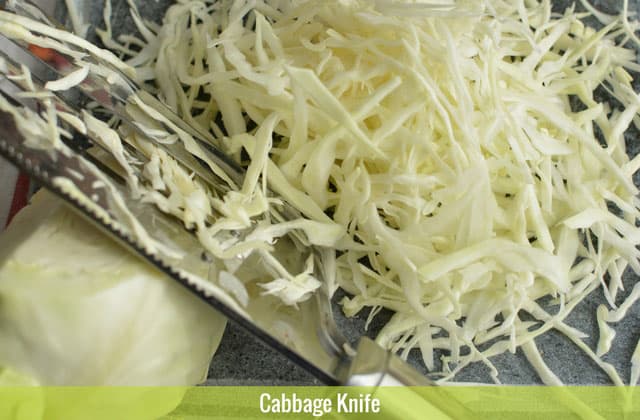 Most likely you have never heard of, let alone seen a cabbage knife. I hadn't until I happened across one last summer and immediately ordered it thinking it might be a nice option for those fearful of using an open-bladed mandolin.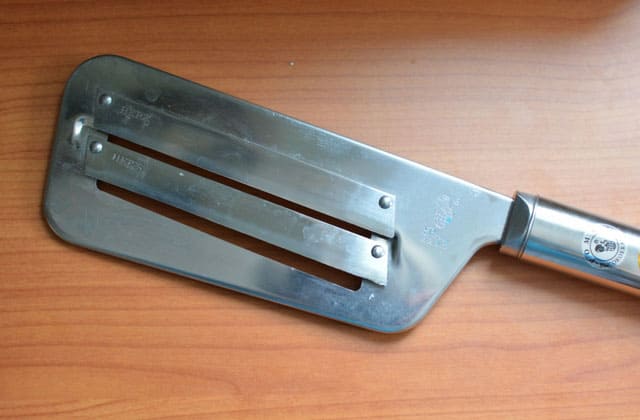 A cabbage knife is fashioned similar to a regular knife except that it has a double blade much like the large wooden cabbage shredders with their double or triple blades. With the two blades on this cabbage knife, each pass of the cabbage is making two cuts. Slicing your cabbage becomes twice as fast. I found this cabbage knife set on eBay.
Works just like a knife; no new skill to learn.
Double blade cuts twice as fast.
You move the knife to slice, not a heavy head of cabbage.
Made in Russia.
Cabbage head must be firm and tightly packed. It just doesn't cut well through loose or flimsy heads of cabbage.
Not readily available. I've only found this one reliable source on eBay.
Due to the way the blades are framed, you can't slice all the way to your cutting surface. See the 20-second mark in the video below.
In this video, you can quickly see how you will need to maneuver the cabbage to get it completely sliced. At times, I was holding my cabbage up off the cutting board. Since slices tend to fly everywhere, I found it best to hold the cabbage over my bowl. When using a cabbage knife, cut your cabbage in half and leave the core in.
How to Slice Cabbage with Mandolins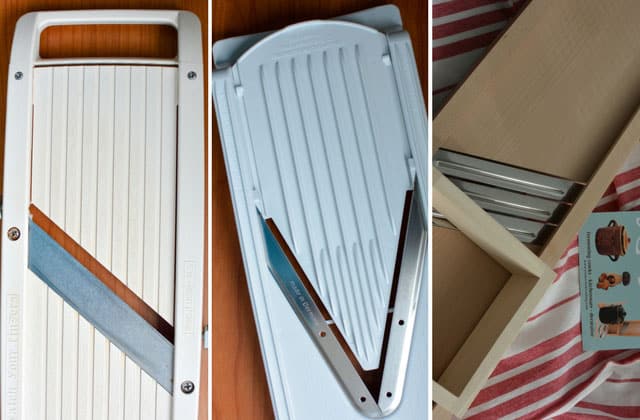 For years, I was quite happy slicing cabbage with my Henckel's chef's knife – bought 30 years ago when I was living in Germany. Little did I know what I was missing until I happened across a wide-body version of a mandolin I've owned since my college days. My mom had gifted each of her four children a mandolin when we were stocking our first kitchens. Ultra-sharp, super-efficient and just the ticket for even slices.
A mandolin is a plastic, wood or stainless steel device for slicing vegetables and fruit. It has interchangeable blades, the best one being made of surgical steel. I have never had to sharpen or replace the blade on the Benriner mandolin I received as a gift 35 years ago! It's a workhorse and far easier to set up and clean than a food processor.
Pros and Cons of mandolins:
Effortlessly cuts even, thin slices.
The thickness of cut is adjustable.
Faster than a knife, especially when using a 2- or 3-bladed mandolin (The Stone Creek Trading Cabbage Shredder reviewed below has 3 blades).
Can be placed on bowl rim for slicing directly into your bowl.
Easy to cut your fingers if you don't stay focused while slicing.
Can take up a bit of space for storage, especially if using an extra-large one.
Cut Resistant Gloves
You may feel more comfortable using some type of safety glove when slicing your cabbage.
Both the Benriner and SwissMar mandolins, that I review below, come with a Safety Guard. These guards hold the vegetable your slicing, but don't work with a large chunk of cabbage.
I've never used safety gloves because I would rather be able to directly hold what I'm slicing. By remaining mindful, keeping the core in the cabbage and continually adjusting the angle at which I'm slicing, I've been able to prevent accidentally cutting myself.
Benriner Wide-Body Large Slicer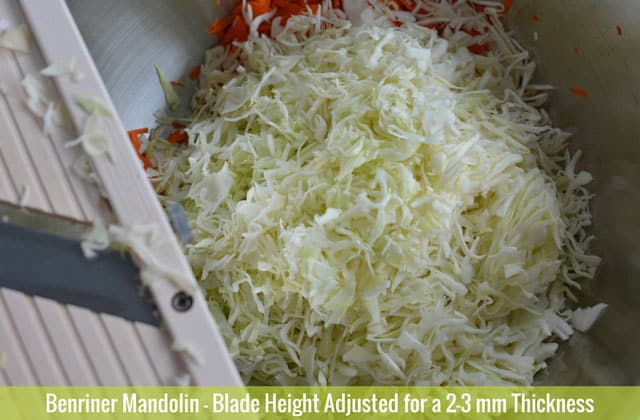 If you asked me what my top choice would be for slicing cabbage, the wide-body Benriner mandolin would be my answer. Here's why I love it:
Easy to adjust the thickness of the cut. Two screws on the underside of the slicing platform enable you to fine-tune the thickness of your cut. You can adjust slicing from a 1/4 inch thickness to paper-thin. For sauerkraut, don't go too thin or you will end up with mush. I like about 2-3 mm, or about ⅛ inch.
Sharp, super high-quality carbon steel blade. I have never had to sharpen the blade on either mandolin of mine. However, the blade can easily be removed for sharpening.
There are 3 additional "blades" – with teeth – that are used in conjunction with the slicing blade for julienne cuts. I find them worthless, especially with hard root vegetables. They require too much force to move a hard root vegetable through the julienne teeth.
Slicing surface is wide enough (3 3/4's inches, 9.5 mm) for slicing a cabbage quarter. Be sure to buy the right model. There is both a wide and narrow version.
Compact for easy storage. The low profile of the Benriner mandolin enables me to store it at the back of one of my drawers for easy access. I keep the 3 julienne blades in a small cup at the back of where I store my drinking glasses, though they seldom if ever get used.
Quality and durable construction. The plastic is extra thick and durable. It does not have a flimsy feel to it.
The safety guard is not the best. It can't be used with cabbage, though I do use it when slicing apples.
No stand. When using the Benriner mandolin, I place directly across the rim of my bowl, holding the handle to keep it in place. One commenter mentioned how well a silicone rimmed bowl held the mandolin in place.
Made in Japan.
In this video, he shows cutting out the core. Don't! It makes for a helpful "safety" handle and keeps you cutting hand away from the sharp blade. He likes to put his sliced cabbage into an ice-bath saying that it removes the "mustiness." I've never done this, but instead slice directly into my bowl, weighing periodically as I go until I have just the right amount of cabbage sliced for my current batch of sauerkraut.
SwissMar V-Slicer Plus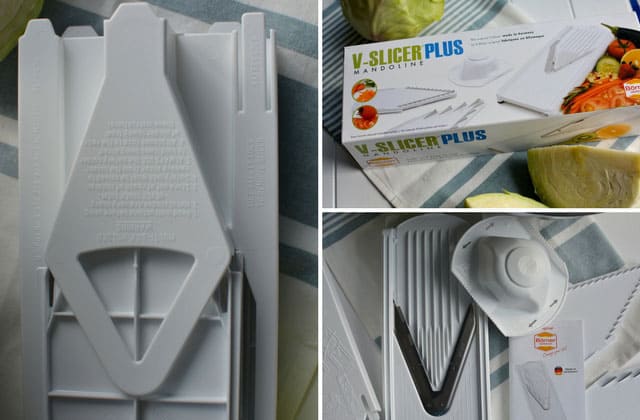 To give readers an option other than my favorite Benriner mandolin, I went ahead and purchased a Swissmar Borner V-1001 V-Slicer Plus Mandoline 5 Piece Set that comes highly rated. As the name implies, the SwissMar V-Slicer has a v-shaped blade. This gives your two diagonal blades to push food across, making it easier – than with one straight blade – to get even slices every time, especially with delicate foods.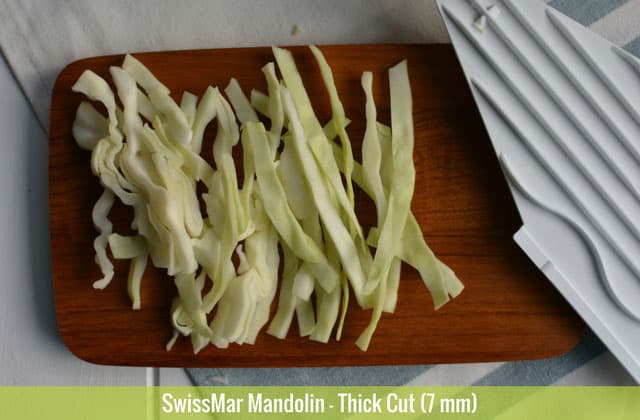 With the SwissMar mandolin, you have two choices for cut thickness which are selected by the panel you slid into place under the blade. These are the cuts achieved with the "Thick-Cut" panel. Too thick for sauerkraut.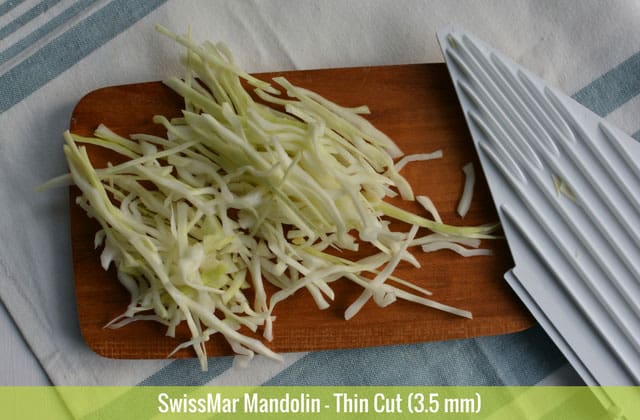 These are the cuts achieved with the "Thin-Cut" panel. Will work just fine for sauerkraut. This will ferment into sauerkraut with a bit of crunch.
Two preset slicing thicknesses (3.5 & 7 mm). A thick/thin insert panel slides in under the blade. The height of the grooves on the slider side that faces up determines the thickness of the slice. The thin side of the panel gives a nice thickness for sauerkraut; the thick side to too wide for sauerkraut.
Surgical-grade stainless-steel blades. The blades are not removable for sharpening.
Slicing surface is wide enough (3 3/4's inches, 9.5 mm) for slicing a cabbage quarter.
Plastic construction is thinner and lighter than the Benriner mandolin.
Well-designed safety guard. The safety guard design has been well-thought-out. It includes steel prongs and a pusher that can be pushed down as the vegetable you are cutting gets smaller. Not designed for use with a large chunk of cabbage.
Multi-box storage holder. All pieces can be packed into the storage holder for mounting on your wall or to leave standing on your countertop. It takes a bit of patience to get everything put in just right.
Made in Germany.
One of my readers just alerted me to another model of mandolin by SwissMar that has an adjustable blade that gives you 4 preset cutting thicknesses, a more user-friendly handle and options for other julienne cuts. The Swissmar Borner V Power Mandoline, V-7000, White in your choice of color.
This video is made by Borner, the company that makes the slicer, so it has a commercial tone to it, but worth a watch especially to see how to use the slicer for other vegetables and fruit. Cabbage slicing is at the 6: 16-minute mark.
.

Stone Creek Trading Wood Cabbage Shredder, Medium Size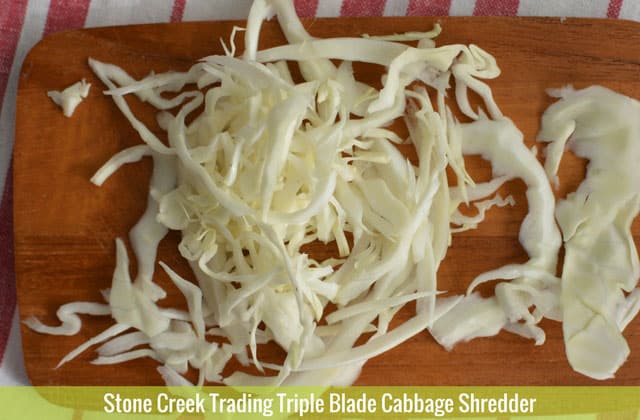 I reviewed a Stone Creek Trading water-sealed fermentation crock. They had also gifted me one of their cabbage shredders to try. Thank YOU! The one I'm using is their medium-sized shredder which fits nicely on top of a large bowl. With its triple-blade action, it's amazing how quickly you can shred a head of cabbage.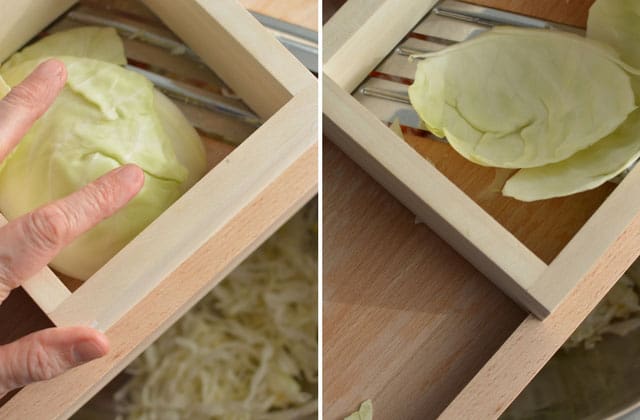 To use the shredder, cabbage is cored and cut to fit in the box. For cutting, the box is moved back and forth across the blades until the cabbage is fully shredded. You don't need to hold – or push down on the cabbage. You hand is placed on top of the cabbage holder to operate.
Slicing thickness is preset by the three non-adjustable blades. They are approximately 2-3 mm apart, about ⅛ inch
3 removable stainless-steel blades. Easy to remove for sharpening.
All wood construction. Made from sustainability grown, FSC certified poplar that is cured for longer than normal to prevent warping.
Movement of box and cabbage across blades can be a bit rough, needing an extra push at times. There is no need to hold the cabbage itself, however. You leave it sitting in the box and just the movement of the box across the blades is enough to slice the cabbage. You can end up with a few large slices from the way the cabbage lays in the box.
Hand wash with mild soap and hot water. Rinse and let air dry in a place with good circulation.
The cabbage shredder is a natural unfinished wood product. You do not need to apply a finish in order to use it. The oil from your hands, as well as the food will naturally darken the wood with used.
Solid, hardwood construction. No plywood or laminate.
Made in Poland.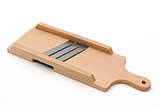 Stone Creek Trading also makes a smaller cabbage shredder without the box. This would be used much like the Benriner and SwissMar mandolins.
How to Slice Cabbage with a Food Processor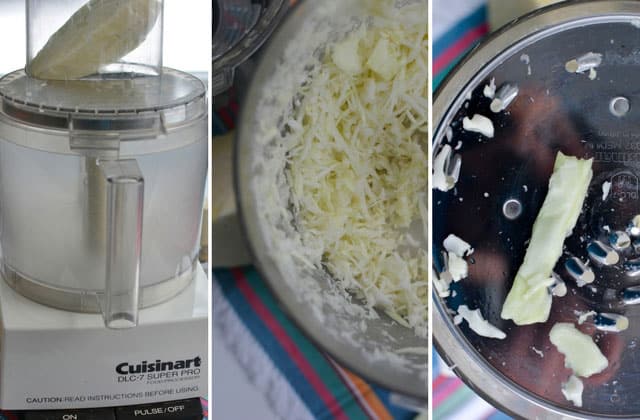 Years ago, I tried using my 1980's Cuisinart food processor to slice my cabbage and quickly decided it was too much of a hassle to cut cabbage to the right size.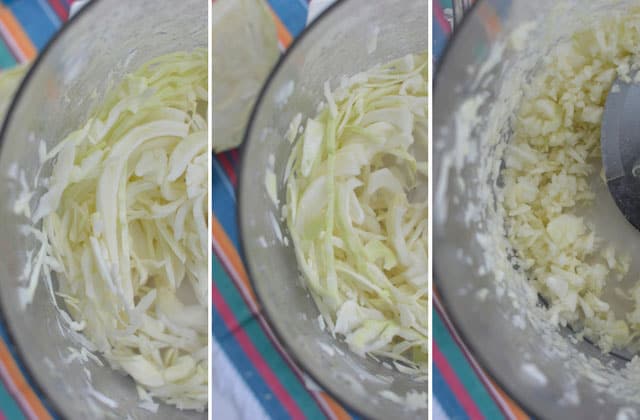 Slicing with a food processor: 3 mm slicing disc, 2 mm slicing disc, S-blade.
Since then, more than one reader has shared that they use their food processor for making sauerkraut but…
Guess what disc they use?
The large grating disc!
I would never of thought to try that. But, I have now.
Below, I share the results of slicing cabbage with a grater, along with the results for a couple of the slicing discs and the s-blade. You can see the results of each method below.
Why you may or may not like to use a food processor to slice your cabbage.
Fast, efficient and consistent.
Variety of cut or shred options to match the desired texture.
Great for grating, slicing or mincing vegetables when making crock-sized batches.
Expensive to purchase if you don't already own one.
Time and effort to set up.
Easy to over process if using the S-blade
Cabbage must be cut down into chunks that will fit into the feed tube.
More to clean up than when using a knife or mandolin.
Large Grater Disc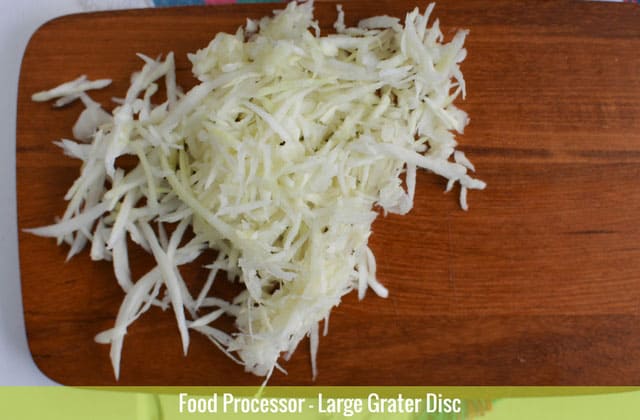 I was pleasantly surprised by the texture and thickness of the slices achieved when using the large grater disc with my food processor. A bit finer texture and shorter slices than I have been getting with my Benriner mandolin. However, you may find that sauerkraut made with grater cabbage does not have enough crunch.
3 mm Slicing Disc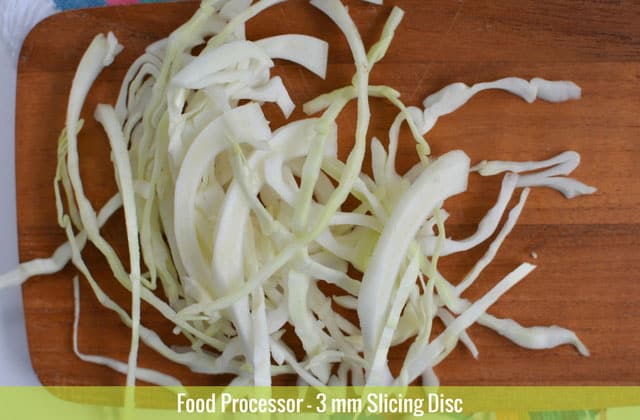 How evenly the food processor cuts your cabbage will be determined by the angle the cabbage is at when being sliced. Here are slices achieved using the 3 mm slicing disc. A bit thicker than I would prefer.
2 mm Slicing Disc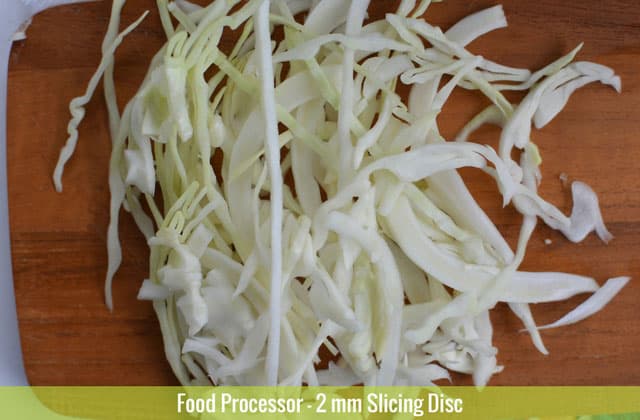 Better texture with the 2 mm slicing disc.
S-Blade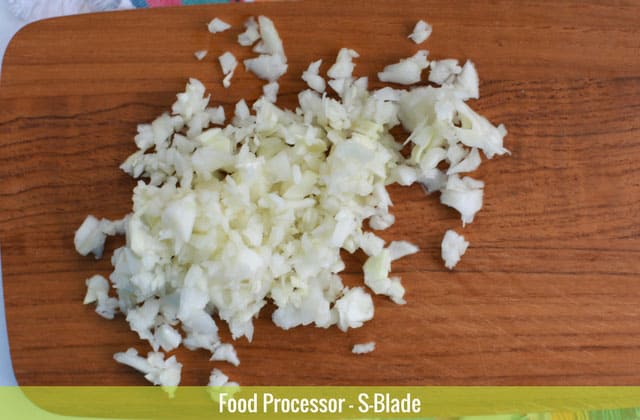 The S-blade on your food processor is designed to chop, not slice your cabbage. I threw large chunks of cabbage into the work bowl and pulsed several times until there were no longer any large chunks. Keep a close eye on the texture to ensure that you do not over-process your cabbage.
Some have expressed concern about trying to chew fermented cabbage that has been sliced too thickly. Here's your answer. Sauerkraut made with cabbage chopped using the S-blade.
Keep an eye on sauerkraut made with such finely chopped cabbage during fermentation. Due to the smaller pieces, it will ferment faster and will want to float to the surface.
So, now that you Know How to Slice Cabbage in a Variety of Ways, Which Way Should You Slice Cabbage for that Perfect Sauerkraut? My vote?
The Benriner mandolin would be awarded first place.
Second place?
The larger grating disc on my food processor – though I would need to see how a few batches ferment first. The finer slices may not ferment without enough crunch for me.
Third place?
That Russian cabbage knife. With a little practice, simple and quite efficient.
My Fermenting Supplies page covers everything you need to make sauerkraut and includes the mandolins covered in this post.
What is Your Vote?
Choose what works best for you. There is more than one way to slice a head of cabbage.
Learn about how to choose and buy the best cabbage for sauerkraut.
Last update on 2023-10-03 / Affiliate links / Images from Amazon Product Advertising API