Are you looking for some flavorful and unique sauerkraut recipes that you can reference at a moment's notice?
Sauerkraut recipes that work?
Sauerkraut recipes that taste out-of-this-world?
Then, check out my Infographic. 7 Sauerkraut Recipes to Tantalize Your Tastebuds: Life is Too Short to Eat Bland Sauerkraut.
I have also put together a Sauerkraut Recipe Cheat Sheet for you. Ingredients – and quantities – for 7 unique sauerkraut recipes, all in one place. Post this reference sheet on your refrigerator or keep it someplace handy and with one quick glance, you'll be preparing another jar of delicious, probiotic-rich sauerkraut. Happy Belly, here we come.
NOTE: If you are about to embark on fermenting your very first batch of sauerkraut, no worries. The Cheat Sheet includes a link to my teaching recipe that will walk you through the necessary steps, using clear directions with numerous pictures, tips, and tricks to ensure you are successful. I promise! If not, email me and I'll be there to help you.
Sauerkraut Recipe Infographic
Ferment by pictures. Seven recipes to choose from.
Life is too short to eat bland sauerkraut!

Are you hungry now to ferment one of those sauerkrauts? Grab my cheat sheet.
Sauerkraut Recipe Cheat Sheet PDF
Enter your email address below to be sent a Cheat Sheet for seven tantalizing sauerkraut recipes. It will look similar to the Infographic above but fit on one handy page.
Sauerkraut Recipe Infographic
Ferment by pictures. Seven recipes to choose from.
Highlights of 7 Tantalizing Sauerkraut Recipes
Sweet Garlic Sauerkraut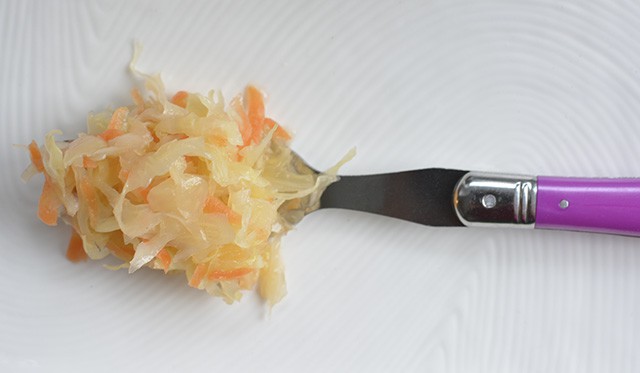 The sweetness of the carrots contrasts nicely with the sharpness of the garlic in this sauerkraut recipe and is sure to please all palates. Many children find this to be their favorite sauerkraut. Full recipe HERE.
Ginger Carrot Sauerkraut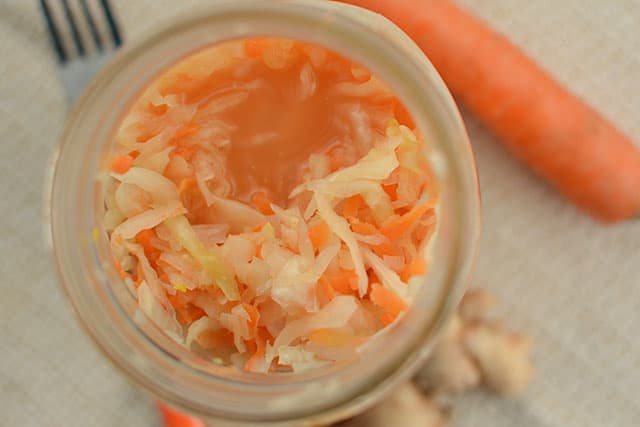 This sauerkraut is full of sweet carrots with a touch of spicy ginger to add a nice depth of flavor and help with digestion – along with all those magical microbes living in the sauerkraut. Full recipe HERE.
Kimchi-Style Sauerkraut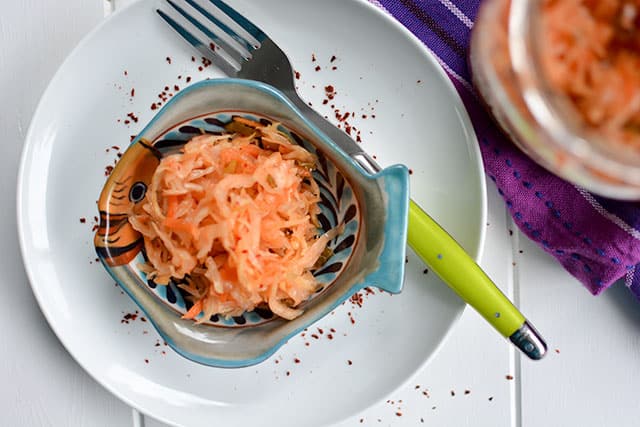 A great way to test the Kimchi waters. Choice of spices and tips to control the heat. No fermented fish in this introduction to Kimchi. Full recipe HERE.
Firecracker Sauerkraut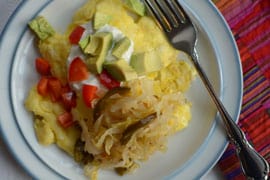 A great way to start the day. The "fire" in this recipe comes from jalapenos. Don't worry, the recipe includes tips on how to adjust the heat to your liking. Here's how to make a BIG BATCH of Firecracker Sauerkraut in a crock. Or, grab the jar recipe below.
Firecracker Sauerkraut Recipe
Jalapeño + red onion + oregano + cumin + red pepper flakes = Simply Delicious!
Passion Pink Sauerkraut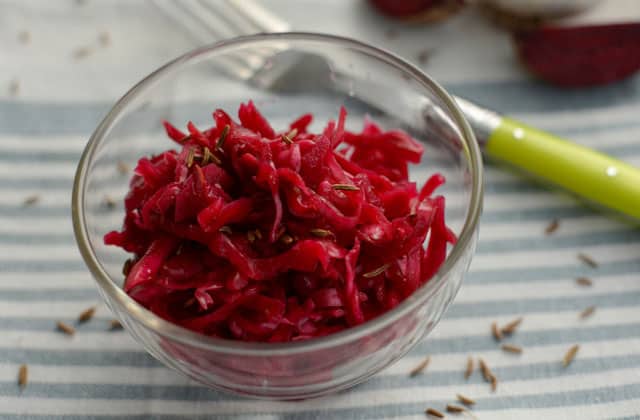 Vibrant red beets. Earthy notes. Numerous health benefits in this sauerkraut recipe. Full recipe HERE.
Baseball Sauerkraut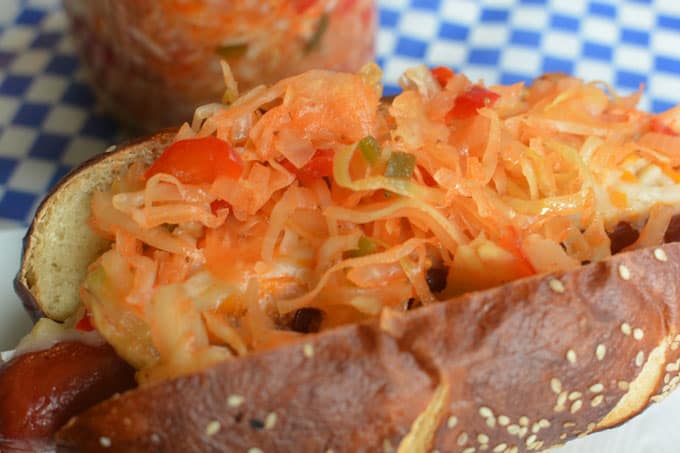 Baseball season or not, one can always use a flavorful, relish-like sauerkraut recipe to add a special zing to a freshly grilled hot dog, barbecued hamburger or just about anything. Full recipe HERE.
Dilly Delight Sauerkraut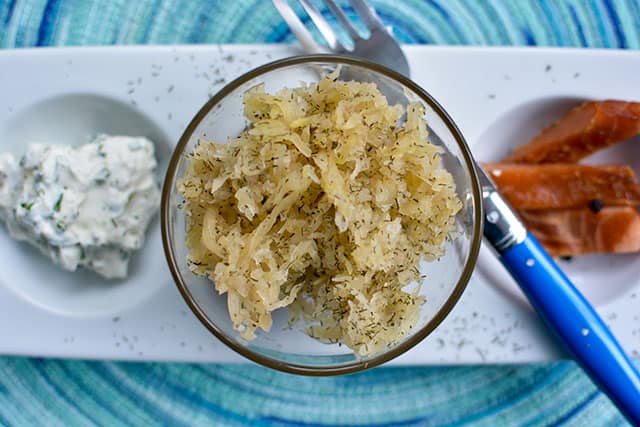 This is as simple as it gets for making sauerkraut. Just three ingredients for this sauerkraut recipe: cabbage, dill, and salt! Full recipe HERE.