Are you struggling to use a scale that doesn't work? Or, do you need a scale and don't know which one to buy? Let me save you some time – and money – and help you make a wise purchasing decision.
I've tried a few different scales, learning along the way, to find the diamond-in-the-rough: the MyWeigh KD-8000 Digital Scale.
For starters.
I have fermented many batches of sauerkraut – some turning out rather nasty – without a scale – using my taste buds to get the saltiness just right. Inconsistency in texture and mold sent me in search of a better method. And soon…
I started to weigh my ingredients and boy, did that make a difference. Just the right texture and no mold… batch after batch.
What scales did I try along the way?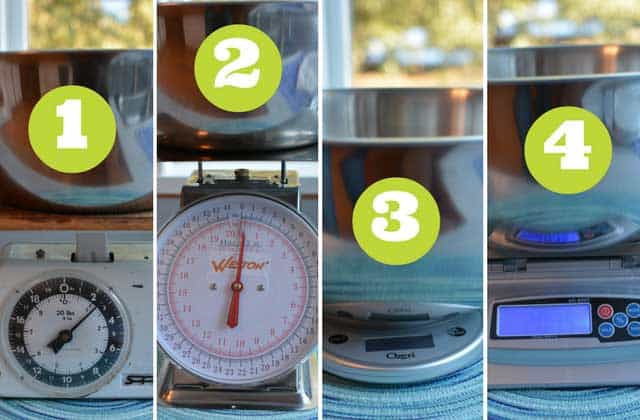 Scale Number 1: Mechanical. The tray ended up being too small and the little knob to remove the tare (bowl weight) was difficult to turn.
Scale Number 2: Mechanical. The top was wobbly and gave a range of readings depending upon where on the tray I set the bowl. In addition, the little knob was a pain to turn. I had selected it because it reminded me of the scale my family used growing up. What do I most remember it being used for? To weigh out each bowl of ice cream to make sure one sibling did not get more than another. 😕
Scale Number 3: Digital. Not only did its hum interrupt my meditative sauerkraut-making process but… just as I got ready to check the weight on the contents of my bowl as I was adding my beautifully sliced cabbage, I found it had shut off – automatically. Trying to save that battery juice. Thanks, but no thanks.
Scale Number 4: Digital. Does not shut off automatically. Has a percentage key to make adding salt by percentage super simple.
The MyWeigh KD-8000 Digital Scale is useful for weighing just about anything in your kitchen… or house.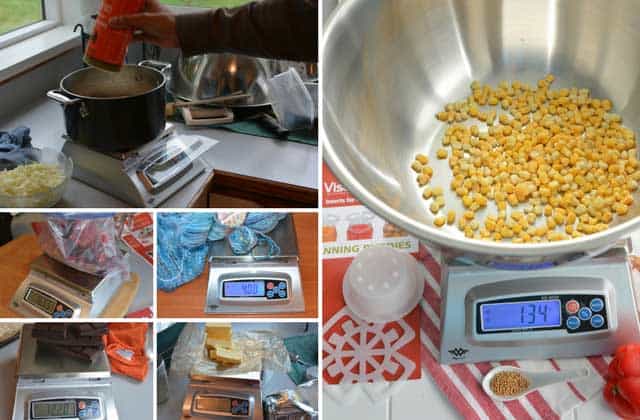 In our household, it's used when weighing chemicals for my son's science experiments, for preparing packages for posting, to ensure I have enough yarn for my knitting projects, for making sauerkraut and whatever else I can dream up. Pickled Cranberries. Chocolate Torte. Pickles.
If you're a baker, the Baker's Percentage Weighing Feature will enable you to easily calculate a recipe's ingredients by percentage.
And, if you're a sauerkraut maker the Baker's Percentage Weighing Feature will enable you to effortless calculate the correct amount of salt for any sized batch of sauerkraut.
Why I Love the MyWeigh KD-8000 Digital Scale
Here are 7 reasons why I always grab the MyWeigh KD8000 scale:
1. Its Auto-Off Feature Can Be Disabled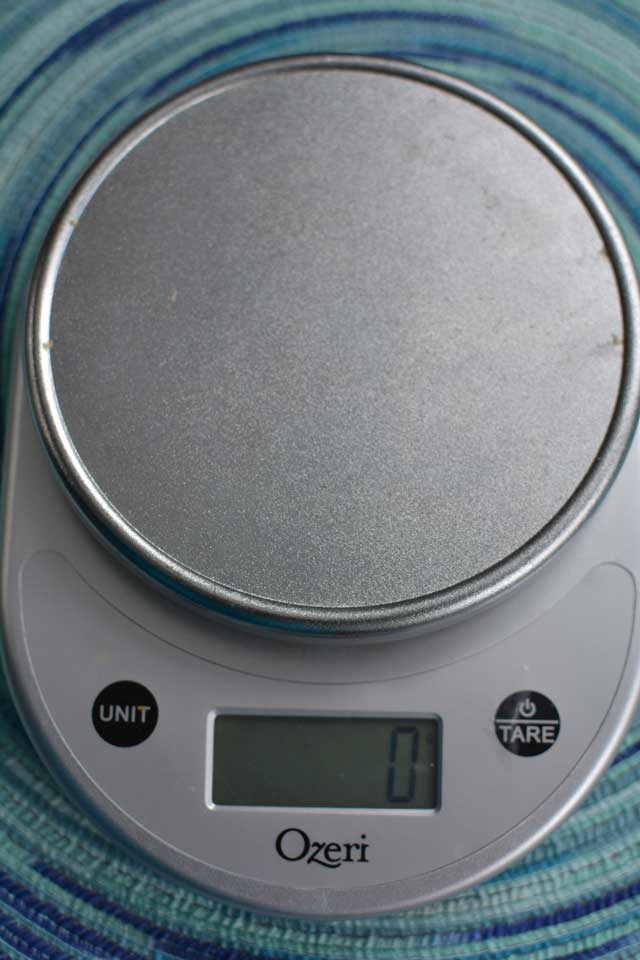 I could have used my first digital scale – the Ozeri Pronto digital scale – as an actual timer.
Here's why.
Exactly 2-minutes after pressing the "ON" button, it would shut off automatically. 😈
I first discovered this when I was in the middle of adding sliced cabbage to the bowl on my Ozeri Pronto Digital Multifunction Kitchen and Food Scale. My Ozeri digital scale could care less that I no longer knew how much my bowl weighed. It was doing its job:
to shut off exactly 2-minutes after the ON button was pressed. I don't know about you, but I can't whip up a batch of sauerkraut in under 2 minutes.
So, I dumped the contents, sliced a big pile of cabbage, turned the scale back on and then reweighed everything. Now, if I'm ever using the Ozeri scale, I just note tare weight of my bowl and add what weight I need to that number.
I used the Ozeri "2-minute timer" for a while, but after some searching for "a scale that does not shut off automatically," I found the MyWeigh KD-8000.
Thank Goodness.
Guess what was the first thing I did with my new scale?
Yes, I disabled the auto-off feature. Jump to the bottom of this post to see the step-by-step instructions on How to Disable the Auto-Off Feature on the MyWeigh KD-8000 Digital Scale.
2. It's Digital
A digital scale is more accurate, can easily switch between pounds, ounces or grams and is effortless to read. No guessing if the needle is pointing to 10 ounces or to 12 ounces.
Yes, I've come a long way since my first scale. Back then, I felt the best scale was a mechanical scale. A scale that made no beeps, had no flashing lights and did not need batteries. I used it to successfully make many batches of sauerkraut. It was not as accurate as a digital scale but it got the job done.
3. I Can Read the Display When A Large Bowl is Sitting on the Weighing Platform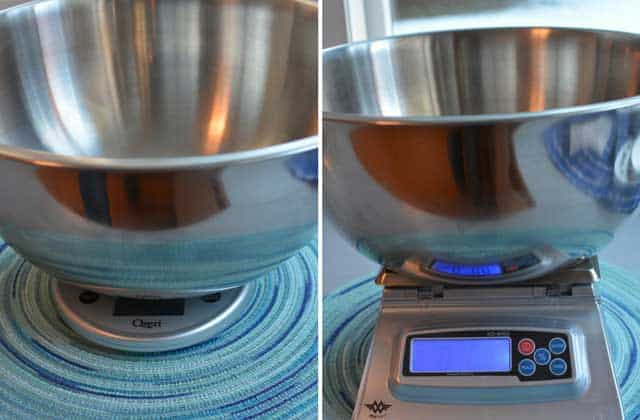 The readout on many of the slim notebook-like scales can be covered up by large bowls. By having the display on the side of the scale, I do not have to bend down to look below the bowl.
4. It Can Weigh in Grams, Ounces, and Pounds
The MyWeigh KD-8000 digital scale can weigh in kg, g, lb: oz, and oz. Though I most often use grams (g), there have been times when the other units of weight have come in handy. Most digital scales allow you to easily toggle between different units of measurement.
5. The Baker's Percentage Weighing Feature of the KD-8000 Makes for Easy Salt Measurements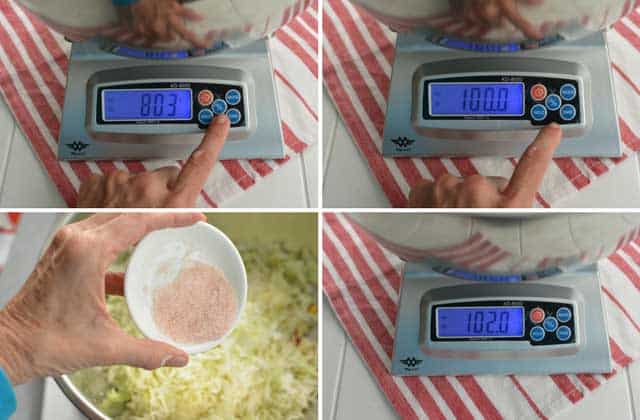 It wasn't until after a year of using the MyWeigh KD8000 scale that I discovered why there was a "%" key on the scale. I had gradually switched over to not only weighing the ingredients for my sauerkraut but also for weighing my salt.
Not knowing how the "%" worked, I would note the weight – in grams – multiply that number by .02 and then add that much salt to the contents of my bowl.
There is a much easier way to make these calculations. Jump to the bottom of this post to see the step-by-step instructions on How to Use the MyWeigh KD-8000 Percent Function to Calculate 2% Salt.
6. Simple and Easy to Use Tare Function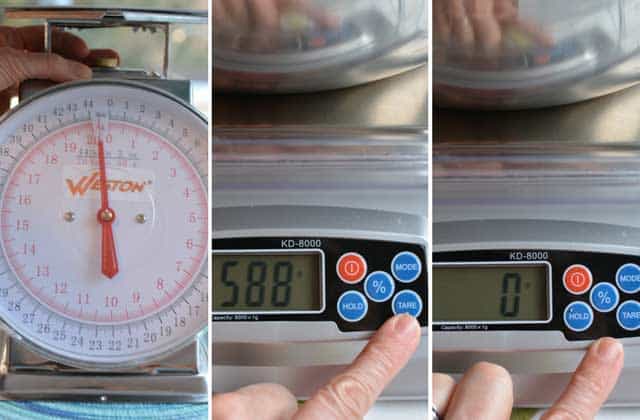 With a mechanical scale, you're always having to turn a hard-to-access and hard-to-turn knob to zero out the scale. With digital scales, you can take off the weight of your bowl at the push of a button.
7. Sized for Convenient Storage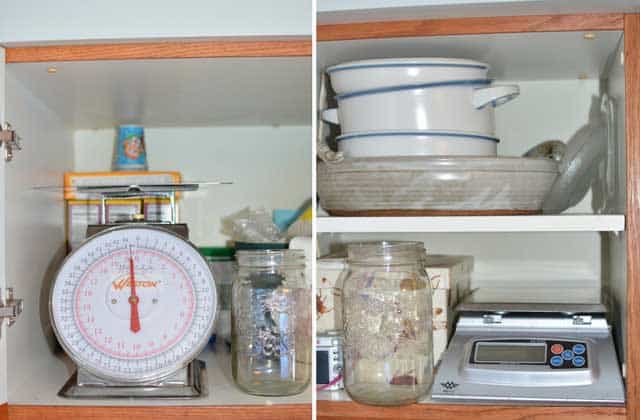 No, it's not as slim as a notebook and it does need a dedicated spot in your cupboard for storage but it doesn't take up a whack of room like my big mechanical scale does.
It's size: Front to back, about 10 inches; side to side, about 8 inches; and, about 3 1/2 inches tall.
Features & Tips on Using the KD-8000 Digital Scale
How to Disable the Auto-Off Feature on the MyWeigh KD-8000 Digital Scale
Out of the box, the MyWeigh KD-8000 digital scale is programmed to shut off automatically. No one wants their scale to automatically shut off when in the middle of weighing your ingredients. Your current numbers are lost and you must dump the contents of your bowl and start over.
NOTE: That rough-looking plastic on the red ON/OFF button? It was a protective sheet I hadn't yet removed. I've done so now and the display is now nice and smooth.
Here's how to disable the Auto-Off Feature: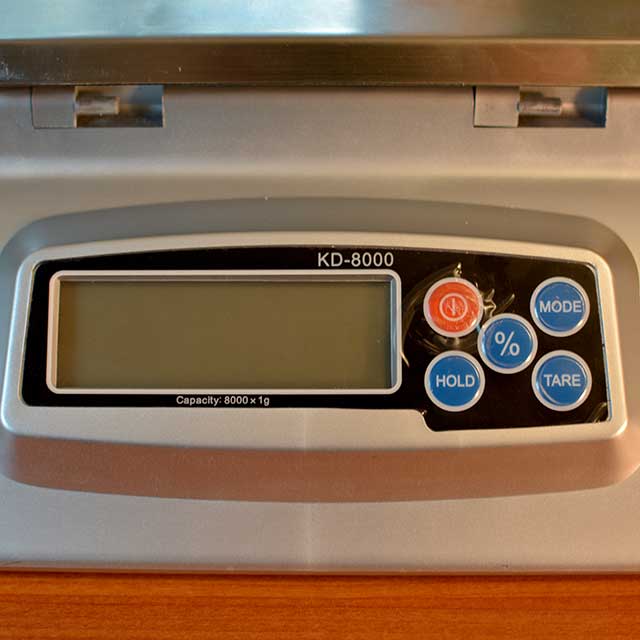 Start with the Scale Turned Off
If your scale is not already off, press the [ON/OFF] key to turn it off.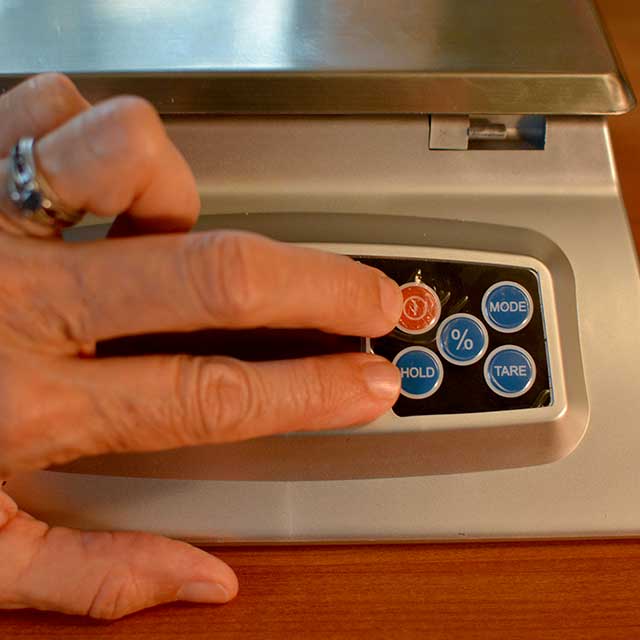 Turn On Program Mode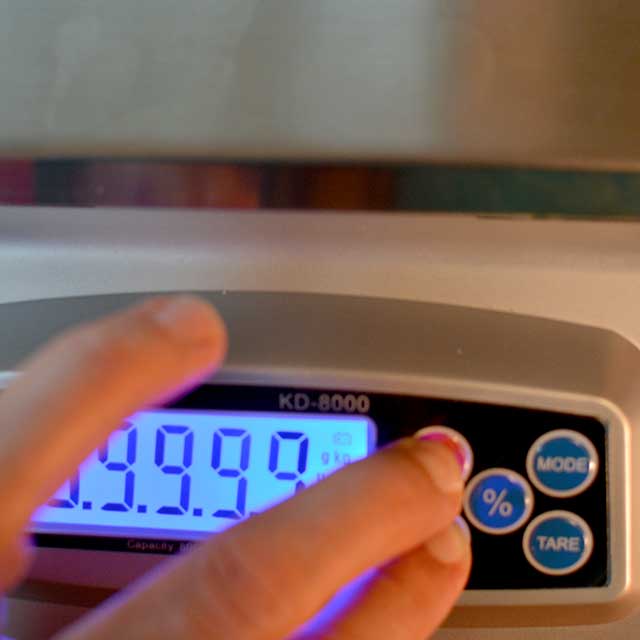 Hold for 3-5 Seconds
As indicated in previous slide, keep the [HOLD] and [ON/OFF] Keys depressed for 3-5 seconds as the scale does its countdown.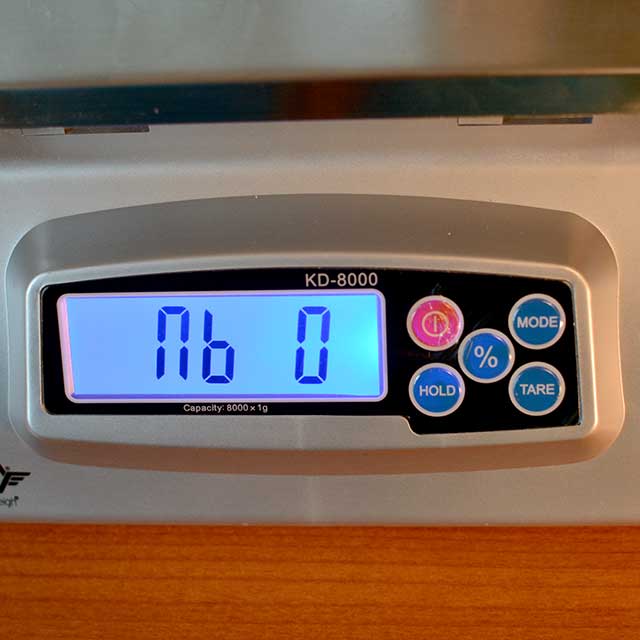 Display for Weight Response Speed Settings
"nb 0" (or "nb 1" or "nb 2") will display. This is the Set Weight Response Speed. This is how long it takes for the scale to respond to the weight you place on it.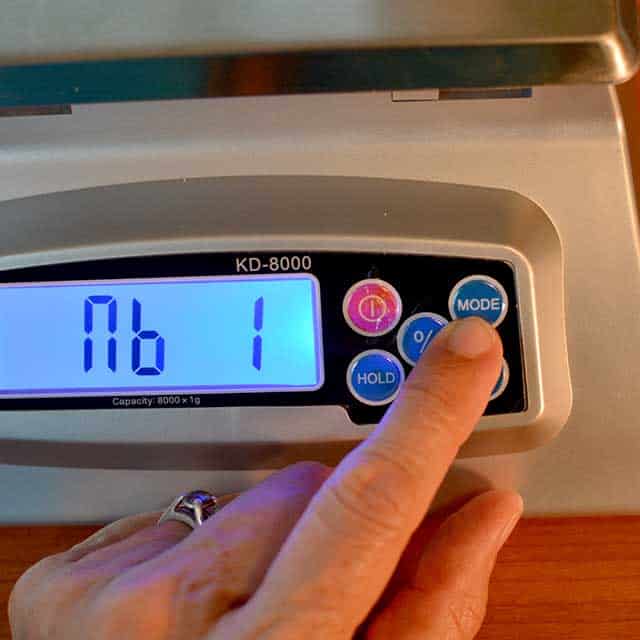 Set Weight Response Speed
Press the [MODE] Key to cycle through your options. "nb0" is slowest; "nb3" is fastest. I leave mine at "nb 1."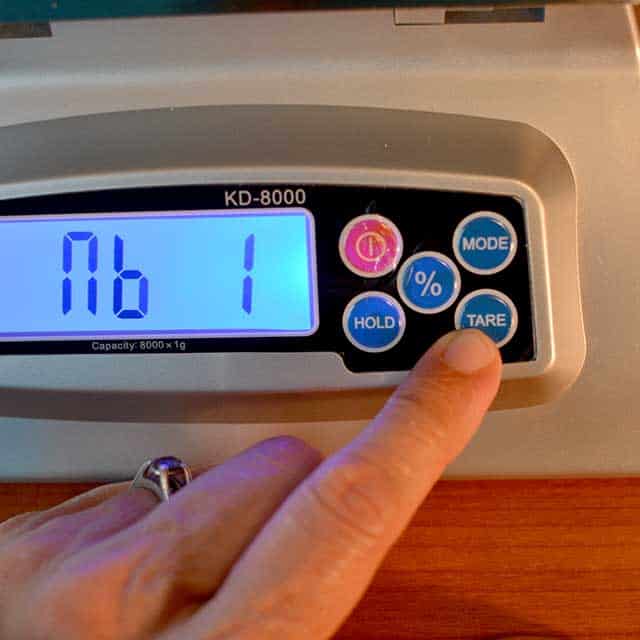 Confirm Weight Response Speed
Press the [TARE] Key to confirm the desired setting. Next, the Auto Off settings will display.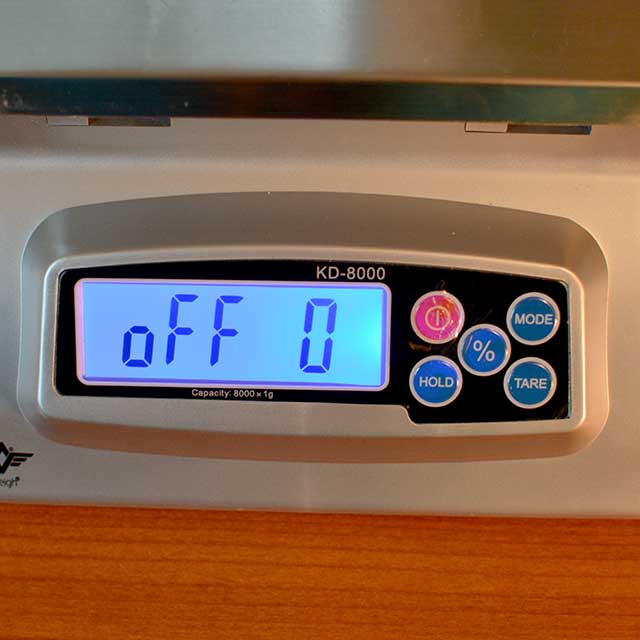 Auto Off Settings Display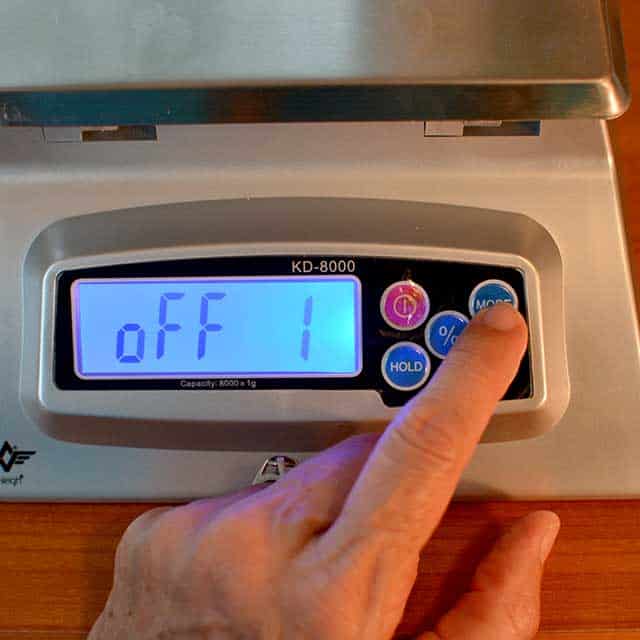 Set Auto Off
Press the [MODE] Key to cycle through the Auto Off Settings: "OFF 0" (disabled), "OFF 1" (automatic turn off after about 2 minutes) and "OFF 2" (automatic turn off after about 5 minutes). You want the "OFF 0" setting.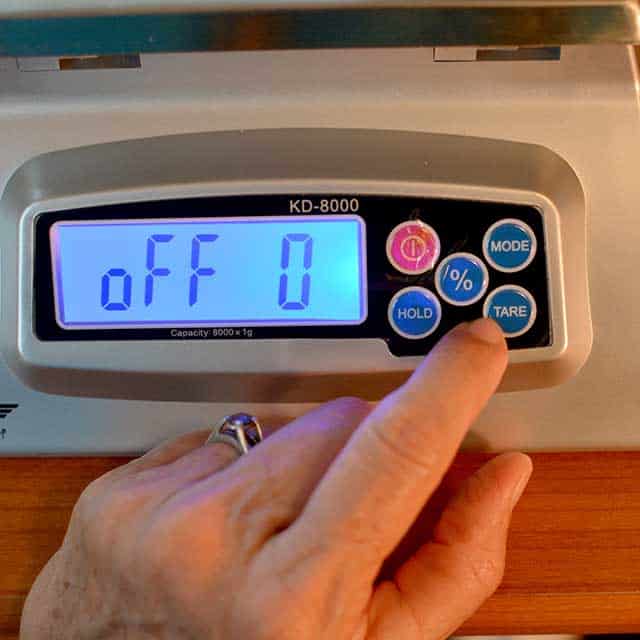 Confirm Auto Off Setting
Press the [TARE] Key to confirm the "OFF 0" setting.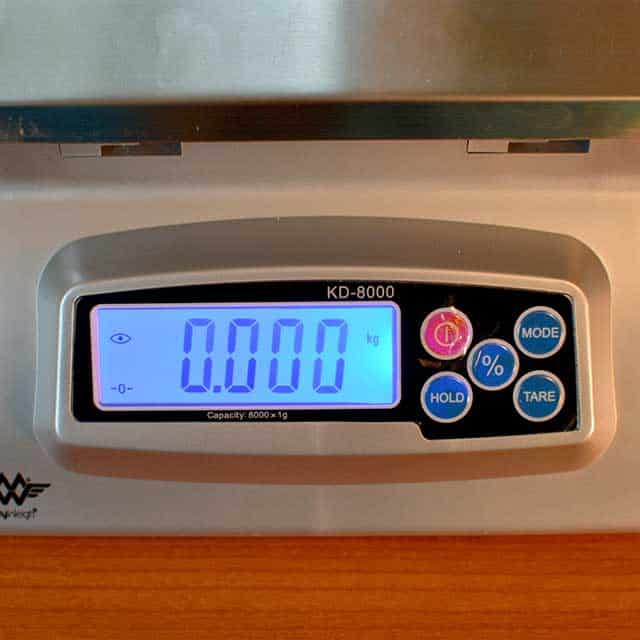 Scale Returns to Normal Weighing Mode
You're now ready to make sauerkraut. See the next set of slides on how to calculate your 2% salt using the MyWeigh % function.
How to Use the MyWeigh KD-8000 Percent Function to Calculate 2% Salt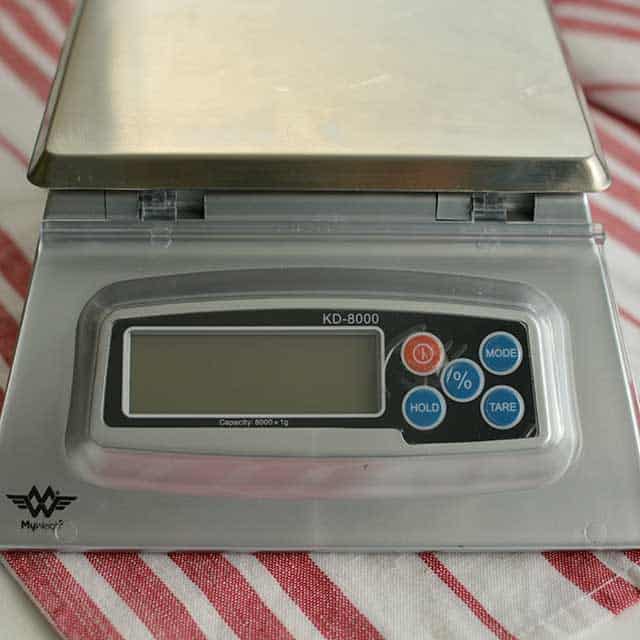 My 1-Year Old MyWeigh KD8000 Digital Scale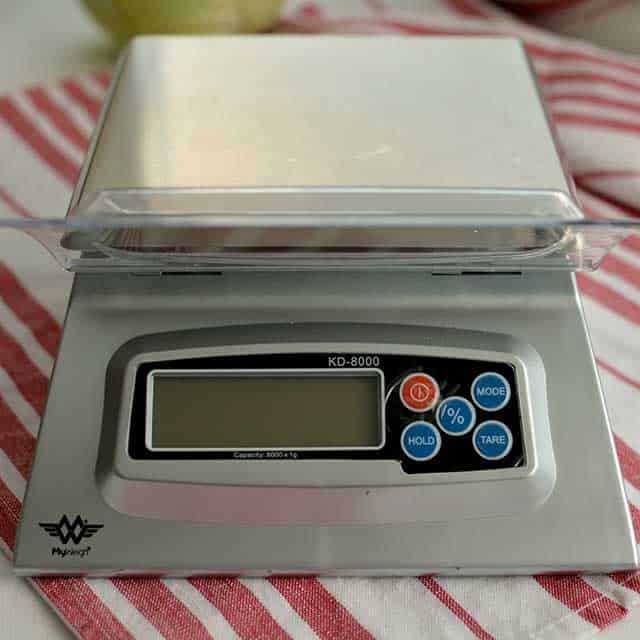 Turn On Your Scale
Lift the protective cover and press the red [On/Off] Key to turn on the scale.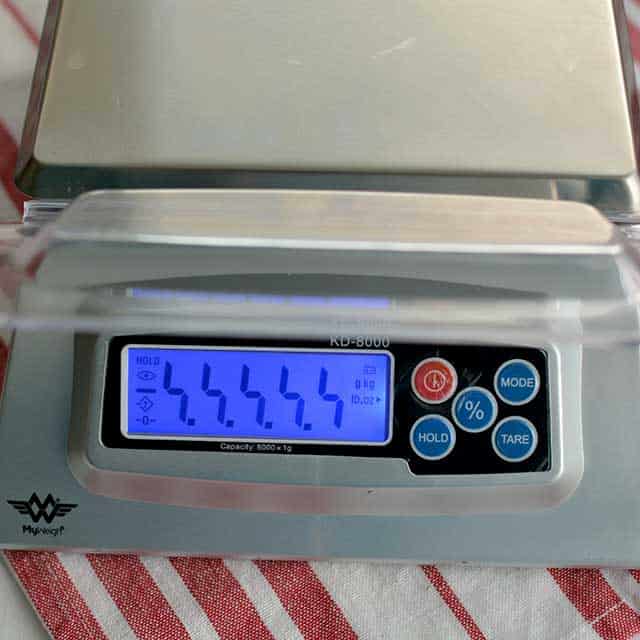 Wait for Your Scale to Power Up
It will take a few seconds for the scale to automatically count down from 99999 to 00000.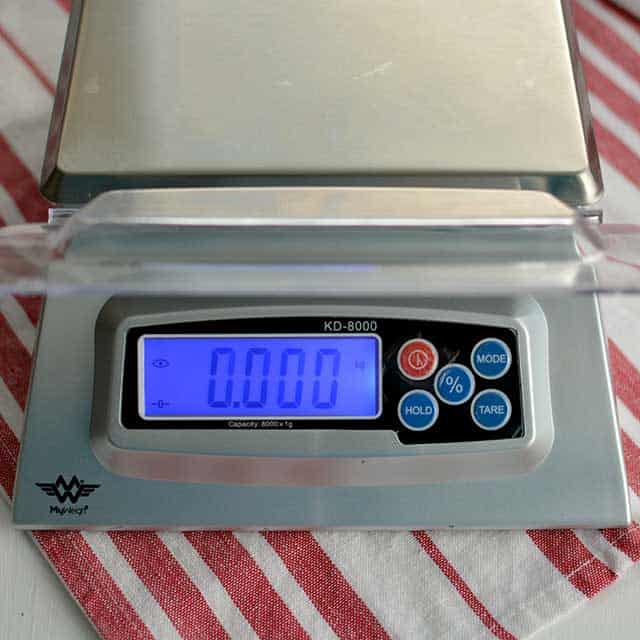 Scale Ready to Use
Once the set of 00000 have displayed, it will then display the current weight, 0.0000, in the mode last used. In this picture you see "kg" for kilograms in the upper right-hand corner of the lighted display.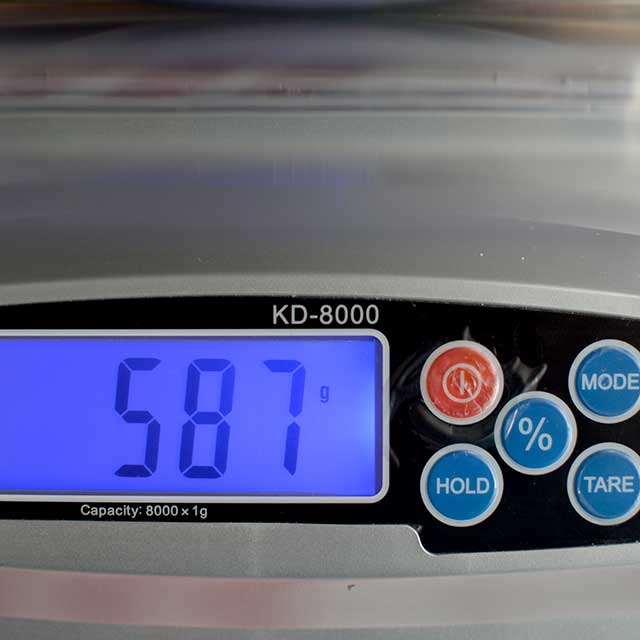 Place Bowl on Scale
You will see the weight of your empty bowl.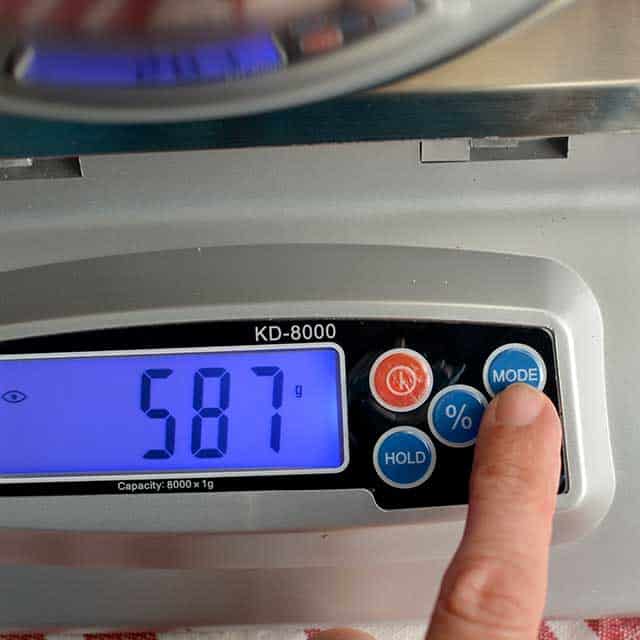 Switch the Scale to Grams
If not already in grams ("g"), press the [MODE] Key to cycle through ounces, pounds, kilograms and grams until you see the "g" for grams. Grams is the easiest measurement mode to use.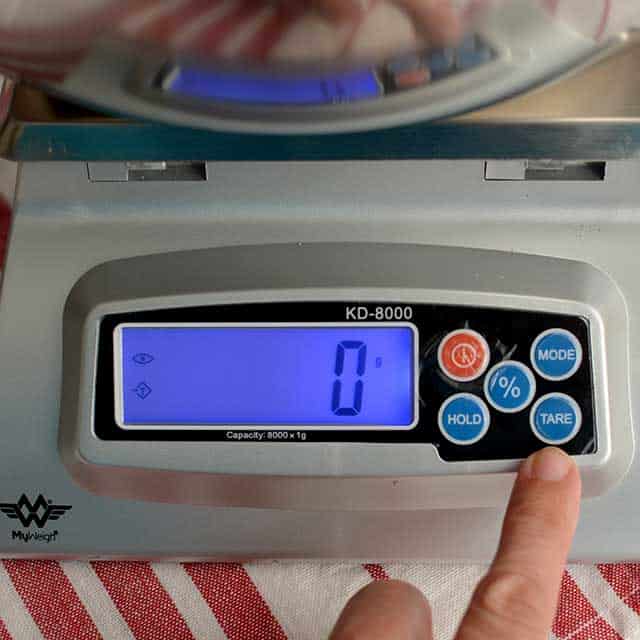 Tare Your Bowl
To not include the weight of your bowl in your calculations you need to "zero out" or remove the Tare weight of your bowl. To do so, press the [TARE] Key in the lower right-hand corner. "0" should display.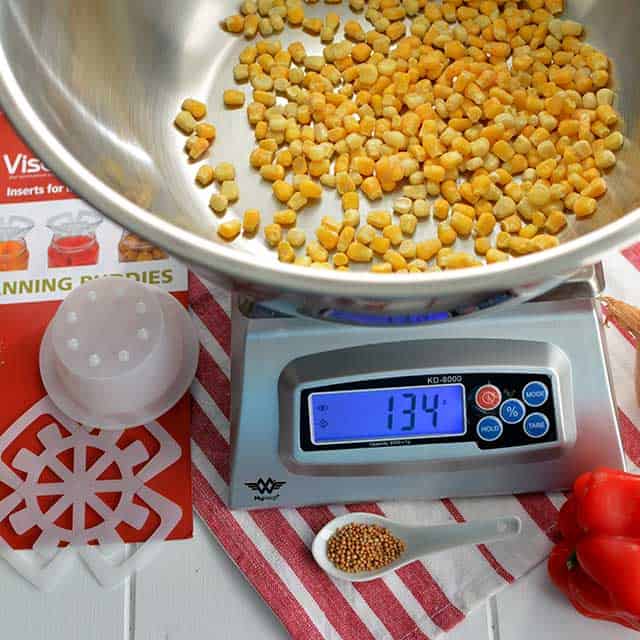 Add Your Flavoring Ingredients
Add everything that you are using to flavor your sauerkraut, except your cabbage and salt.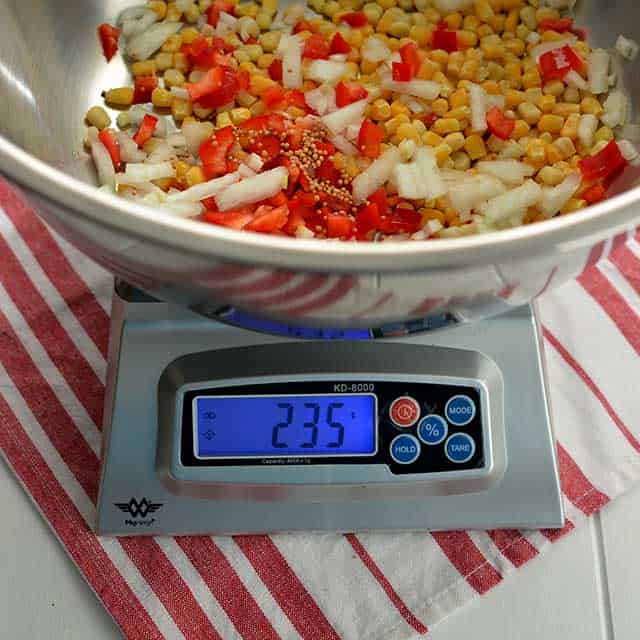 Flavoring Ingredients – 25%
For an ideal fermentation, your flavoring ingredients should not be much greater than 25% of your total weight. For this 800 gram batch, I would want to ideally stop at 200 grams. We're close. All is good.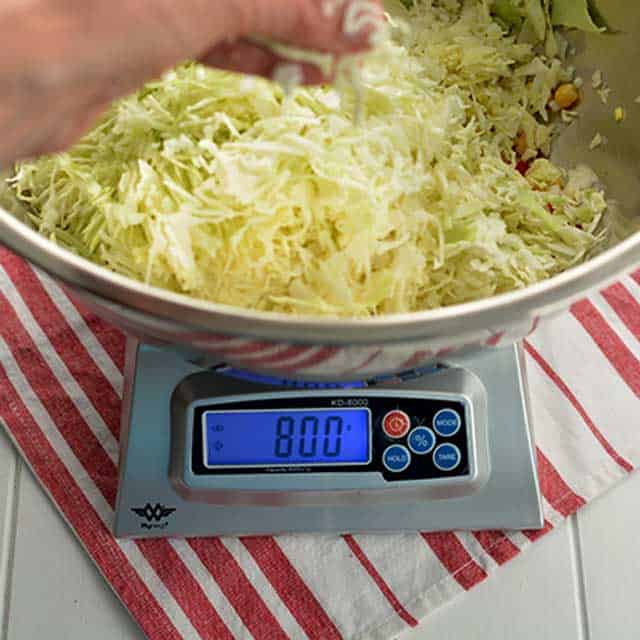 Add Sliced Cabbage
Add sliced cabbage until you have reached your total weight. For most one-quart (liter) batches, this is 800 grams. Now for the fun part: Having the scale calculate your 2% salt.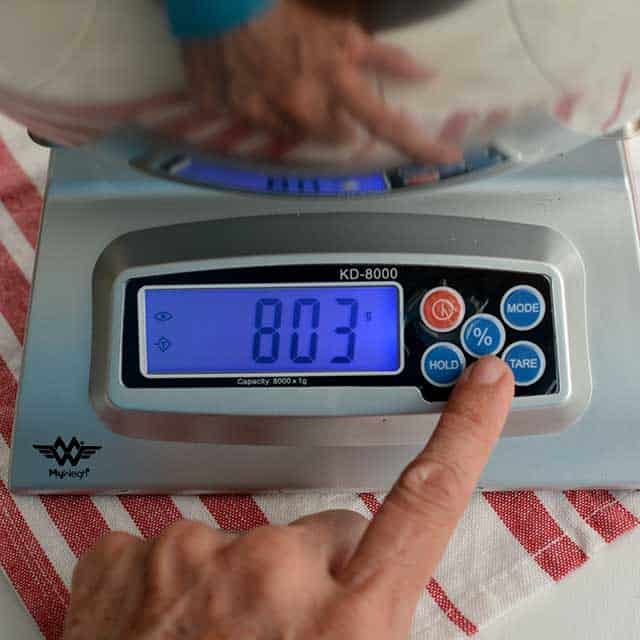 Use the Percent Function
Press the [%] Key to set the weight of the contents of your bowl to 100%.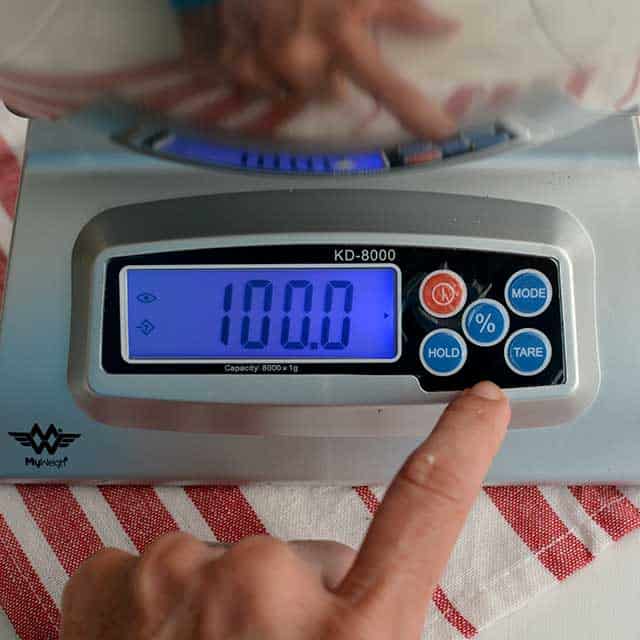 Bowl Contents at 100%
Once you press the [%] Key, "100.0" appears in the display.
SLOWLY Add Salt
Watch the display and slowly sprinkle in salt until the display reads "102.0" This means you have added 2% salt to the 100% contents in your bowl. See next slide.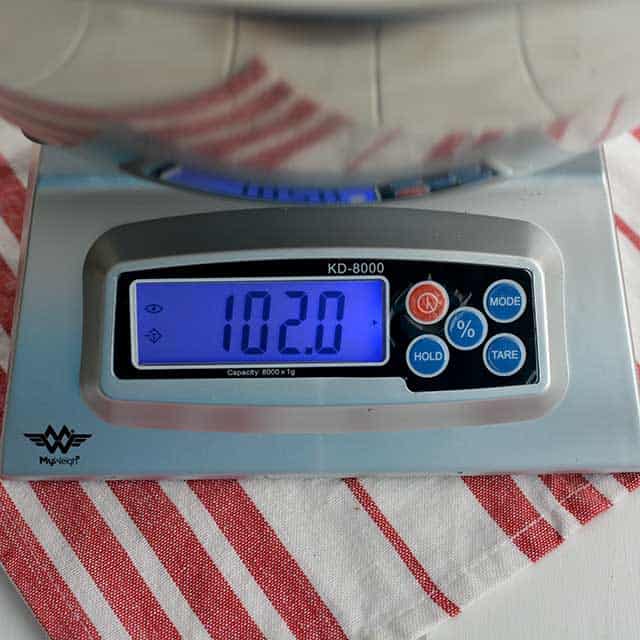 Salt at 2%
The display indicates that you have now added 2% salt to your bowl of sliced cabbage.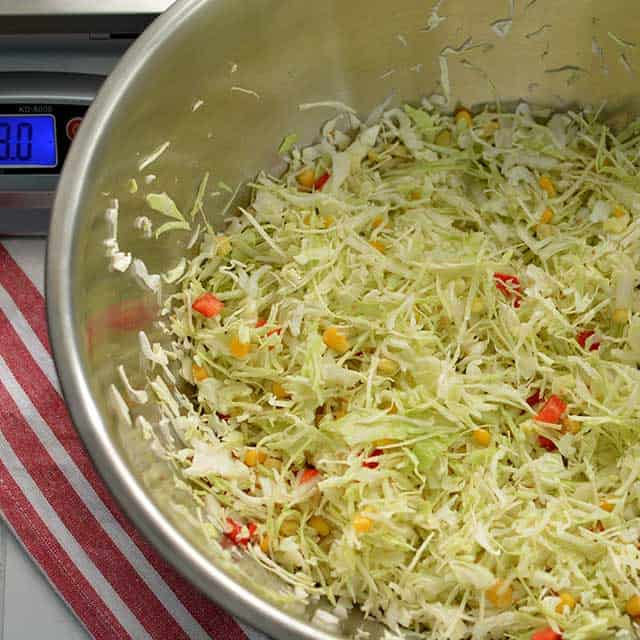 Mix in Salt to Create Your Brine
Thoroughly mix cabbage to evenly disperse your salt. Leave sit for 10-20 minutes to let the salt pull the moisture out of your cabbage mixture.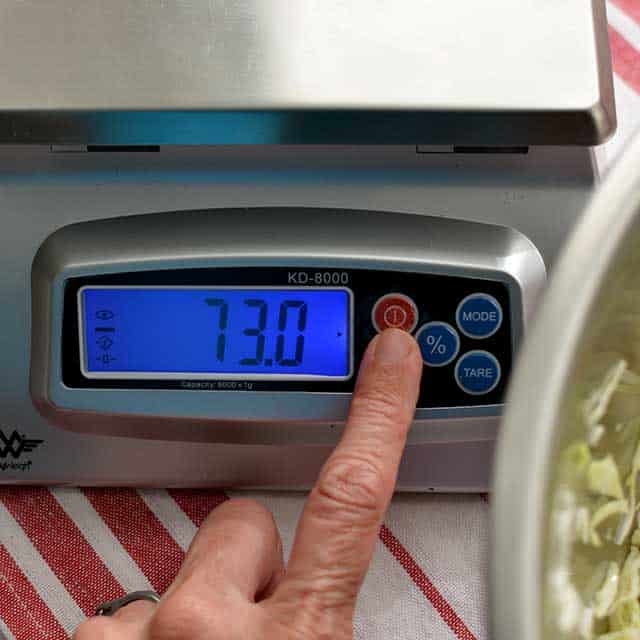 Turn Off Scale & Tidy Up
While the brine is forming, turn off your scale and tidy up. Get your jar, weight and lid ready.
Submerge
Use a "weight" or other device to hold everything below the brine. Here I'm testing out a new product: ViscoDisc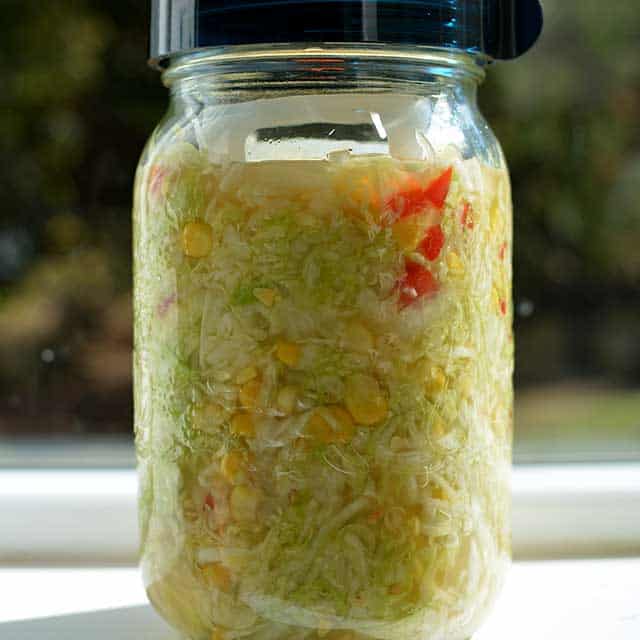 Screw on Lid and/or Airlock
Seal your jar with a simple lid or some type of airlock device. Though you can't quite see it, here I'm testing out the Easy Fermenter waterless airlock lid.
So, if your digital scale has a "%" key on it, now you know how to use it. Here is my post on why it is so important to weigh your salt.
Capacity
The capacity for the KD-8000 scale is 8000 grams (17.6 pounds) as the "8000" in the name indicates. 🙂 This is the maximum weight the scale can hold, which includes the weight of any tare item, that is the weight of the bowl. For most people, this is enough. If you are wanting to mix up a 15-pound batch of sauerkraut in one container for that large and beautiful water-sealed fermentation crock of yours, this scale won't handle that kind of weight.
But no worries. My recipe for fermenting in a crock has you covered. I recommend weighing in 5-pound increments when filling a crock to ensure the salt is evenly dispersed and ingredients are thoroughly mixed.
Batteries
Low batteries & bad battery connections are the number one cause of scale malfunction and inaccuracy, according to the MyWeigh User Manual. They recommend removing batteries if you plan to store your scale for longer than 14 days.
A low-battery symbol will appear in the display when you need to change the batteries.
Requires 3 AA batteries. Batteries are easily accessed via a battery cover located at the bottom of the unit. (Since the prongs of the weighing tray just rest in four holes, be sure to secure or remove the tray before turning the scale upside down – as I discovered the hard way. 😉 You don't want the tray to come crashing down to the floor.) No screwdriver required. Just press the tab to open.
AC Adapter
For an extra $5, you can buy the model with the AC adapter for plugging the scale into your wall. Save those batteries.
Have extra adapters around your home? You'll need a DC 5V 300mA. The correct adapter must be used to avoid damage to the scale.
Back Light Feature
On the back of the scale next to the AD outlet is the backlight switch. Slide it to enable or disable the backlight.
Don't Overload Scale
When the display shows "——-", this indicates an overload. To avoid permanently damaging your scale, remove excessive load immediately.
Ready to make your fermentation life easy? Do consider a scale,
a digital scale,
a digital scale that does not shut-off automatically. 😀
In addition to other fermenting supplies, recommended models of scales can be found on my Fermenting Supplies page.
Happy Fermenting!
MyWeigh KD-8000 Digital Scale Options
Sale
Sale
Last update on 2023-11-29 / Affiliate links / Images from Amazon Product Advertising API