The best fermented food for people to eat is kimchi. For the living organisms.
– Myung Ki Lee, lead microbiological researcher at the Korea Food Research Institute
Kimchi, South Korea's national dish, has long been prized for its nutritional qualities, offering generous amounts of vitamins, fiber, and loads of the aptly named Lactobacillus kimchii cultures. You thought sauerkraut was rich in beneficial bacteria? Well, kimchi raises the microbial diversity bar to a whole new level.
Jump to Recipe
Traditional Kimchi Tidbits
Powered by Bacteria
According to Katherine Harmon Courage, author of Cultured, a single variety of kimchi might contain more than one hundred different types of microorganisms. And, a single gram of that fermented kimchi contains some 100 million lactic acid bacteria.
Incredible!
I'll go deeper into this in a separate article, but one reason for this greater diversity is the addition of other fermented ingredients, such as fish sauce and shrimp. The traditional kimchi recipe in this post will use both, so don't leave them out.
And, don't stop eating sauerkraut because it's not quite as diverse.
I'm of the firm belief that all fermented foods—with their microbial ecology—are good for you in the sense that we should be consistently educating our immune system with a range of beneficial bugs. I am a big fan of eating a diverse range of good bugs. Your immune system evolved for you to do that.
— David Mills, microbiologist, University of California at Davis
See this post for an in-depth coverage of some common fermented foods to add to your daily diet.
Kimjang Day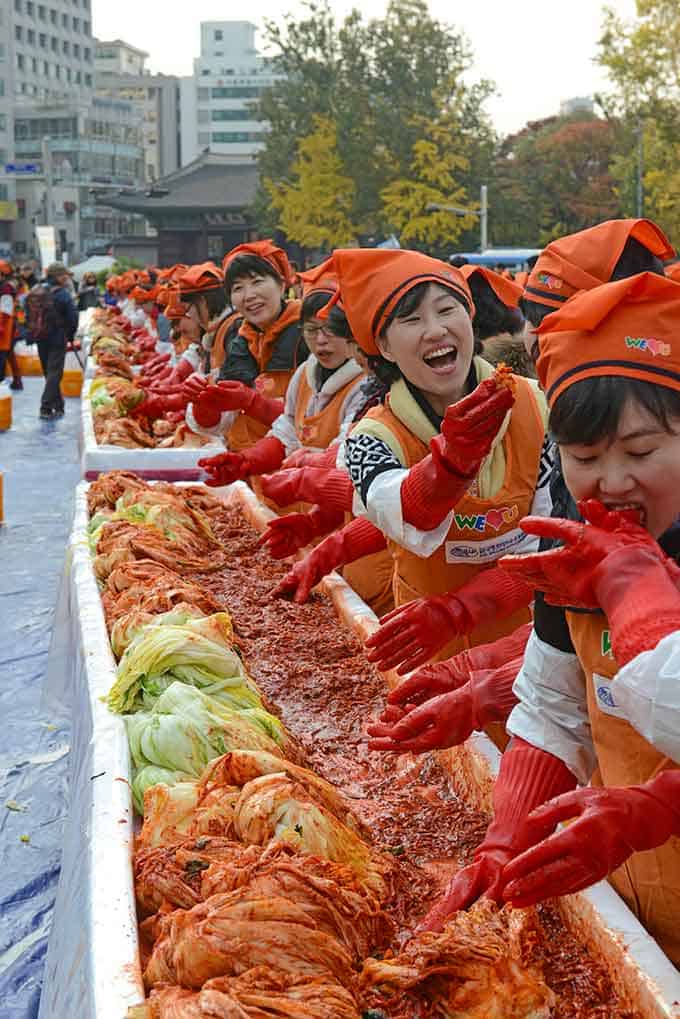 Early fall marks the arrival of small early-season cabbages. These cabbages are harvested before they grow into larger, full mature heads of cabbage and are used to make fresh kimchi. This fresh kimchi was eaten after just a few days of fermentation in anticipation of kimjang, the annual fall harvest.
Kimjang Day is still celebrated in many villages in Korea. On this day, women come together to turn hundreds of heads of cabbage into the coming year's supply of Poggi Kimchi. Poggi Kimchi refers to stuffed cabbage halves, which are brined overnight and then slathered with seasoning paste made from red pepper powder, fish sauce, shrimp, onion, garlic, ginger, and green onions.
Mak Kimchi vs. Baechu Kimci vs. Poggi Kimchi
The kimchi recipe I share is called Mak Kimchi or simple kimchi. Simple because the easier way in which the cabbage is cut and brined. Instead of carefully pulling apart cabbage leaves and individually salting them as for Poggi Kimchi, Mak Kimchi uses "square-cut" napa cabbage soaked overnight in a simple brine and then quickly mixed with a prepared red pepper paste.
Then, there is Baechu Kimchi in which the leaves are cut into large rectangles and then the seasoning paste is mixed in. Just think. Three different kimchis based just upon the way the cabbage is cut. Now, we know why there are more than 180 distinct recognized types of Korean kimchi.
Both the Mak Kimchi and Baechu Kimchi are considered quick kimchis because the smaller pieces increase the surface area that is exposed to the seasoning paste, which, in turn, accelerates the fermentation process. The intact cabbage halves of Poggi Kimchi ensures that fermentation occurs at a steady, slow pace—perfect for optimizing flavors.
Now, for a few tips to get you started and with answers to common questions.
Traditional Kimchi Recipe: Notes, Adjustments, and Substitutions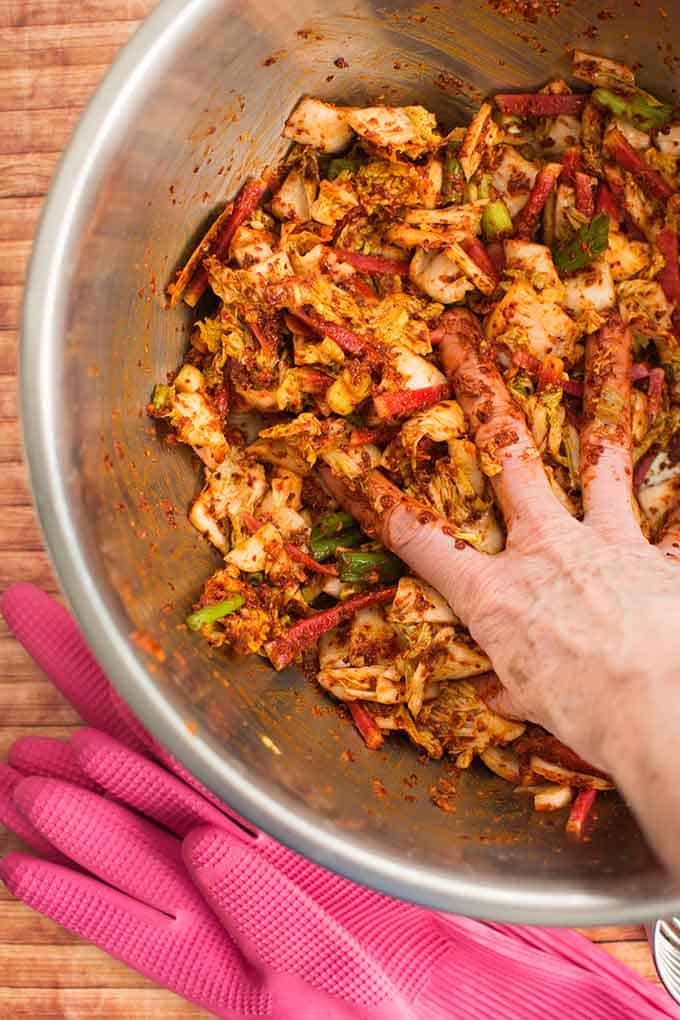 All of the ingredients you need for making kimchi are explained in detail—along with substitutions, shopping tips, and techniques—in Stocking Your Kimchi Pantry: Staples, Fresh Ingredients, Basic Techniques.
Specialty Items to Buy Online
Gochugaru & Fish Sauce
You most likely do not have Gochugaru (Korean red pepper powder) on hand and will have to purchase that, along with fish sauce. I discuss Gochugaru in greater detail here, and the only two ingredients that fish sauce should contain here. Shown below are the brands I use.
Sweet Rice Flour
Many kimchi recipes call for rice porridge, a mixture of rice flour and water, heated to a boil and then cooled. Rice porridge adds body to the kimchi and encourages the growth of the right bacteria for good fermentation.
Many Koreans prefer sweet rice flour, but any flour will do. Do not use nut flours. I was able to find sweet rice flour by Bob's Red Mill at my local health food store. You may have to look online for it or use another flour.
Gochugaru (Korean red pepper powder)
Gochugaru (Korean red pepper powder)
Specialty Items to Purchase at a Korean Market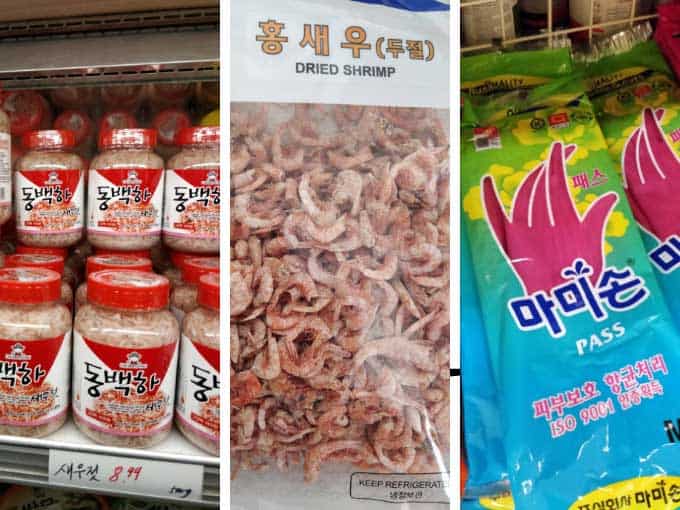 I purchased salted shrimp, dried shrimp (substitution for salted shrimp), and… red kimchi gloves from a Korean market.
Recipe Notes
How do I tame the flavors if I'm not quite ready to make the real thing?
Double the amount of cabbage. Purchase and cut up two heads of napa cabbage (about 5-6 pounds) instead of one and make a double batch of brine for the soaking step. Mixing twice the amount of cabbage with a single-sized batch of red pepper paste will spread out the intensity of the flavors.
Omit the salted shrimp. You may just not be ready for tiny, beady-eyed shrimp complete with antennae. If so, just leave them out.
Omit both the fish sauce and the salted shrimp. I totally get it if fermented fish is just not your thing. I've been making Kimchi-Style Sauerkraut for 15 years and I am just now expanding my fermentation palate to include fish sauce. If you're hesitant, try instead one of the vegan substitutions indicated below.
Can I make a vegan batch of kimchi?
Yes. Use 1-2 tablespoons of any one of these suggested substitutions (miso, coconut aminos, soy sauce, vegemite, marmite) in place of the fish sauce and salted shrimp.
Ideally, ferment in the fall with recently harvested cabbage.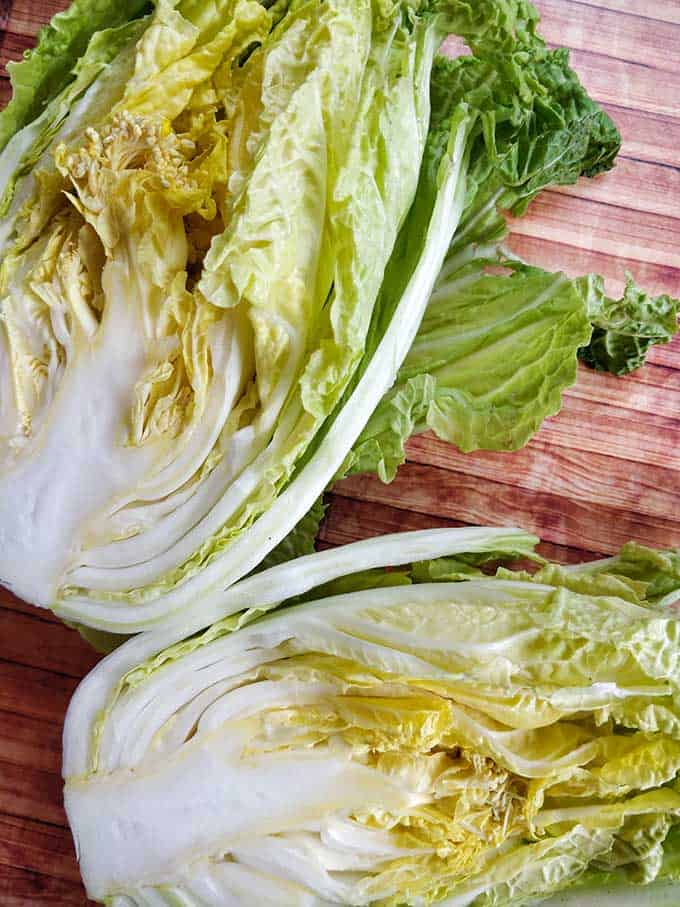 I had a hard time finding beautiful napa cabbage in the middle of March. Either the leaves were yellowed or the interior had started to sprout and go to seed as shown in this picture.
At what temperature should I ferment my kimchi?
According to this article by Cook's Illustrated, the sweet spot is 65°F (18.3°C).
Four identical batches of kimchi were fermented at four different temperatures: 39°F (3.0°C), 50°F (10°C), 65°F (18.3°C), and 70°F (21.1°C).
Tasters preferred the kimchi fermented at 65 degrees. While slightly softer than the 50-degree sample, it still retained a fresh crunch. At just nine days old, this pickle featured a saucy, slightly thickened brine and the most balanced mix of bright acidity, rich cheesy flavors, and pleasant, subtle fishy notes. It had a good body, a slightly fizzy tingle, rich backbone, and complexity.
How long do I ferment my kimchi?
Now that's a good question with answers all over the map. From what I can tell, kimchi is eaten at all stages of fermentation with fresh kimchi consumed promptly after mixing and other kimchi's enjoyed through Korea's long winter. With kimchi's ever-shifting microbial communities, the microbes you consume will vary depending upon which stage in the fermentation process it is at.
From Cultured:
Uniform fermented foods such a yogurt generally have a fairly plain substrate—one area of a yogurt container is much like the other. But in kimchi, there is a veritable planet of land and sea habitats for various microbes to find their niches.
Explained further by Myung-Ki Lee, lead microbiological researcher at the Korea Food Research Institute:
Kimchi has leaves, it has roots, it has solid ecosystems, it has liquid ecosystems. Kimchi, because it had different ecosystems, it can support many types of microorganisms.
I had to know, however, when the pH of kimchi was below 4.6, a level at which botulism toxins cannot be produced. For the kimchi I left on the counter to ferment, by day 3, readings were below 4.0. For the jar that I moved to the fridge after day 1—as done for some traditional kimchi recipes—I'm still waiting for the pH to drop. (It's just 2 days into the fermentation process for that jar. Will update.) But, who am I to question this traditional process?
Fermentation length recommendation. Leave your kimchi at room temperature for three days. Then, sample periodically until the flavor has evolved to your liking. When you want to call it "done," move your kimchi to the fridge where cold temperatures will dramatically slow down fermentation and flavor changes will occur very slowly.
How Do I Eat My Kimchi?
Fermented foods are easy to add to any meal. Just scoop a few forkfuls out of the jar and place on your plate along with the rest of your meal. You'll be amazed how it will bring out the flavors in your meal.
Or, try a noodle bowl. They are a quick, healthy and delicious meal. Here's one recipe from my friend Emillie at Fermenting for Foodies:
The Five Tools I Grab Every Time I Make a Batch of Kimchi
Fermentation Weight and Airlock Lid
White Plastic Storage Caps
A Scale: MyWeigh KD-8000 Digital Scale
Quart (Liter) Jar: Wide-Mouth
The Trellis + Co. Pickle Helix Kit is strong enough to hold your ferment below the brine throughout fermentation. Its design leaves plenty of room for brine.
Use for storing sauerkraut or as your lid during fermentation.
A bit pricey but a workhorse. Makes weighing your ingredients and salt a breeze.
My favorite fermentation salt. Broad range of minerals. Add subtle flavor.
Quart (Liter) Jar: Wide-Mouth
Fermentation Weight and Airlock Lid
The Trellis + Co. Pickle Helix Kit is strong enough to hold your ferment below the brine throughout fermentation. Its design leaves plenty of room for brine.
White Plastic Storage Caps
Use for storing sauerkraut or as your lid during fermentation.
A Scale: MyWeigh KD-8000 Digital Scale
A bit pricey but a workhorse. Makes weighing your ingredients and salt a breeze.
My favorite fermentation salt. Broad range of minerals. Add subtle flavor.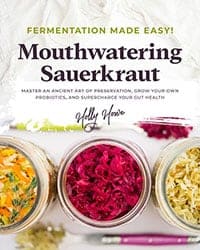 Time now to make Mak Kimchi!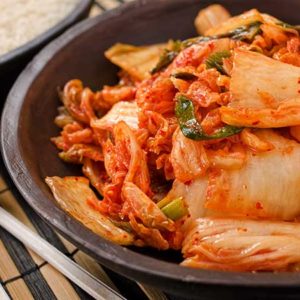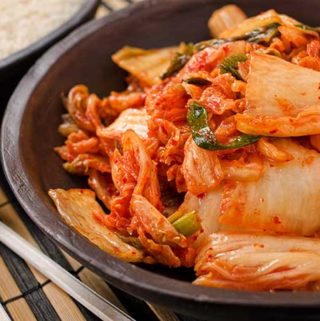 Square-Cut Napa Cabbage Kimchi [Mak Kimchi] Recipe
Mak Kimchi is a great first kimchi recipe with traditional kimchi flavors but made using a simpler process for preparing and seasoning the cabbage.
This recipe is very forgiving. Feel free to adjust it to match your personal preferences, tasting the results, and then slowly adjusting future batches to your liking.

You Will Need
CABBAGE BASE
1

large head

napa cabbage

about 2-3 pounds (1 kg)

1

medium

daikon radish

1/2 to 3/4's pound (225-340 gm)
CABBAGE BRINE (5%)
7

tablespoons (100 gm)

pickling salt

or, iodine-free kosher salt

8

cups (2 liters)

water
ADDITIONAL VEGETABLES
5-7

stems

Korean or Chinese chives

or, 5 green onions
Instructions
1. CUT & SOAK CABBAGE. (Day before)
Your cut cabbage will soak in a salty brine for 8-12 hours. I prepare my cabbage the night before I plan to make my kimchi. You could also soak your cabbage in the early morning and make your kimchi in the late afternoon.
In a large bowl, mix 6 tablespoons (100 grams) of pickling salt with 8 cups (2 liters) of water. We're aiming for a 5% brine. Stir to dissolve most of the salt.


Now for the magical part. Working with napa cabbage is so much fun. When you cut a head of napa cabbage in half, you cut just an inch or two into the base (just through the section where the white stalks join).

Then, use your hand to gently pull apart the cabbage from that base cut to let the leaves magically unfold.

Now, in the same manner, cut each cabbage half into two pieces.

And, then each cabbage quarter in half to end up with eight sections of cabbage.

Next, cut out the small triangle core and then cut the cabbage section crosswise into 1-2 inch squares.

Prepare your peeled daikon radish by cutting it crosswise into thin slices. Then, either cut small stacks of slices into either matchsticks or 1-inch squares.

Add the prepared cabbage and daikon to your bowl of salt water and mix thoroughly. Place a large plate and some type of heavy object on the plate to hold the cut cabbage under the brine. Leave to soak for 8-12 hours.
2. PREPARE SWEET RICE-FLOUR PORRIDGE (Day before or day of)
Some omit this sticky paste. I don't. The rice flour porridge acts as a binding agent and makes the red pepper seasoning paste thick and better able to cling to the cut cabbage.
In your smallest saucepan, whisk together 1 cup of cold water and 2 tablespoons of sweet rice flour. Bring to a boil, whisking constantly. Turn burner to medium and continue stirring until the mixture thickens and resembles white glue. I use a spatula at this point to prevent the paste from sticking to the pan and burning.

I cook the paste until my spatula leaves a nice break when drawn through the hot mixture. I find the thicker it is, the better the final seasoning paste will cling to the cabbage.

Let cool before using. If making ahead, transfer to a small container and refrigerate. The porridge will keep for up to 3 days, refrigerated.
A food processor will make this step MUCH easier. You could also grate and/or finely chop the ingredients.
Coarsely chop the onion, garlic, and unpeeled ginger and place in the bowl of your food processor. Add the sugar, red pepper powder, rice-flour porridge, fish sauce, and salted shrimp.

Blend until it becomes a smooth paste, scraping down the sides of the bowl as necessary.
4. ADD KOREAN CHIVES
Slice Korean chives - or green onions - into 1-2 inch pieces. Add to the bowl of cabbage and daikon.

Note: I forgot to include the daikon radish when I was soaking my cabbage, so I added it at this stage. I had on hand watermelon radish, so that is what you see in the picture.
5. MIX INGREDIENTS
Add the spice mixture to the cabbage.

Put on your kimchi gloves, if desired. I'm a bare hands gal, so I didn't wear gloves but I did have "smelly" seasoned hands for the day. Mix well rubbing the red pepper paste into the leaves
6. PACK INTO JAR
Grab a handful of your beautiful red kimchi and pack into your jar. To cut down on the mess, I hold the jar with one hand and pack the jar using my other hand.

Leave 1-inch (2-3 cm) of headspace for expansion during fermentation. Depending upon the size of cabbage used, you may have to use a second jar. I ended up with 1-quart (liter) jar and 1-pint (500 ml) jar.

Use a damp towel to clean the rim of your jar and then weight down your kimchi with your preferred method. Kimchi is not as prone to surface growth as other ferments, so don't worry if you don't have a weight.

Loosely, to allow gases to escape, screw on a lid. Or, use your airlock lid of choice.
7. FERMENT
Leave to ferment at room temperature for a minimum of 3 days. Flavors will meld and evolve over time. Test every few days until flavors are to your liking and then move to your fridge to dramatically slow down fermentation.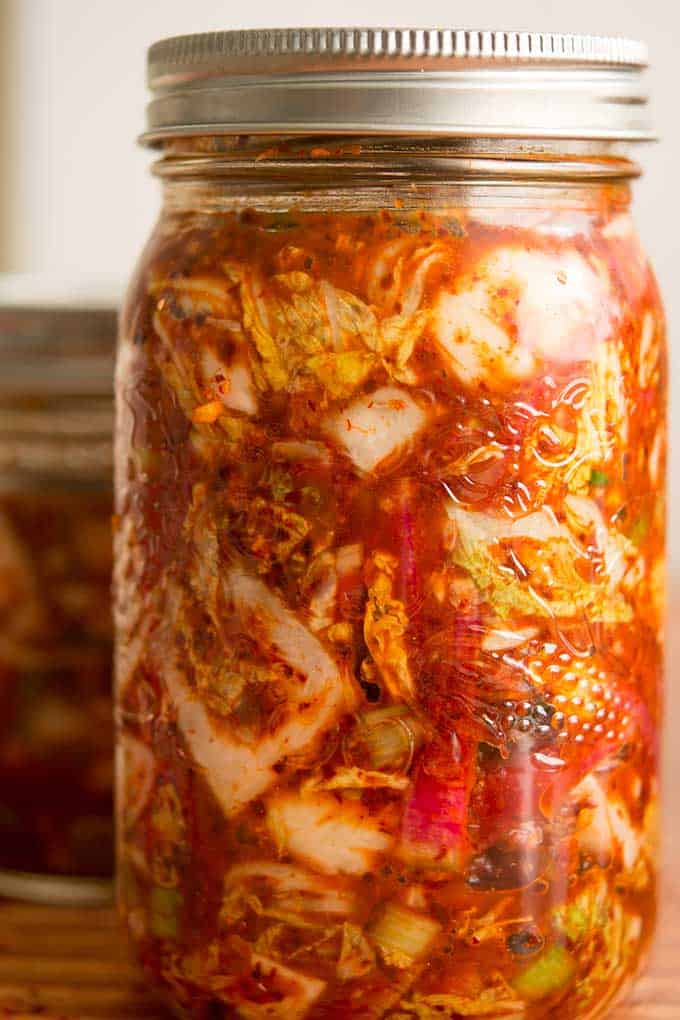 Let me know how you liked you Mak Kimchi and how you may have adjusted the recipe to your liking.
Last update on 2020-09-20 / Affiliate links / Images from Amazon Product Advertising API