One happy gal here.
I'm the proud owner of a beautiful new Stone Creek Trading fermenting crock.
5 liter…
in olive green.
If you've been hesitant to take the next step along your fermentation journey – fermenting in a "large" crock – because you don't know which crock to purchase, worry no longer. You can't go wrong with a Stone Creek Trading water-sealed ceramic crock.
Throughout this review, I compare the 5-liter crock by Stone Creek Trading to a similar crock, my German 5-liter Schmitt crock.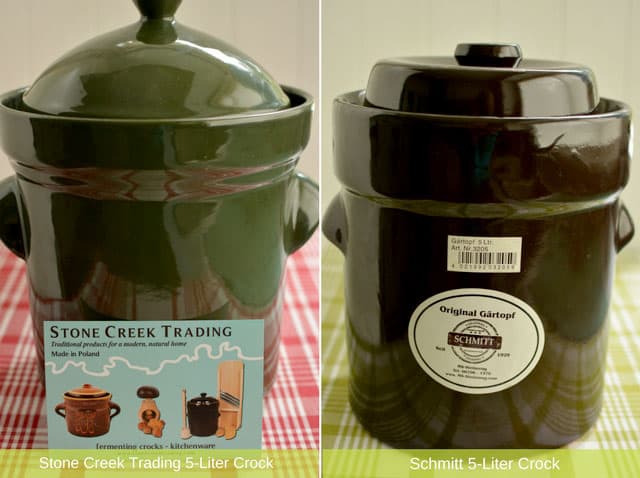 Disclosure: I received this 5-liter crock as a gift from Stone Creek Trading in order for me to do a review. Thank You, Emily.
I would not be recommending their crocks if I did not feel they were of the utmost quality. Though I receive no commission if you purchase from them, I do receive the satisfaction of knowing you will be using a product you will be happy with. Small businesses supporting small businesses.
Stone Creek Trading Fermenting Crock
All of the stoneware fermentation crocks sold by Stone Creek Trading are handmade and imported directly from Poland. The quality of these Boleslawiec Polish fermenting crocks is on par with the popular Harsch Gairtopf fermentation crocks – no longer manufactured – from Germany, but at a much more affordable price. These crocks are used to naturally ferment sauerkraut, various types of pickles, and kimchi.
If you are new to fermenting in a crock or want to fine-tune your skills, be sure to check out my step-by-step photo-rich recipe: The SureFire Sauerkraut Sauerkraut Method… In a Crock: 7 Easy Steps.
Are you battling dry sauerkraut? (Fermenting in a large crock makes for delicious sauerkraut with plenty of brine.)
And, if you are unfamiliar with the various options available for fermenting in crocks – and why I recommend a water-sealed crock, see Fermentation Crocks: The Who, What, Where, When, Why and How where I bring you up to speed on fermenting in vessels larger than a mason jar.
About the Company
Stone Creek Trading is a family business that was started in 2013. They purchase all of their products direct from manufacturers in Poland and store every product they sell in their facility. Each order is hand packed and carefully inspected to make sure it meets their quality standards.

Owners Emily and Kryz Kociolek have partnered with Kryz's father Jacek, who still lives in Poland and handles product sourcing. He visits markets and looks for small companies in Poland that make products that fit with the company's focus. Periodically, the family visits Poland to meet directly with the companies that make the items they sell.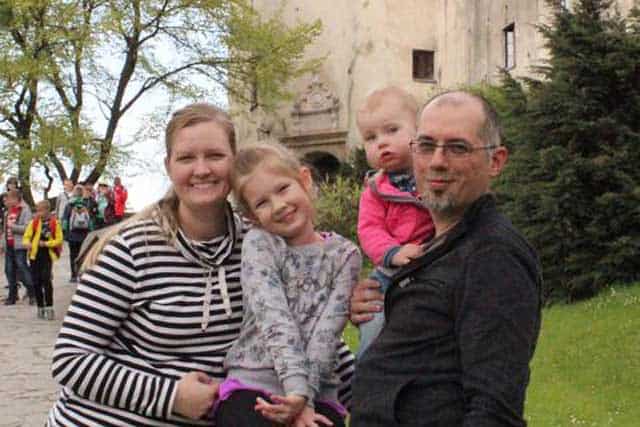 Stone Creek Trading sells a variety of crocks, along with cabbage shredders and kraut pounders, fermenting tools, and Polish kitchenware and decorative items. Stoneware baking dishes, nutcrackers, and folk art mugs and umbrellas to name a few.
More about the company here, along with how its name came to be.
Boleslawiec Polish Stoneware Fermenting Crock Specifications
What follows are the specifications for the Boleslawiec Fermenting Crock I reviewed. At the end of this post is a quick coverage of other Polish fermenting pots available through Stone Creek Trading in sizes from 2 liters to 10 liters.
Boleslawiec Polish Stoneware Fermenting Crock
Sizes
5-Liter (Actual volume is 6 liters and can be packed with 10 pounds of sauerkraut. The actual volume of the Schmitt is a bit more at 7 liters and can be packed with 12 pounds of sauerkraut, approximately.)
10-Liter
Glaze
Lead-free and cadmium-free.
Country of Origin
Poland
Available Glaze Colors
Brown
Olive Green
Weights
Included in the purchase price; exclusive non-porous Luna Glass Crock Weights.
Recipes
A recipe for pickles and a recipe for sauerkraut are included with each crock shipped.
What I Like About My Stone Creek Trading Fermenting Pot
I now own and ferment in four different fermentation crocks: my first and beloved German 10-liter Harsch crock, a German 5-liter Schmitt crock – compared in this post – and a 3-gallon Ohio Stoneware Crock.
Here's my review on the packaging, moat capacity, weights, handles, and glazing quality for the Stone Creek Crock and the Schmitt Crock:
Safely packed for worry-free shipment.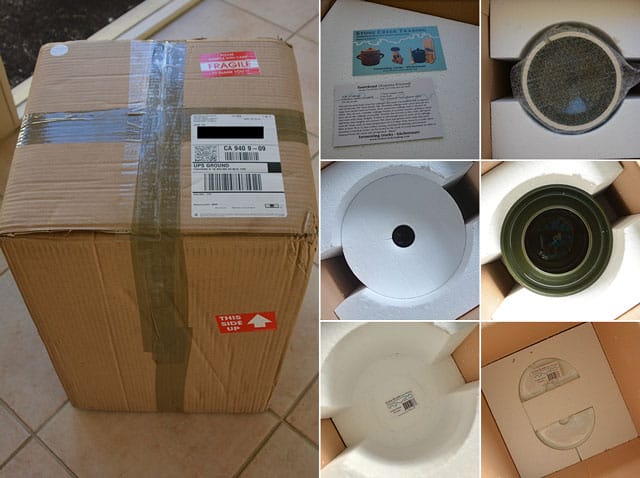 Even though you can return an item damaged in shipment, it is a hassle and can delay fermentation by weeks. So, I always appreciate it when a company goes out of its way to make sure a package arrives safely at its destination even though they do use Styrofoam, with its high carbon footprint.

When they first started their company, they tried to use all recyclable natural packing materials, but the number of items damaged during shipping was too high. They ended up having to switch to styrofoam, and in doing so dramatically lower their shipping damage rate. They realized that the carbon footprint of having to ship 2 items because the first one broke wasn't worth it.

They hand-inspect each crock before shipping to ensure that they are of top quality.

The shipping packages used by Stone Creek Trading (SCT) for their Boleslawiec crocks are specifically designed for the crock you order with a generous thickness of Styrofoam surrounding the crock. The lid is secured with bubble wrap. There is thick Styrofoam between the lid and the actual crock. (Note: The Boleslawiec crocks have the round foam cut out specifically for the crock, and their other crocks are packed in sheet foam.)

Even the glass weights have a separate spot below the crock. Just be sure to look for them. They are way down at the bottom, below the crock base. I initially thought they had forgotten to ship them until I took the time to look further.

And, finding a couple of recipe cards when first opening the package was a nice warm touch.
Lightweight.
This can be good or bad. Without the weights, the Stone Creek Trading crock weighs 8.8 pounds (3.87 kg); Schmitt, 12.7 pounds (5.64 kg).
A light-weight crock with thinner walls?
Once packed with sauerkraut, many of the larger crocks can be quite heavy – if not impossible – to lift or move around. By using a lighter clay and making thinner walls, the potter is able to craft a crock that weighs less. And yes, shipping costs – both to ship it to the seller and to ship it to you – are less when shipping a lighter item. However…
A heavy-weight crock with thick walls?
Crocks with a greater weight have thicker walls which help to dampen temperature swings in the home. My German Harsch crock – no longer manufactured – has very thick walls and the Schmitt crock also has thick walls. My Ohio Stoneware crock has thinner walls, much like the Stone Creek Trading crock. I haven't noticed any differences in the final product no matter which crock I ferment in but it is a factor to keep in mind when selecting which crock to purchase.
Large moat capacity.
One of the drawbacks when using a water-sealed crock is the need to monitor the water level in the moat. If it dries out, then the seal is broken and air can enter your fermentation vessel.
By having a large moat, it takes longer for the water to evaporate. I measured how much water I could pour into each moat:
The Stone Creek Trading crock held 2 cups (473 ml) of water; the Schmitt, 1¼ (296 ml).

Hefty, non-porous weights.
The weights that you use in your crock are key to keeping your ferment safely below the brine. The heavier they are, the less likely that the ferment will push the weights up and work itself up and out of the brine. A key factor for me when evaluating weights is their actual weight.
Stone Creek Trading includes exclusive Luna Glass Weights (unleaded glass) with their crocks, which can also be purchased separately.
I weighed each set of weights and found the SCT weights approximately 30% heavier than the Schmitt weights:
The Luna Glass Crock Weights shipped with the SCT crock weighed 2.9 pounds (1.16 kg); Schmitt weights, 2.2 pounds (.98 kg).
Another nice feature of the SCT weights is that they are non-porous, meaning mold and bacteria – and smells and flavors – cannot be absorbed.
In addition, glass weights don't hold moisture. A common mistake made when first making a batch of sauerkraut in a water-sealed crock is storing those weights in the crock when done fermenting. I did it… once. 😥 An unpleasant surprise greets you when you open the crock to use it again: weights covered in mold. Mold that is near to impossible to eradicate.
Weights are included and are properly sized.
My set of Schmitt weights is much smaller than the interior diameter of the crock, which allows space for bits of your fermentation to float to the surface. Stone Creek Trading recommends that the interior diameter of your crock should be about 1/2″ larger than the diameter of the weight. Since crocks are handmade, this will vary but I like that the weights for my SCT crock do not leave much space for my sauerkraut to escape and float to the surface.

Easy to grip handles.
I didn't realize that not all crocks had usable handles. I was always able to carry my Harsch crock by its handles. Then when I got the Ohio Stoneware crock and the Schmitt crock with their shelf-like handles, I realized that not all manufacturers made functional handles.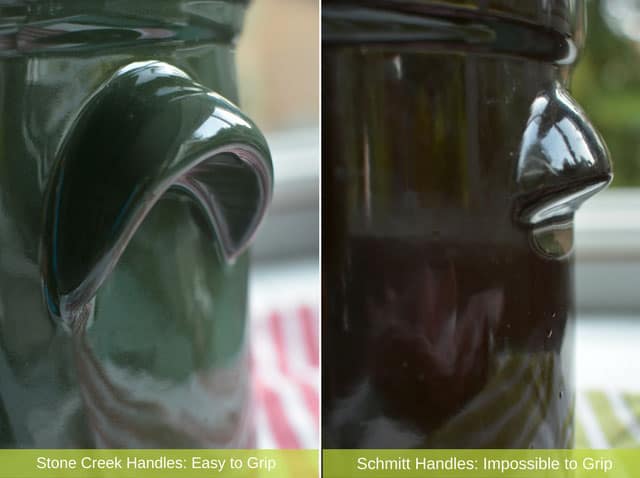 Rough spots sanded off non-glazed edges.
This is that attention to detail that I see with how Stone Creek Trading runs their company. Smooth edges not only look nicer but they are less likely to scratch your countertop. And, they're a pleasure to view.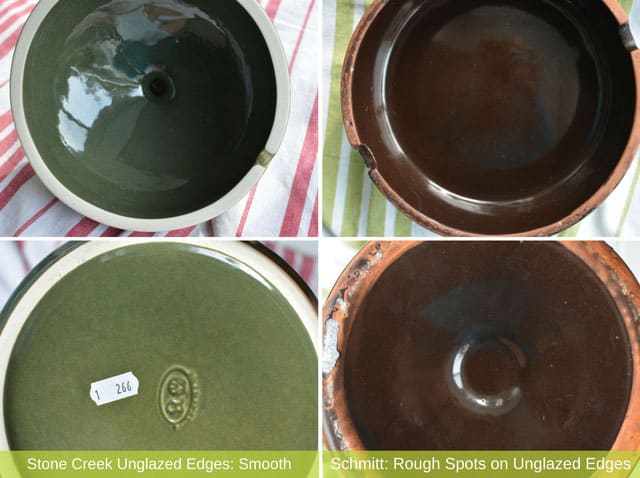 Smooth lead-free, cadmium-free glaze.
Potters use a smooth clay to turn the Boleslawieccrocks. This results in an even finish and a uniform surface to the glaze. In addition, the rim of the moat is also glazed.
Manufactured in Poland.
As fermentation continues to increase in popularity, more and more companies are trying to get a bigger slice of the pie and to keep costs down are turning to cheap manufacturing facilities with a lack of quality control. So when you see a crock listed on Amazon with a too-good-to-be-true price, be sure to research the quality of the product you are purchasing.
Replacement lids are available.
For the 5 and 10-liter Boleslawiec Fermenting Crocks, replacement lids are available. When we moved, the lid for my Harsch crock broke. Luckily, I was able to repair it. I would have appreciated being able to purchase a replacement lid.
To purchase a fermenting crock from Stone Creek Trading, visit their website to check out your options. Don't hesitate to contact Emily if you need help selecting a style and size to best fit your needs.
Other Fermenting Crocks by Stone Creek Trading

Stone Creek Trading carries a variety of handcrafted crocks from Poland in a variety of sizes: Artisan Fermenting Crock, Fermenting Crock in Cream and Rustic Brown Fermenting Crock to show a few.
A smaller crock with a design that would add beauty to your kitchen?
The same crock I reviewed but in a different shape and size: 2, 3 or 4 liter.
The rustic brown look: 6, 8 or 10 liters?
Again, check out their website to make your selection.
Or, read my post: Fermentation Crocks: The Who, What, Where, When, Why and How to better understand the use of water-sealed crocks for delicious, mold-free fermentation… batch after batch and find other brands of crocks for purchase.
Other water-sealed fermentation crocks are also listed on my Fermenting Supplies page.
And don't hesitate that impulse purchase for sipping tea: a Kaszuby Folk Art Mug.
Last update on 2023-10-03 / Affiliate links / Images from Amazon Product Advertising API