Do you ever question if it is worth your time to make your own sauerkraut? Isn't it easier to just buy the stuff? After all, with the surge in popularity of fermentation, the Good Stuff! (raw, unpasteurized) is becoming readily available in most grocery stores.
On the other hand…
There are some important benefits to making your own sauerkraut.
Financial savings?
Yes!
Just how much? We'll see along with learning about some hidden, but important, benefits.
And, are you feeling guilty that you can't afford – or access – organic produce?
Perhaps, I will be able to put your mind at ease once you learn about the power of "Bacteria Busters."
Read on…
Cost of Store Bought vs Homemade Sauerkraut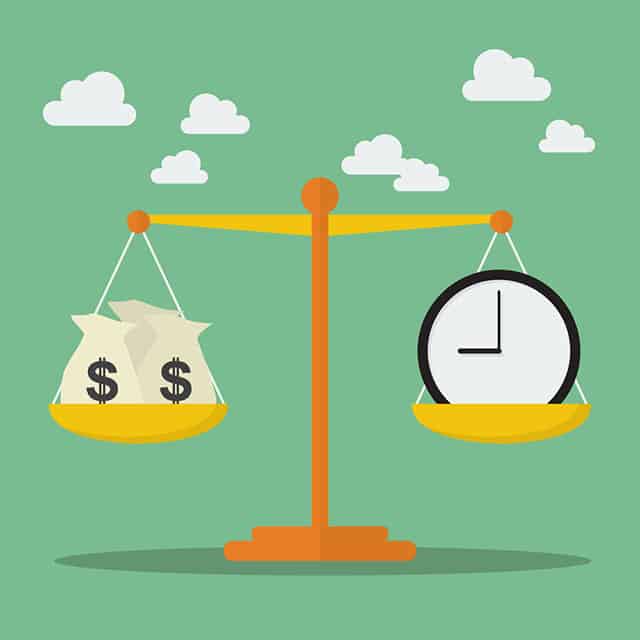 It is so easy to grab a jar of sauerkraut out of the cooler section at the grocery store, toss it into your cart, swipe the credit card, then go home and enjoy it. Perhaps, if you knew the cost of a year's worth of those jars, you might be prompted to "spend" some time to make your own sauerkraut. It is, after all, a very creative and artistic endeavor that takes only 15-20 minutes, start to finish. Or, you might just…
feel extra good about the money you have been saving by fermenting your own.
When I first started eating sauerkraut, I regularly bought Bubbies sauerkraut which was fine for a nibble here or there. But, when our consumption increased and I was buying a jar or two a week to keep the microscopic friends in our family or four fed, I was prompted to learn to make my own.
What does it actually cost for a year's supply of sauerkraut?
Store bought or homemade?
Cost of Store-Bought Sauerkraut
For calculating the costs of buying a jar of sauerkraut, I checked Amazon prices for:
Raw, naturally-fermented sauerkraut. Not the cheap, dead stuff in a can.
Organic sauerkraut.
The current price averaged out at $0.54 per ounce.
A 16-ounce jar from Pickled Planet sells for $8.85; a 24 ounce jar from Oregon Brineworks, $11.95; a 14 ounce jar form No products found., $14.95. I did not factor in shipping.
The figures I put together are for 28-ounces, the amount you would make if you followed one of my recipes. Serving size is 4 ounces (~100 grams, 1/2 cup). See my Infographic for more on nutritional content and serving size.
Cost for a
28-ounce Jar
Cost per 4-ounce Serving
Annual Cost for a Daily 4-ounce Serving
Store Bought
$15.12
$2.16
$788.40
Cost of Ingredients for Homemade Sauerkraut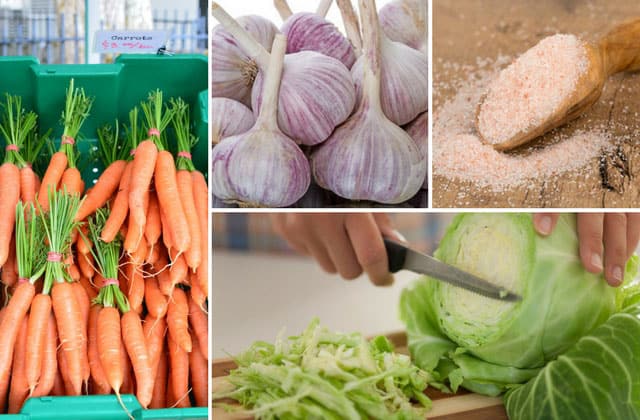 Just this picture is enough to get my mouth watering and my hands itching to make some sauerkraut. In this recipe roundup, you have more than 35 – mouthwatering – recipes to choose from.
The numbers shown below are for a 1-quart (liter) batch of homemade Sweet Garlic Sauerkraut that uses cabbage, carrots, garlic, and salt.
Batch size was 1 3/4 pounds (28 ounces, 800 grams).
Organic ingredients.
Cabbage amount includes 15% waste.
Himalayan Pink Salt was used.
INGREDIENT
Cost per Pound
Amount needed
Cost per
28-ounce Jar
Cost per 4-ounce Serving
Annual Cost for a Daily 4-ounce serving
Cabbage
$1.25
24 ounces
$1.88
Carrots
$1.00
7 ounces
$0.44
Garlic
$3.00
1 ounce
$0.19
Salt
$3.50
16 grams
$0.12
TOTALS
$2.63
$0.38
$138.70
I know the cost for ingredients will vary but, WOW! That is much less than I ever realized. You can buy the ingredients to make sauerkraut at a fraction of the cost of buying store-bought.
Now hold on. In case you're wondering, I do also factor in startup costs (jars, lids, weights, a scale, and whatnot).
But first.
An interesting note on the use of conventional produce and how our powerful microbial world deals with pesticides. Enter:
Bacteria Busters!
Our microbial world is full of trillions of bacteria, both beneficial and pathogenic. Unfortunately, we act as if they are all about to kill us and our loved ones.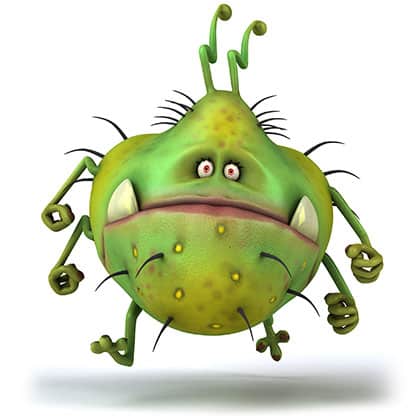 If you are unable to afford organic produce or don't have access to it, here are a few studies that may bring you comfort. Witness now the tremendous power of our microbial world.
New science is finding that bacteria not only make fermentation happen but that they can also significantly reduce pesticide residues in food.
One study looked at the role of microorganisms in the degradation of insecticides during the fermentation of Kimchi. At the onset of fermentation, the Kimchi was inoculated with the insecticide chlorpyrifos (CP). The CP degraded rapidly until day 3 (83.3%) and degraded completely by day 9. Four different lactic-acid producing bacteria strains (Leuconostoc mesenteroides, Lactobacillus brevis, Lactobacillus plantarum and Lactobacillus sakei) were identified as the responsible "Bactereia Busters."
Another study looked at pesticide residue in wheat. You may not know this, but once wheat is harvested, it is commonly treated with pesticides to prevent infestation during storage. This study looked at pesticide levels in wheat before and after fermentation and found that the probiotic Lactobacillus plantarum – a strain of bacteria that makes sauerkraut happen – was capable of degrading a dangerous pesticide residue (pirimiphos-methyl) in wheat. Fermentation improved the breakdown of this pesticide by 81%. Instead of a typical breakdown of the pesticide during storage of 15%, 34% of it was removed. Witness this power of our "Bacteria Busters!"
There is something significant to be found in our ancient traditions of culturing and fermenting foods.
So, if you are unable to obtain entirely chemical-free produce, appreciate the power of those mighty microbes that ferment your cabbage into sauerkraut and recognize the value of fermenting foods. Little did you know.
On another note.
Cabbage is on the "Clean 15" list published each year by the Environmental Working Group. Cabbage is on the list because very minimal pesticides are required to grow it. A possible place to cut costs.
Start-Up Costs for Making Your Own Sauerkraut
Now to be fair, there are startup costs associated with making your own sauerkraut that need to be factored into the equation. At the very least, you need jars, lids and a weight of some sort. The following figures were grabbed off Amazon and WalMart websites.
Simple Fermentation Supplies
67000 Ball Qt Mason Jar WM 12-pack
Ball wide mouth quart jar. The size of the jar is based on filling it to the rim.
Ideal for preserving jams, jellies sauces, mustard & flavored vinegar
Custom time tested ceiling compound help ensure a quality seal with each lid
If you purchase just the bare necessities that are called for in my teaching recipe, your start up costs would be as follows:
| | |
| --- | --- |
| Item | Cost |
| Case of 12 wide-mouth quart (liter) jars | $9.80 |
| Case of 12 4-ounce (125 g) jelly jars (weight) | $8.47 |
| Two boxes of White Plastic Storage Caps | $13.98 |
| Ozeri Pronto Digital Scale | $12.61 |
| TOTAL | $44.86 |
Mid-Level Fermentation Supplies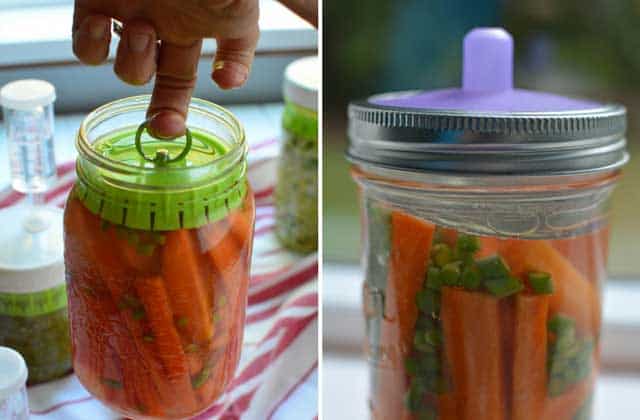 If you take advantage of some of the fancy weights and airlocks now available for home fermenters, you'll increase your startup costs but will be able to ferment in an anaerobic environment and up the quality of your sauerkraut.
My current favorite setup for fermenting in a jar includes the use of a Pickle Pusher to hold everything below the brine and Pickle Pipes for a waterless airlock valve. You may select something different, but I like how effectively the Pickle Pushers are able to hold everything below the brine as your packed ferment is trying to expand in those first few days of fermentation. I also included the price for my favorite scale, the MyWeigh KD-8000 Digital Scale.
| | |
| --- | --- |
| Item | Cost |
| Case of 12 wide-mouth quart (liter) jars | $9.80 |
| Set of 4 Pickle Pushers ("weights") w/o airlocks | $28.00 |
| Set of 4 Pickle Pipes | $23.88 |
| Two boxes of White Plastic Caps for storage | $13.98 |
| MyWeigh KD8000 Digital Scale | $35.67 |
| TOTAL | $111.33 |
High-End Fermentation Supplies
Maybe you want to jump right into fermenting in a crock, though I highly recommend that you first become well versed with fermenting in a jar. For this set of fermentation supplies, I went with the 5-Liter Fiesta Water-Sealed Crock, jars and lids to store your finished sauerkraut and my favorite scale, the MyWeighKD8000. See Fermentation Crocks: The Who, What, Where, When, Why and How for more on fermenting in a crock.
It is interesting to note that the set-up costs for a water-sealed fermentation crock are just $26.76 more than buying the handy fermentation weights and airlocks.
| | |
| --- | --- |
| Item | Cost |
| Water-Sealed Fermentation Crock | $78.64 |
| Case of 12 wide-mouth quart (liter) jars for storage | $9.80 |
| Two boxes of White Plastic Caps for storage | $13.98 |
| MyWeigh KD8000 Digital Scale | $35.67 |
| TOTAL | $138.09 |
Summary
I pull all the figures together for you in the following table. For each level of homemade start-up costs, I added the cost for cabbage and carrots to the total cost of making a year's supply of sauerkraut.
Sauerkraut
Cost per
28-ounce jar
Cost per
4-ounce serving
Annual cost of daily 4-ounce serving
Store Bought
$15.12
$2.16
$788.40
Entry-Level Year-One Homemade
$3.50
$0.50
$182.50
Mid-Level Year-One Homemade
$4.83
$0.69
$251.85
High-End Year-One Homemade
$5.32
$0.76
$277.40
Future Years Homemade
$2.63
$0.38
$138.70
After the first year (in which startup costs are included), you are saving over $650 for a year's supply of sauerkraut for one person. A family of four? $2,600!
9 Important Benefits of Making Your Own Sauerkraut
There is the obvious benefit of financial savings garnered by fermenting your own sauerkraut. However, you may not be aware of some other subtle or hidden benefits. The benefits I share are just the tip of the iceberg with more in 27 Reasons to Include a Daily Forkful of This in Your Diet: Some You've Never Heard Of. By fermenting you own sauerkraut, you can:
Ensure that your ferment is 100% raw.

That Bubbies sauerkraut I bought when I first started eating sauerkraut? Surprise! It undergoes quick pasteurization that kills some of the beneficial bacteria. This is not indicated on the label. By making your own sauerkraut, you know it has its complete range of gut-healing probiotics.

Create your own mouthwatering flavors

. A flavorful jar of sauerkraut hanging out in your refrigerator becomes an easy and instant way to add the WOW! Factor to any meal. Your morning eggs really do taste delectable with a dollop of Kimchi Style Sauerkraut. Check out my eBook for a dozen delicious flavors.

Ferment a range of flavors to satisfy everyone's taste buds.

For the health of my growing boys, I am happy to cater to their preferences. Kimchi Style Sauerkraut for the eldest and Sweet Garlic Sauerkraut Recipe [Kid Friendly] for the youngest.

Select the quality of salt – and other ingredients – used.

Most companies are going to cut costs and use inexpensive table salt. My best fermentation results have happened when using Himalayan Pink Salt. More on the salt decision here.

Adjust the amount of salt used.

My recipes are formulated to use 2% salt based upon the weight of the ingredients fermented. Those wanting to use less salt can follow my Salt by Weight for Delicious Sauerkraut… Batch after Batch post and adjust that number down to 1.5%. Or, select a mineral-rich salt to also reduce the amount of sodium in the finished ferment.

Begin to relax about our microbial world.

I would make this the number one benefit that has slowly adjusted my way of thinking. This may sound crazy, but I now actually talk to the trillions of microscopic friends living in my belly and make sure that I feed them well. But seriously…
By making a jar of sauerkraut, you are welcoming bacteria into your life. Bacteria, that we have all been taught to fear and kill with hand sanitizers, antibiotics and powerful cleaners. Relax and wonder at the magic of those microscopic beings. Only 10% of them are pathogenic. And, those pathogenic bacteria can NOT live in the acidic brine created during fermentation.

Perhaps, stop taking probiotics.

The effectiveness of probiotics found in supplements – at the cost of $40 per month – vs. those found in fermented foods will need to be saved for another post, but needless to say many have been able to improve their gut health via the consumption of sauerkraut alone, though consuming a variety of various ferments is best. And don't forget to also feed the probiotics already in your gut with prebiotics.

Connect with your local farmer.

Once you get deep into fermenting sauerkraut, you'll find yourself looking for that perfect head of cabbage. What better place to find it than on your local farmer's market. Get to know these wonderful folk who enable you to put real food on your table. Share a jar of sauerkraut with them and see if they can grow varieties of cabbage that are intended for sauerkraut.

Become empowered.

The amount of time spent preparing meals in American households has fallen by half since the mid-sixties to a scant 27 minutes a day. The less time you and your family spend in your kitchen the lower your levels of confidence for preparing food and the more you are outsourcing your health to NoName workers in a mega factory.
By fermenting DIY sauerkraut, not only do you feel empowered but you have learned a great skill that you can share with others. A skill that is you are then able to transfer to making other ferments, such as:
5 Simple Fermented Carrot Sticks Recipes [Crunchy Goodness]
Naturally Fermented Pickles [The Complete Guide]
Fermented Coconut Water [The Complete Guide]
3 Delectable Fermented Cranberry Recipes [Year Round Enjoyment]
Fermented Foods ULTIMATE Guide: How to Buy or Make, Ways to Eat & Wonderful Benefits
How much money is your family saving each year by making your own sauerkraut? Let us know in the Comment Section, below.
Multiply the estimated number of quart (liter) jars of sauerkraut you ferment in one year by $12.50. I made it easy for you and listed some sample figures in the table below.
| | |
| --- | --- |
| Number of Jars | Annual Savings |
| 10 | $125.00 |
| 20 | $250.00 |
| 25 | $312.50 |
| 30 | $375.00 |
| 35 | $437.50 |
| 40 | $500.00 |
| 45 | $562.50 |
| 50 | $625.00 |
| 52 | $650.00 |
Last update on 2023-10-03 / Affiliate links / Images from Amazon Product Advertising API