Are you looking for a few fantastic new recipes to ferment or can? Brussels Sprout Kimchi, perhaps?
Maybe you are enticed by these fermentation recipes: Pomegranate Kvass, Turmeric and Garlic Sauerkraut, or Soothing Lemon-Ginger Syrup?
How about canning up a small batch of Cilantro-Lime Pickled Pineapple, Pickled Mushrooms, or Spicy Pear Chutney?
Or, maybe Bloody Mary Mix spiced with Ground Horseradish Root is more to your liking?
The Kimchi Series: Learn to Ferment Kimchi with Confidence
This article is part of a set of blog posts in which you learn about the key ingredients in kimchi, the various types of kimchi, ways to ferment kimchi, and make a variety of kimchis such as Daikon Radish Cube Kimchi (Kkakdugi), Napa Cabbage Kimchi (Baechu), Brussels Sprouts Kimchi, and Stuffed-Cabbage Kimchi (Poggi). Perhaps, even Instant Apple, Persimmon, and Pear Kimchi (Saqyua, Gaam, Bae).
A Fun Fact to Motivate You to Add Kimchi to Your Diet
Due to fermented ingredients—like fish sauce—in many kimchi recipes, a single variety of kimchi might contain more than one hundred different types of microorganisms. And, a single gram of that fermented kimchi contains some 100 million lactic acid bacteria. From Cultured by Katherine Harmon Courage.
Techniques & Ingredients
Fish Sauce, the Secret Ingredient to Transform Your Kimchi
Gochugaru, Korean Red Pepper Powder
Stocking Your Kimchi Pantry: Staples, Fresh Ingredients, Basic Techniques
Recipes
Recently published, WECK® Small-Batch Preserving: Year-Round Recipes for Canning, Fermenting, Pickling, and More has a wonderful collection of recipes for both canning and fermenting.
And thanks to Stephanie Thurow's Brussels Sprout Kimchi recipe – and my recent interest in Gochugaru (Korean red pepper powder – I now have a new favorite ferment.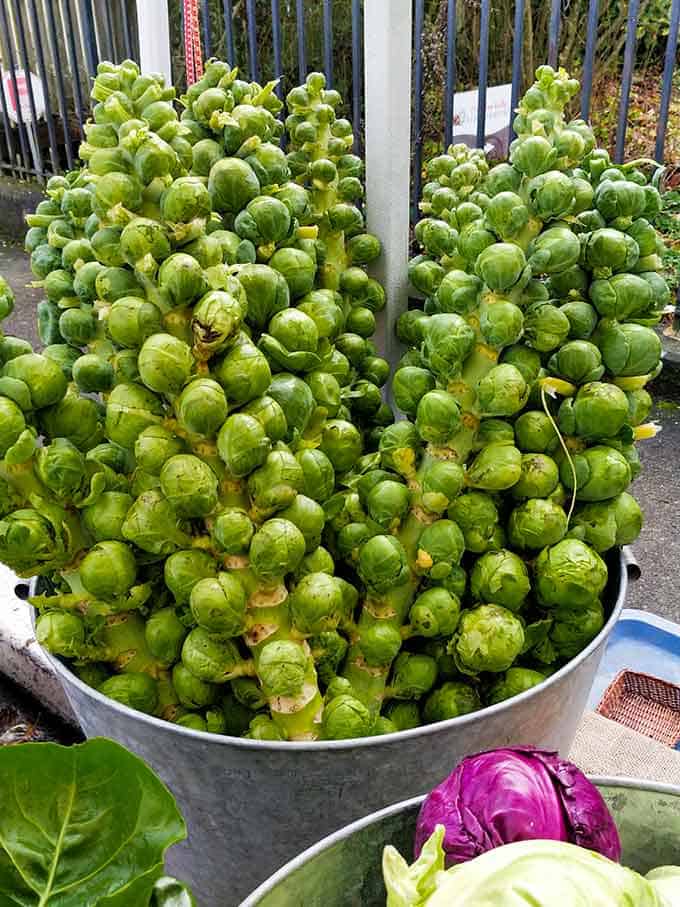 Each fall, beautiful stalks of brussels sprouts announce the start of winter crops. I'm visually drawn to their beauty, but despite my love of sauerkraut, my taste buds have never hungered for these mini-cabbages. Cute? Yes. Tasty? No thank you.
Stephanie and I connected when she asked me to contribute a recipe to her upcoming book. So, when a complimentary copy of WECK® Small-Batch Preserving: Year-Round Recipes for Canning, Fermenting, Pickling, and More (complete with my Thyme and Leeks Paste recipe) ended up in my hands, I just knew I had to expand my culinary repertoire and try her Brussels Sprout Kimchi recipe. I'm so glad I did.
WECK® Small-Batch Preserving by Stephanie Thurow
Year-Round Recipes for Canning, Fermenting, Pickling, and More
First off, you don't need to go out and purchase a set of WECK® jars – even though they are quite beautiful and functional – to use this book. A sizing chart at the beginning of the book will help you select which jar from your own trusted set to use instead.
Stephanie starts off her book with a thorough coverage of WECK® jars, their history, styles and sizes, and how to use them for both water-bath canning and fermenting. You'll find the many pictures in the Canning with WECK® Step-by-Step section helpful.
I especially loved her Include the Children section. What a great way to introduce them to healthy foods. Children are much more likely to eat something that they have had a hand in helping prepare.
There are both water bath canned recipes, fermented recipes, and even some infusion recipes. Included are many colorful photos and notes sections on nearly every recipe along with suggestions on flavorful ways to use many of the recipes. There are 27 Canning Recipes, 29 Fermenting Recipes, and countless ways to make use of the flavors of the season in her Boozy Infusions chapter. The Pineapple Zucchini recipe in the small set of Bonus Recipes finishes off the book:
This recipe was adapted from one on the National Center for Home Food Preservation website when I was looking for a new way to use up excess zucchini. After preseration, the shredded succhini tastes just like crushed pineapple and can be substituted in recipes that call for regular crushed pineapple.
I liked that the fermented kvass recipes don't require a starter and instead use a bit of honey and the naturally occurring bacteria on the fruit.
Mix in honey; it will effortlessly dissolve on its own in time.
Pectin is not used in any of the canning recipes but instead, Stephanie has you cook jams until thickened. And, as the title says, recipes are for small batches of preserves.
About Stephanie Thurow
Stephanie Thurow has been a food preservation fanatic since the mid-2000s. She is the author of Can It & Ferment It and creator of canning and fermenting blog Minnesota from Scratch. She's been using WECK® jars for over a decade and enjoys the versatility and eco-friendliness of their reusable and nontoxic jars. Stephanie resides in Minneapolis, Minnesota with her husband, daughter, and plethora of pets. To learn more visit her website Minnesota from Scratch.
The Next 3 Recipes I Plan to Make
Cherry Salsa (pg 107)
Once luscious cherries are hanging from our local cherry trees, I'll be making the Cherry Salsa recipe. It calls for jalapeno, cilantro, and lime juice.
It's a great accompaniment to chips or tacos but is also incredible on eggs and over grilled chicken or fish.
Fiery Cider (pg 112)
Fiery Cider, known to shorten the duration of the common cold, help inflammation, and even reduce high blood pressure, is always nice to have in hand during the winter months.
There is no wrong way to make this recipe, so feel free to play around with ingredients and tweak it to your liking.
Ground Horseradish Root, Refrigerator Recipe (pg 68)
I was happy to find a recipe for preserving horseradish root in the Canning Recipes section. I've yet to have good luck fermenting horseradish root. I've since learned that the heat-making volatile compounds in horseradish break down the minute you start grating it and that the quick addition of an acid – vinegar in this case – stops that process. This recipe for horseradish is not canned but instead stored in the refrigerator where it keeps for 4 weeks.
Brussels Sprout Kimchi Recipe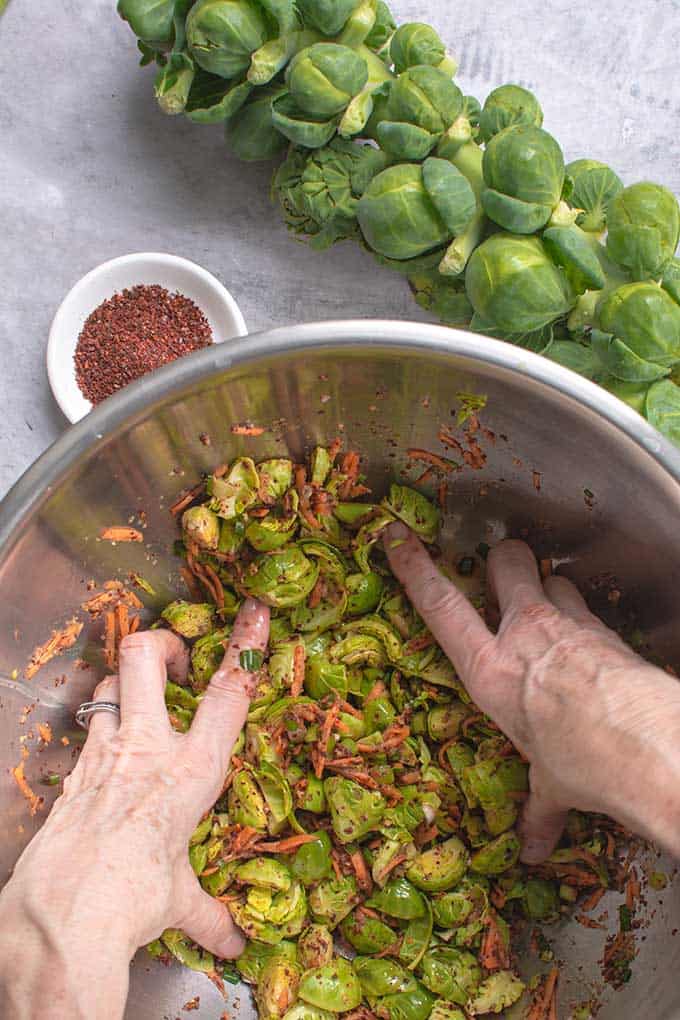 I was able to take advantage of the Brussel sprouts available at our farmers market this fall and made three batches of Brussels Sprout Kimchi. I wish I had made more.
For this recipe, you'll need fish sauce, Gochugaru (Korean red powder), and of course Brussels sprouts. If you're dying to make this recipe, but can't find Brussels sprouts, feel free to substitute another vegetable. Perhaps, grated carrots, sliced radish, or green beans?
Red Boat Fish Sauce, 17 fl oz
JUST TWO INGREDIENTS: We use only sea salt and black anchovies caught off of the crystal clear...
100% PURE FLAVOR: Our first press fish sauce is first press and 40N, which means that it has...
FERMENTED FOR A YEAR: Anchovies and sea salt are slowly fermented in carefully selected wooden...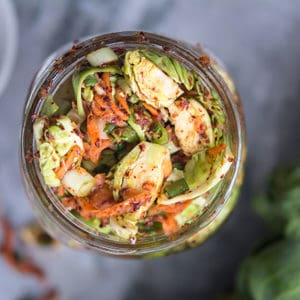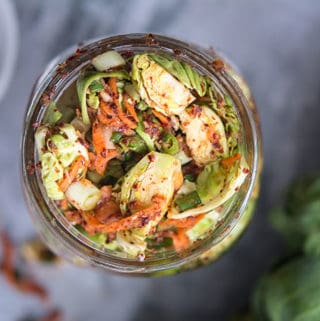 Brussels Sprout Kimchi
FERMENTATION LENGTH: 7-10 days
This recipe is by Stephanie Thurow, author of WECK Small-Batch Fermenting and it is beyond delicious. These brussels sprouts will be tender and full of sour kimchi flavor once fermentation is complete. 
Print
Pin
Servings:
14
2 ounce (60 grams)
INGREDIENTS
4

cups

brussels sprouts,

,

ends trimmed, halved (if small) or quartered (if large)

KIMCHI BASE

:

1/4

cup

onion

2

garlic cloves

1-

inch

ginger root

1

tsp

fish sauce,

(optional)

1/8-1/4

cup

Korean red pepper powder (gochugaru)

1

bunch

roughly sliced scallions

,

(optional)

2-3

grated carrots

,

(optional)

BRINE

:

2 tsp. salt dissolved in 2 cups water
INSTRUCTIONS
Clean and prepare brussels sprouts by trimming ends and any flawed areas and removing outer layer of leaves. Set aside in large bowl.

Use a food processor to puree the onion, garlic, ginger, and optional fish sauce to make your flavor paste. I used more fish sauce than the recipe called for; 1 tablespoon. Don't leave out the fish sauce umami flavor bomb. During fermentation, it won't stink up your house and once fermented, fish sauce doesn't taste fishy. 

Add this flavor paste to the bowl of brussels sprouts along with the gochugaru and optional sliced scallions and grated carrots. 

Mix together well and pack the brussels sprouts into a quart jar, trying not to leave any gaps or air within the vegetables. 

Mix brine and pour over brussels sprouts mixture until covered in brine leaving 1 to 2 inches of headspace for expansion of your ferment.

Ferment at room temperature for 7-10 days, ideally between 60 to 75F (15 to 23 C), and keep out of direct sunlight.
Did you make this recipe?
Tag @MakeSauerkaut on Instagram
Other Recipes by Stephanie Thurow
Delicious Korean Tacos with Kimchi
This recipe, complete with a Lime Cream Sauce sounded so good, I've printed it out and will be making it this week, though I'll use ground beef, instead of the chuck roast.
A link for a kimchi recipe is included in the recipe, so have no fear if you do not yet have a recipe for kimchi. (Mine will be posted here very soon.)
Delicious Korean Tacos with Kimchi
Candied Jalapenos AKA Cowboy Candy RECIPE (Water Bath Canned or Refrigerated)
From the recipe description:
Sweet with spice, and everything nice. This condiment has it all. It is one of the most high-in-demand canned goods that I make (the other being pickled jalapeno slices). You can pop the candied jalapenos right into the refrigerator if you intend to gobble them up quickly, or water bath can them for shelf stability – I provide directions for both options below. I do not include this recipe in either of my cookbooks (Can It & Ferment It or WECK Small-Batch Preserving), so I'm sharing my version here.
Candied Jalapenos AKA Cowboy Candy RECIPE (Water Bath Canned or Refrigerated)
Pineapple-Strawberry Jam
This recipe for Pineapple-Strawberry Jam is included in Stephanie's book and has alternate directions for those using standard mason jars
Other Books by Stephanie Thurow
Sale
Grab some Brussels sprouts, fish sauce, gochugaru, and the rest of the ingredients and make yourself a batch of Brussels Sprout Kimchi. Be sure to let me know how you like.
Last update on 2023-05-31 / Affiliate links / Images from Amazon Product Advertising API