You're about to make a batch of sauerkraut and want to use what you have in your home for your fermentation vessel, fermentation weight, and fermentation lid and you're wondering what you should use.
How about a handful of marbles? Won't they work to hold everything below the brine?
Or, some plastic wrap? Would that not make a great Floaties Trap?
Perhaps the canning jar lid and band that comes with the jar will make a fine lid?
Yes?
No?
Glass? Porcelain? Ceramic? Stainless Steel? Plastic? Silicone?
How do you make your selection???
First off, let's understand what type of food sauerkraut is and how that impacts what you can use when it is fermenting or when storing the finished product.
Like lemon juice or vinegar, the pH of a finished batch of sauerkraut is acidic with a pH of 4.6 or lower. Cabbage starts out at the very neutral pH between 5.2-6.8, but thanks to the lactic-acid bacteria (LAB) eating the sugars in the cabbage and creating lactic acid – that vinegar tang – the pH is lowered to below 4.6; the pH of lemon juice is 2.0.
Ideally, you'll choose materials for fermentation that will not be leaching harmful contaminants into your sauerkraut. After all, your acidic ferment will be in contact with the materials you use for days, if not weeks.
There is a range of fermentation materials to select from and what you ultimately use will depend on your personal preference along with the understanding how acidic foods react with glass, ceramic, stainless steel, silicone, etc.
Glass for Fermentation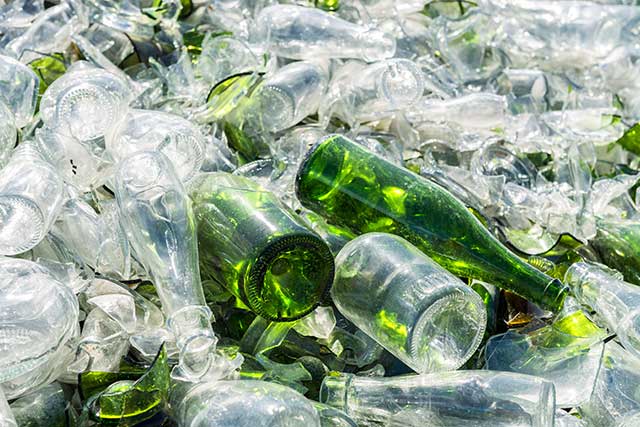 Glass – of which 90% is "soda-lime" glass – is made by melting together several minerals at very high temperatures. Silica in the form of sand – with its very high melting point – is the main ingredient in glass.
"Soda" (sodium carbonate) is often added because it lowers the melting point and makes the manufacturing process more efficient. The origin of sodium carbonate is in the soda ash obtained from certain plants. However, sodium carbonate makes the glass water-soluble so "lime" (calcium oxide, generally obtained from limestone), some magnesium oxide and aluminum oxide are added to provide to enhance the qualities of the glass.
Now, you know where the name "soda-lime" glass comes from.
As well as soda and lime, most common glass have other ingredients added to change its properties. Lead is added to make crystal. The lead has better reflective properties and therefore the glass seems to 'sparkle.' Boron may be added to change the thermal and electrical properties and create tempered soda-lime glass, as in Pyrex and glass bakeware.
Soda-lime glass accounts for about 90 percent of manufactured glass and is the type of glass used for most bottles and jars.
The surface of the glass is smooth and nonporous (meaning no place for bacteria to hide), making it one of the easiest and safest materials to use for fermentation. Glass does not stain and won't pick up odors like plastics and silicone can.
Like most materials, there are a great many different levels of glass quality determined by the intended purpose of the glass.
Glass Jars for Fermentation
Glass canning jars use soda-lime glass containing silica, soda, and lime. You can also repurpose various food and condiment jars for fermentation. Just stick to jars that contained food times since regulations are stricter for food-safe glass.
Standard Canning Jars
A quart (liter) glass canning jar is perhaps the most common first fermentation vessel and are available in a variety of shapes and sizes.
Most jars come with the standard mixed-metal lid and band. I like to stick to brands still manufactured in the USA, Europe or Canada.
The new and improved glass weight! Grooved handles, more weight and a full 1-year warranty against cracking have made these weight quite popular.
Weigh approximately 6.5 ounces (180 grams).
Heavier than a typical glass fermentation weight or pebble (5.0 ounces or 140 grams).
One of the first glass weights made available for fermentation. Some stack then for additional weight. Sold alone or in a kit with Pickle Pipes and/or a Pickle Packer.
Weigh approximately 5 ounces (140 grams).
"Food-Safe, Lead-Free and Non-Porous Glass Ferment Weights – Made From Pure Soda-Lime Glass"
Came on the market after PicklePebbles. Sold alone or in a kit with airlocks and a sauerkraut pounder.
"Made from High-Quality Lead-Free Pure Soda Lime Glass and Tested by SGS North America"
Weight approximately 6.8 ounces (195 grams).
Small 4-Ounce (125 gm) Jelly Jar by Ball Jar
In my SureFire Sauerkraut Teaching Recipe, I demonstrate the use of a small jar as a fermentation weight. Repurposing food-safe jars found in your kitchen can be an easy way to get started with fermentation. A bonus use?
These small jars work great when gifting a sample of your sauerkraut or for packing a serving for lunch at work or on the road.
Ball brands of jars have been crafted for quality in the U.S. for more than 125 years.
Glass Fermentation Weights by Stone Creek Trading
Stone Creek Trading makes glass fermentation weights to fit most crocks. If you are getting frustrated with mold growing on your weights or needs weights for your crocks, these are especially nice.
Won't absorb anything, easy to clean, won't transfer flavor or smells.
Handcrafted in Poland, unleaded glass.
Porcelain or Ceramic for Fermentation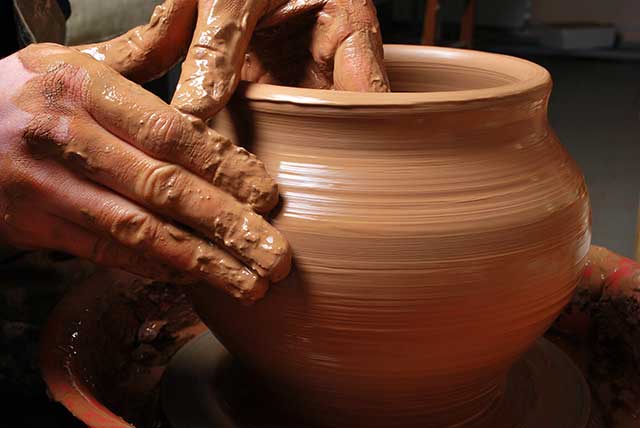 Porcelain and ceramic are both made from various mixtures of clay and fired at high temperatures, porcelain being much harder and less prone to moisture absorption and staining than ceramic. These materials are as close to glass as you can get and what most fermentation crocks are made from. You will also see weights made from ceramic, glazed or unglazed.
Look for food-safe vessels that are made using lead-free, cadmium-free glazes. Though lead was banned in paints in the 1970s, it is still allowed in ceramic glazes and is commonly found in imported items both from Mexico and China.
Unglazed ceramic absorbs moisture and odors, so be sure to completely dry unglazed ceramic in an open area before storing. This is especially important with fermentation weights which are prone to mold growth if stored before they are completely dry.
Porcelain or Ceramic Crocks for Fermentation
Fermentation crocks are made from glazed ceramic or porcelain. Here are a handful of popular crocks with a more in-depth discussion on fermentation crocks – and help to decide what size to buy – in my post: Fermentation Crocks: The Who, What, Where, When, Why and How
Water-Sealed Ceramic Fermentation Crocks by TSM Products
This water-sealed fermentation crock is available in a variety of sizes: 5, 10, 15 and 20 liters. For most households, the 5-liter is a useful size. It makes 5-6 liters (quarts) of sauerkraut.
Lead and cadmium free ceramic and come with stone weights.
Water-Sealed Ceramic Fermentation Crocks by Stone Creek Trading
Stone-Creek Trading Water-Sealed Fermentation Crocks
A small family business with a larger variety of fermentation and household items imported from Poland. Processing is overseen by a family member that lives in Poland.
Luna glass fermentation weights are included.
Lead-free and cadmium-free glaze.
Comes with recipes for pickles and sauerkraut.
Water-Sealed 3-Gallon Ceramic Fermentation Crock by Ohio Stoneware
A beautiful ceramic fermentation crock. Beware! This is large. 3-gallons (11 liters or 12 quarts) to be more exact. Water-sealed crocks work best when filled 3/4's of the way else you leave too much airspace in which mold and yeasts love to grow. I pack this crock with 25 pounds of cabbage. It makes 12 quarts (liters) of sauerkraut.
Ceramic made from their own – very durable – clay mixture.
Lead-free, food-safe glaze will not retain food's flavor, easy cleanup.
Includes 2 semi-circular stone weights and lid.
Water-Sealed 7.5 Liter Porcelain Jingdezhen Chinese Pickling Crock by Festcool
I have not purchased one of these pickling jars but find them quite beautiful. Reviews are mixed. It is made from fine porcelain and contains 2 lids, one for sealing the inner opening and one that sits in the moat for making your water-seal.
Holds about 7 liters (quarts).
100% lead-free.
Porcelain or Ceramic Fermentation Weights
Farm-Curious Porcelain Weights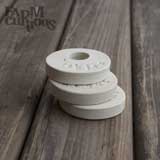 Farm-Curious Handmade Porcelain Weights
These handmade porcelain weights are ideal for keeping your fermenting veggies submerged under brine and are made in three sizes to fit any Mason jar. They are a lot lighter than the glass 6.5 ounces weights by Fermentology discussed above.
Porcelain.
Made in three sizes to fit any jar.
Tamarack Stoneware Fermentation Weights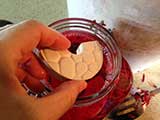 Made of high-fired, fine-grain stoneware clay.
Since these are a 2-piece weight, they can be cut a bit bigger than the single piece weights thus allowing for complete coverage of your ferment. They are also nice and heavy (6 ounces), similar in weight to the Fermentology glass weights.
Note: Stoneware clay is porous. Porous weights work great, just make sure they are completely dry before storing, else mold can grow on them.
Stainless Steel for Fermentation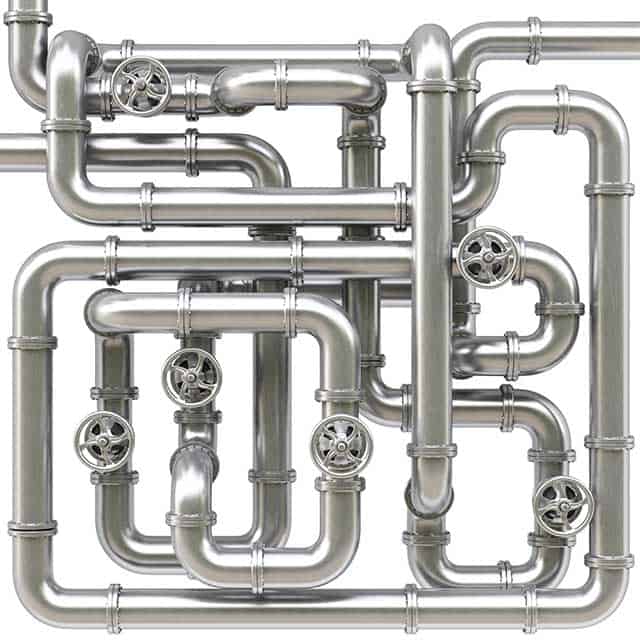 Stainless steel is made from mixed metals, mainly iron and carbon along with a percentage of chromium for corrosion resistance. The most common form is 304 stainless steel or 18-8: 18 percent chromium and 8 percent nickel. The 304-grade of stainless steel can withstand corrosion from most acids but is susceptible to corrosion from saline solutions, that is, the brine in your ferment! A better option for fermentation is the 316-grade of stainless steel.
Along with the base metals of chromium and nickel, the 316-grade of stainless steel sometimes referred to as "marine-grade," incorporates about 2 to 3 percent molybdenum for increased corrosion resistance. The 316-grade of stainless steel is designed to not break down in either acidic or saline solutions do not become "pitted," is food safe and is perfectly fine for fermentation.
You won't see fermentation vessels made from stainless steel for the home market – though winemakers and commercial live-cultured sauerkraut companies use stainless steel vats – but instead will see stainless steel used in the making of fermentation lids and weights, a good alternative to those wanting to avoid plastics.
Since the use of the terms "medical-grade," "restaurant-grade" or "marine-grade" for identifying the various stainless steels can make selection confusing, it is best to look for the 316-grade to ensure that it is resistant to corrosion during fermentation. Top-notch companies will have their item "stamped" with the grade of stainless steel used.
There are a few companies making stainless steel canning bands – and lids – that are great to use instead of the standard mixed-metal canning band. However, many companies still use the more affordable 304-grade of stainless steel with just a few making lids from the 316-grade.
Stainless steel is impervious to stains and odors and cleans well.
Stainless Steel Fermentation Kits
Both of the stainless steel fermentation kits listed below are made from the higher-quality, 316-grade stainless steel and were designed with the acidic nature of fermentation in mind.
Kraut Source Fermentation Lid
The Kraut Source Fermentation Lid (The Press, Spring, Moat and Cap) is made from the 316-grade of stainless steel. This is the higher grade of stainless steel and resistant to corrosion during fermentation. It is sold with or without the jar.
Trellis & Co. Fermenting Lid Kit with PickleHelix
Trellis & Co. has just come out with a fermentation kit that includes their new "PickleHelix" fermentation weight. Manufacturing for the PickleHelix is being moved from China to the USA as we speak, so check back if you find this kit currently out of stock.
A spring with a coiled bottom adjusts acts as both a Floaties Trap and a fermentation weight, with the spring action adjusting to the volume of the ferment in your jar.
Trellis & Co. raise the bar on the 316-grade of stainless steel with "passivation."
"Passivation is a chemical process that modifies the surface of Stainless Steel. By its nature (i.e., the nickel and chromium content) 316 SS forms a very durable/impervious self-healing oxide layer on its surface when in contact with normal environments. Passivation uses an extreme environment (nitric acid bath) to remove any free iron on the surface and create a much thicker oxide layer than would normally be the case. For this reason, it's commonly performed on stainless intended for food and medical applications. I'm doing it on the PickleHelix coils to ensure a bullet-proof oxide layer, remove potential manufacturing residues/contaminants, and ensure I don't get any discoloration/rusting complaints down the road." – Josh, Co-Founder at Trellis & Co.
Stainless Steel Canning Bands
Because of their higher cost, and because the stainless-steel bands are identical in appearance and weight to regular bands, you'll want to take care to keep the two types separate, so you don't give away your good bands accidentally. If you do mix up your bands, though, you can tell which ones are stainless steel with the help of a magnet. The stainless steel bands, unlike the others, are not magnetic.
316-Grade Stainless Steel Canning Bands by Trellis & Co.
These are the only rings on the market made from medical-grade 316 Stainless Steel. Made 30% thicker than normal rings.
304-Grade Stainless Steel Canning Bands – Various Companies
There are a handful of companies selling the lower 304-grade of stainless steel canning bands.
These were first manufactured due to the frustration of the standard mixed-metal canning bands rusting. Most foods that people can are not as acidic as sauerkraut so the issue of a 304-grade vs. a 316-grade is not as big a concern as it may be with fermentation.
KrautSource 304-Grade Stainless Steel Canning Bands
Mason Jar Lifestyle Stainless Steel Rust Proof Bands/Rings with Stamped Logo (5 Pack, Wide Mouth)Mason Jar Lifestyle 304-Grade Stainless Steel Canning Bands"] – Made in China.
EcoJarz 304-Grade Stainless Steel Canning Bands – Made in Vietnam
Mixed Metals
A mixture of various metals is used to make the standard canning jar lids and rims along with the lids on most purchased food items: condiments, pickles, sauces, etc. In this article by Laurie at Common Sense Homesteading, she states that the metal canning lids are made using tin coated steel with an epoxy coating (to prevent corrosion) and a plastisol sealant. A Materials Data Safety Sheet is not required by regulatory authorities for canning lids. Today, most lids state that they are BPA free.
When used for fermentation, these lids will easily rust if worn or scratched, especially when used to store your sauerkraut for months in your refrigerator.
I prefer to stay away from mixed-metal lids not knowing how the acids in my ferment react with the various metals in them and instead use one-piece BPA-free plastic lids, though, I'm not oblivious to the "safety" issues associated with the various plastics.
Mixed Metal Fermentation Lids
Standard Canning Rims and Lids
If using these lids – or mixed-metal lids from other food jars, select ones that are not chipped or scratched.
To prevent contact of your ferment with the lid, you can place a piece of parchment paper on top of your jar before screwing on the lid. I did this early on in my fermentation journey.
Plastic for Fermentation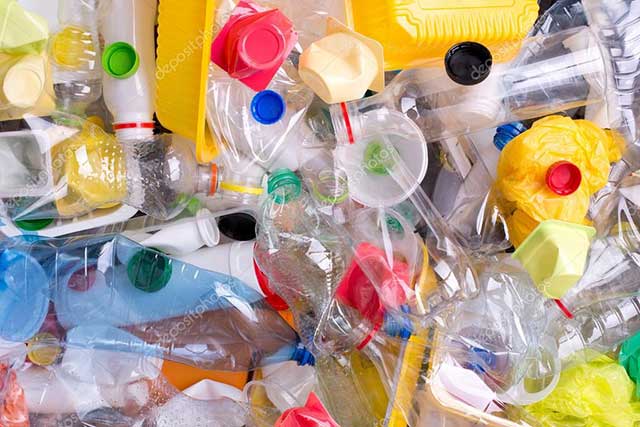 Plastic is made from hydrocarbons derived from petroleum or natural gas. The hydrocarbons are formed into chains called polymers or plastic resins. By combining hydrocarbon molecules in different ways, different grades of plastics can be created.
Food-grade plastics do not contain dyes or recycled plastics deemed harmful to humans. BPA-free plastics do not contain bisphenol A, an industrial chemical used to make plastics since the 1960s. However, we do not know the long-term impact of the chemicals used to replace BPA. The double-edged sword of using plastics in our ferments: convenience and price vs. health.
There are several categories of food-grade plastics, each graded according to the type of food it will come in contact with or its specific use. Any food-grade HDPE, LDPE, PP or polycarbonate container or item is appropriate for fermentation. These grades of plastics can withstand the salts used for fermentation and the acids created by fermentation.
Food-Grade Plastics Deemed Suitable for Fermentation:
#2 HDPE (high-density polyethylene) is used in milk, juice, water containers and food-grade buckets and is deemed the most food safe of all the plastics.
Many use a large plastic bucket – #2 HDPE – for a fermentation crock, though I highly recommend a water-sealed ceramic crock instead. If it is a white opaque plastic bucket that contained food it is fine. You can get food-safe plastic buckets free for the asking from restaurants, delis, and bakeries.
#4 LDPE (low-density polyethylene) is used in freezer bag plastics and bottles that require flexibility.
Some use freezer bags – #4 LDPE – filled with brine as a weight in their ferment.
#5 PP (polypropylene) has high tensile strength making it ideal for use in caps and lids. You'll also see #5 PP used for yogurt, syrups and ketchup containers.
I have used a yogurt lid cut to size as a fermentation weight.
Polycarbonate is a clear, shatter-resistant material used in restaurant storage containers.
Other grades of plastics are not designed to withstand the acidity of ferments.
I know the use of plastics is controversial and I realize some may not feel comfortable using any grade of plastic in their ferments. There are studies out there that confirm that hormone-disrupting chemicals and chemical additives leach from almost all plastics, even "safe" plastics.
If you choose to use plastics in your ferments, your best choice is those made from either #2 grade, #4 grade, #5 grade or polycarbonate.
Many fermentation lids will state that they are made from BPA-free plastic though I've yet to find which grade of plastic is used for most of them.
Plastic Fermentation Weights
Be aware that most plastic stains and absorbs odors that can be difficult to get rid of. I've heard of the use of sunlight to bleach stains. Avoid the use of any abrasive cleaner that can etch the plastic. Just clean gently with a soft cloth; you don't want to scratch plastics.
This trick might be worth a try:
Place plastic item inside a dry jar, and add some crumpled newspaper. Close the lid tightly. Let the jar sit for a day or two, then discard the newspaper and give it a sniff. If the odor is gone, wonderful. Gently wash item before re-using it.
ViscoDisc Canning Buddies
ViscoDisc Canning Buddies are simple, affordable and quite effective as discussed in this review post of mine and made from HDPE plastic.
A South African innovation designed and developed to solve a packaging problem in the commercial canning industry and have been in use for over ten years.
The Canning Buddies hold themselves in the neck by pushing outwards just above and below the narrowest part of the neck. They don't rely on the food to push them up, or on the lid to push them down.
Available for both wide-mouth and regular-mouth jars. Make sure you order the right size along with an Inserter. I use the regular-size canning buddies when making various condiments which I tend to ferment in smaller jars.
I now use them to store my sauerkraut, as explained in Tip #11 in this post on Dry Sauerkraut.
BPA Free, FDA Approved, Dishwasher Safe and Recyclable.
Manufactured from food friendly and recyclable HDPE, in compliance with both FDA and European standards.
Plastic Food Cup in Fermentation Kit by QRP
No products found.
The plastic food cup in this fermentation kit sits on top of your packed ferment to hold it below the brine. It acts in the same manner as the small glass jelly jar I recommend in my SureFire Sauerkraut in a Jar teaching recipe.
BPA-Free USDA Food Grade Compliant and produced by a reputable food container manufacturer.
Plastic Lids for Fermentation and/or Storage
When first learning to ferment – and maybe always – I like to keep things simple and use products easily found at your local big-box store, hence the white plastic storage cap for fermentation without the added expense of an airlock. When I first started fermenting, there were not the plethora of choices for fermentation lids that we have today, hence the need to use readily available materials
When fermenting with lids that have no airlock, leave it a tad loose to allow any build-up of gases to escape. For an in-depth discussion of lids with an airlock, see my post: 9 TOP Fermentation Lids for Mason Jar Fermentation [HOW AIRLOCKS WORK]
Mason Jar Fermentation Airlock Kit by Fermentology
There are many fermentation kits out there that use various plastic lids. This one is well designed and uses the ToughTops lid that is easier to grip and has a nice silicone gasket.
Made from sturdy food-safe and BPA free materials and includes silicone gasket seals to create a secure airtight seal.
Made in China.
Sturdy white plastic with ridges and groove cut into the lid.
White Plastic Storage Cap by Ball

I use these caps both for fermentation and for storing my ferments. Aftermarket silicone gaskets are available but, since there is no recessed groove in the lid, the lid will sit high on your jar.
iLIDS Wide-Mouth Mason Jar Storage Lids by Intelligent Lids
Made from recyclable material (BPA and phthalate-free) and dishwasher safe. Made in the USA.
These lids have become my favorites and would be my number one choice to use when making my own fermentation lid.
Tough Tops Plastic Wide-Mouth Mason Jar Storage Lids by MasonTops
Made from sturdy food-safe and BPA free materials and includes silicone gasket seals to create a secure airtight seal.
Made in China.
Sturdy white plastic with ridges and groove cut into the lid.
Silicone for Fermentation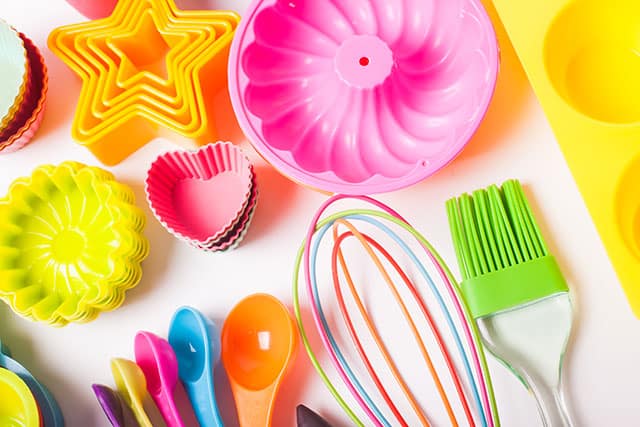 Silicone is FDA approved as a food-safe substance and is generally considered inert.
The testing that has been done on silicone was on medical-grade silicone without fillers or additives and at body or room temperature. These studies have shown that silicone is safe at these temperatures and long-term follow-up data support this.
Though I have not seen studies on its use in an acidic environment I feel comfortable using it for fermentation but I would not use silicone for baking.
You will see fermentation weights and fermentation airlocks made from silicone.
Silicone stains and absorbs odors that can be difficult to get rid of.
Silicone Fermentation Lids
Pickle Pipes by Masontops
Pickle Pipes are a unique one-way silicone valve designed for use with any sized wide-mouth mason jar. This simple, but ingenious – and colorful – design releases the gasses created by fermentation while preventing oxygen from getting in the jar. Simply clever!
The Pickle Pipe is fast becoming my favorite airlock due to the visual feedback it provides.
There is an ever-so-slight bulge in the Pickle Pipe as the gas created by the Mighty Microbes builds up in the sealed jar. More
here
in my Review Post.
Pickle Pipes are made from BPA-free and phthalate-free silicone. Lab report available from the MasonTops website.
Silicone Fermentation Weights
Pickle Pusher by Ultimate Pickle Jar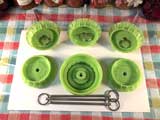 The Pickle Pusher Fermentation Weight
The Pickle Pusher by the Ultimate Pickle Jar is made from FDA food-grade, BPA-free, and phthalate-free silicone. The adjusting rod is made from 316-grade stainless steel, the higher quality steel designed for use in acidic environments.
It works like a charm, as discussed in my review post here, and really does hold your ferment below the brine.

Aluminum, Copper, Brass or Crystal for Fermentation – DO NOT USE
Do not use items made from aluminum, copper, brass or crystal. These materials can easily leach into your ferment and, in addition, can themselves be destroyed by the acid and salt from the fermentation process.
Wood – USE WITH CAUTION
Some have tried using wood to make a fermentation weight. Be careful with your sizing if doing so. Wood expands when sitting in moisture and can get stuck in your jar or even break it.
Just last week, I heard from a reader where this very thing happened. Luckily, he was able to repack his ferment into a new container. There you
There you have it. Hopefully, now you can make an educated decision when choosing fermentation materials: Glass? Ceramic? Plastic? Silicone? Stainless Steel? Which works best for you?
Last update on 2023-10-03 / Affiliate links / Images from Amazon Product Advertising API