Fermentation Masterclass: Beet Kvass & Kanji
Discover Beet Kvass and Kanji, two fermented, digestive tonics.
Learn how to make them and why you should be drinking them regularly.
PLUS: Two recipes demo with flavoring options based on your liking.
Don't be scared or intimidated by fermenting at home.
I'll give you step-by-step instructions and helpful guides that are easy to follow. You'll jump from fearful to fearless in no time—pinky swear!
By the end of my masterclass, you'll understand: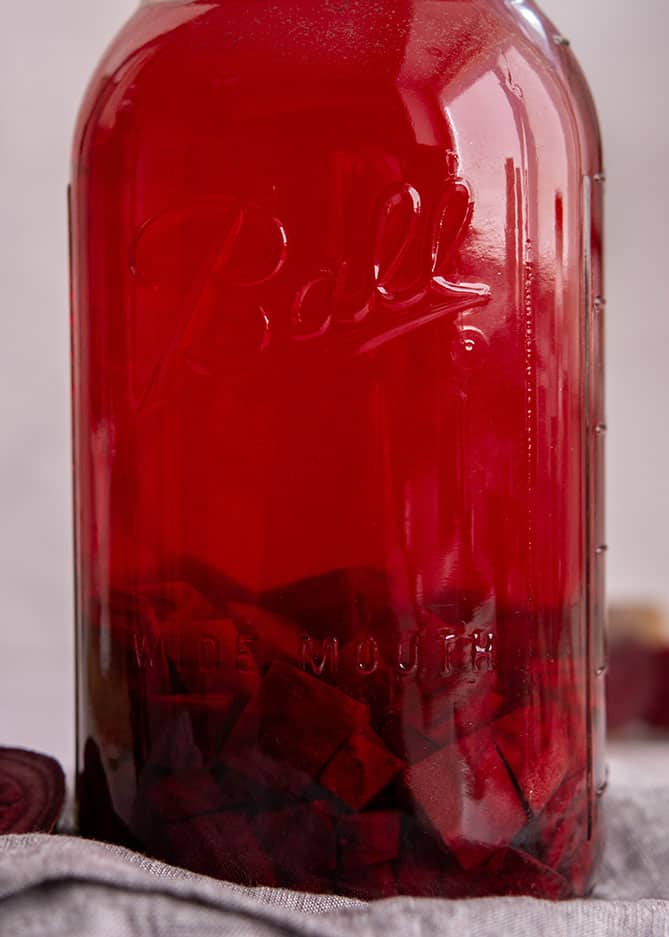 Why a daily shot of these tonics is so beneficial.
The difference between Kvass and Kanji.
How to use the infusion method of lactic acid fermentation.
How much salt to use, why, and how.
Your flavoring options and how to customize them to your taste.
An important daily task to prevent mold and yeast growth.
Here's what's included in my Beet Kvass & Kanji Masterclass:
Online Learning Portal, accessible on desktop or mobile.
Quick Starter Guide with an overview and how to access everything.
Fermentation Framework to help you understand how powerful and safe fermentation is.
"LIVE In the Fermentation Kitchen with Holly", a pre-recorded beet kvass and kanji Zoom class including a Q & A section.
Recipe Booklet, a PDF download to have at your side as you ferment.
Online recipe "Card Deck" to visually move through the recipe at your own speed.
Quick recipe for reference once you've mastered the process.
Fermentation Journal.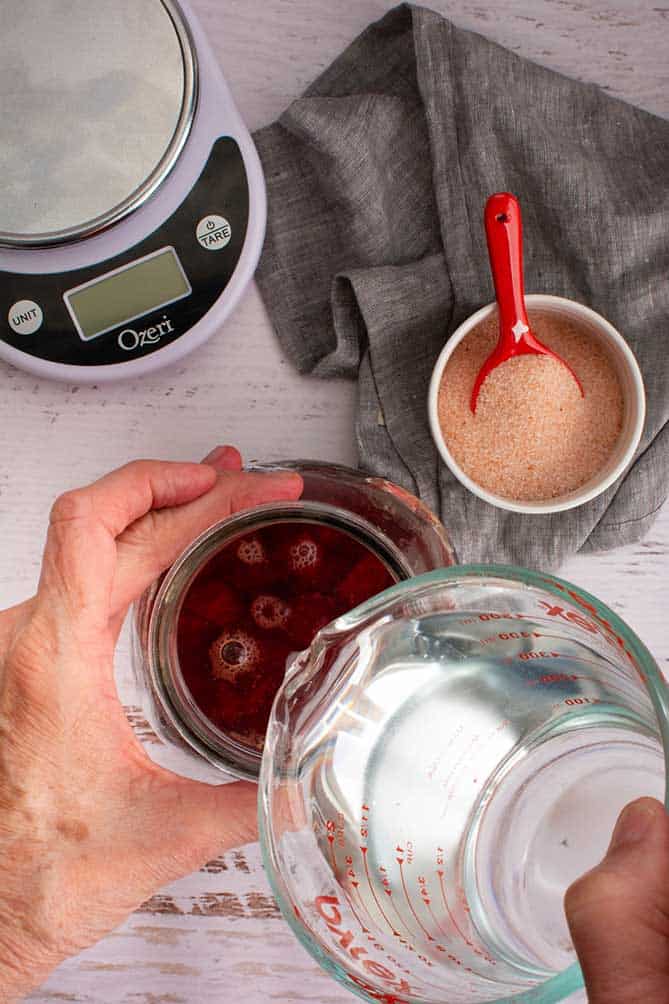 Students are loving this class:
Beet Kvass seems so exotic but Holly's online masterclass gave me the confidence to make this probiotic power drink.
I love my daily shot of tonic and my tummy does too!
Jeanne
Ucluelet, BC
I have recently been introduced to beet kvass and I love it.
Your masterclass explained in a clear way how simple it is to make this delicious and healthy drink. Thank you!
Hedwig
London, UK
Hi, I'm Holly Howe
Fermentation Educator
In 1985, on a quiet side street in Moscow, Russia, a woman named Nastasia invited me to her home and offered me my first kombucha. I was hooked. And this was way before kombucha was hip, mind you.
At a pub in Munich, Germany, I ate my first sauerkraut alongside bratwurst and washed it down with a stein of hefeweizen. I don't drink beer anymore, but sauerkraut is my daily fix.
Once, on a two-week road trip from Vancouver Island to Napa Valley, I didn't bother to pack my sauerkraut. My digestion slowed to a crawl, my energy plummeted, and the fun was gone. That was the last time I made that mistake.
I have been learning, perfecting, and teaching the art of fermentation since 2002.
My mission is to help people invite the powerful and fun world of healthy bacteria into their homes in order to ferment delicious, gut-healing foods.
I have taught over 750 happy students how to safely ferment at home, both in-person and online. Come join the fermentation party!
MORE ABOUT Holly…
Got questions? I have answers.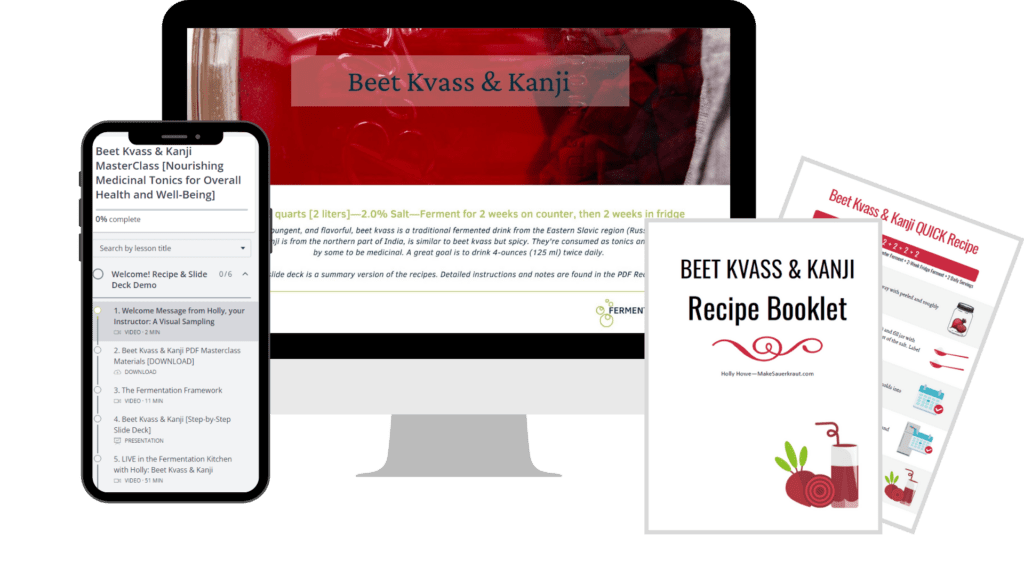 Yes. All payments are processed through the course platform payment processor and are 100% secure. We accept all major credit cards as well as PayPal.
What happens after I buy the masterclass?​
You'll receive an email with login instructions to access the members' area and get immediate access to all course materials.
No. Most of the equipment you'll need is probably already in your kitchen. If you don't have a canning jar, you can use a similar jar or glass vessel.
Do I need prior fermentation experience to take this masterclass?
No. This masterclass is designed for both total newbies as well as fermentation fans who want to add to their existing skills.
The course is pre-recorded, ready for you to watch and use when you are ready.
You will have access to the Beet Kvass & Kanji Masterclass and any updates to the program at no additional cost for the lifetime of the program. Pay once, access it whenever you need a refresher, and ferment like a pro… forever!
What if I am not satisfied with the Masterclass?​
I offer a full 30-day money-back guarantee. If you buy the Beet Kvass & Kanji Masterclass and you don't find it delivers on its promise, I will promptly refund your money. No questions asked.
Just let me know at [email protected] within 30 days of your purchase date.