When life gives you cabbage, you make sauerkraut. For those of you who want to keep life simple, this is your recipe. Shred cabbage, mix in salt, and pack the juicy mass—along with all those hardworking bacteria—into a jar. Easy peasy. A simple sauerkraut recipe.
Note: If this is your first time to make sauerkraut, consider checking out How to Make Sauerkraut in a Jar [THE COMPLETE GUIDE], with its step-by-step photography, tips, and additional fermentation information first, then return to this recipe.
I call it my teaching recipe. It's where I help you master the art of making sauerkraut.
Consider fermenting vegetables as a group activity. Enlist the kids, your significant other, friends, and guests to chop, slice, or grate, salt and massage, pound, or press vegetables, into a crock. No experience is necessary so even the youngest member can participate. And for the "I don't like kraut" set, they're sure to at least taste the ferment they helped make.
—Kirsten K. Shockey and Christopher Shockey, Fermented Vegetables
Cabbage, The Foundation for Your Sauerkraut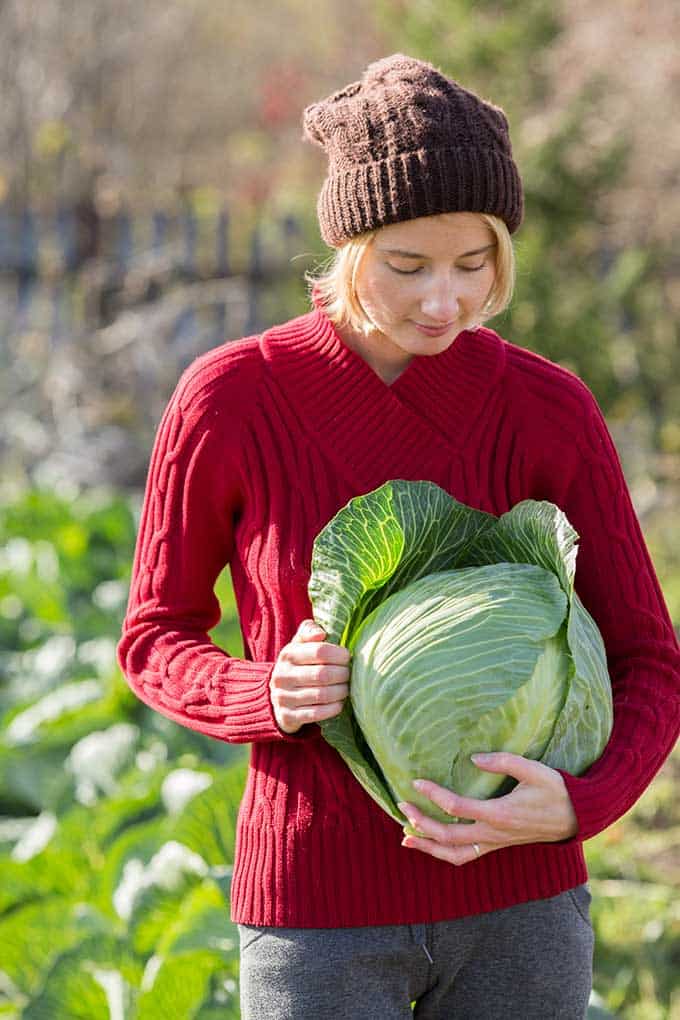 Cabbage, the star player in the creation of sauerkraut, is a superfood beyond compare.
Enjoy the Many Benefits of Cabbage
All cruciferous vegetables in the cabbage family are anticancer foods. Cabbage is also a rich stimulant for digestive enzymes and will stimulate a healthy balance of stomach acid.
In addition, cabbage is rich in sulforaphane, which supports the body's production of detoxification enzymes, and this has antioxidant effects.
Select Top Quality Cabbage
The better your ingredients are for your sauerkraut, the better the finished product will be. Ideally, only organic produce should be used when fermenting.
Not only do vegetables sprayed with pesticides have many of the beneficial bacteria killed off, but they tend to have lower levels of the many nutrients that are food for the bacteria that will transform the vegetables you used into delicious probiotics.
The greater the nutrition in the vegetables you are using, the more food the beneficial bacteria will have to eat, and the better they will work for you. Feed them well.
Wonder at the Power of Fermentation
However, if organic cabbage is not accessible or affordable, here are a couple of things to keep in mind.
One, cabbage sits toward the top of the Environmental Working Group's annual list of "Clean 15," or produce least likely to contain pesticide residue. Therefore, don't fret if you don't have access to organic cabbage.
Two, during fermentation, pesticide residues and other toxins present on what is being fermented are broken down and degraded. Pretty amazing.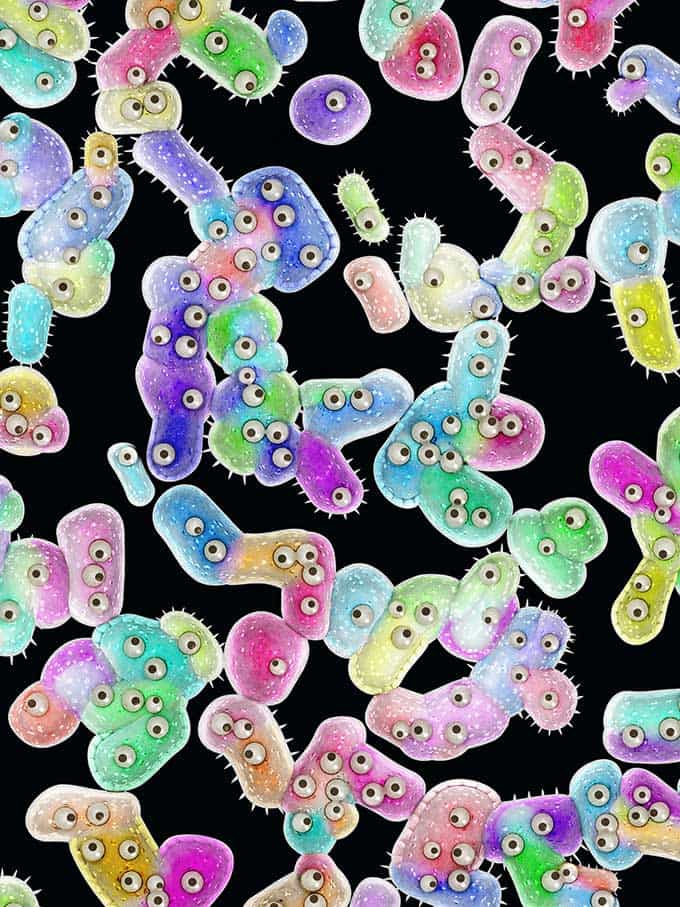 A 2009 study by Gyeongsang National University in Korea examined the role of microorganisms in the degradation of insecticides during the fermentation of kimchi.
At the onset of fermentation, the kimchi was inoculated with the insecticide chlorpyrifos (CP). The CP degraded rapidly until day 3 and degraded completely by day 9.
Four different lactic-acid-producing bacterial strains (Leuconostoc mesenteroides, Lactobacillus brevis, Lactobacillus plantarum, and Lactobacillus sakei) were identified as the responsible bacteria. There's no need for you to memorize these names, though Lactobacillus plantarum is the one you'll often see listed on probiotic supplement jars and cited when identifying which bacteria have the most beneficial health effects.
A 2008 study done by the Iranian Agricultural Engineering Research Institute examined the potential of isolated lactic acid bacteria in the degradation of agricultural pesticide residue (malathion and diazinon) during the fermentation process.
The initial concentrations of malathion and diazinon in the vegetable (unprocessed sample) were 3.5 and 0.6 milligrams per kilogram respectively.
After 48 hours of fermentation, the concentration of malathion considerably decreased and reached 0.5 milligrams per kilogram, whereas diazinon concentration only decreased by about 0.1 milligrams per kilogram. The remarkable degradation of the malathion during fermentation could be attributed to its instability at low pH ranges.
At the onset of fermentation, the pH of your sauerkraut is around 6.0. In just a few short days, that drops to 4.0, or below. At this low pH, the tested pesticide residues degrade.
So, if you are unable to obtain entirely chemical-free produce, appreciate the power of bacteria and recognize the value of fermenting foods. This is why technically sauerkraut is safer to eat than a fresh green salad or spinach salad. This is not to say that you should stop eating salads but instead don't be fearful of eating something left to ferment on your counter for days, if not weeks.
What Type of Cabbage to Use for Sauerkraut?
You can use any variety of cabbage in your sauerkraut: green, red, napa, or savoy. However, for your first few batches of sauerkraut, I recommend that you use standard green cabbage. It ferments fabulously, which is one more way to guarantee success, and it gives you a baseline to gauge how future batches are fermenting.
Green Cabbage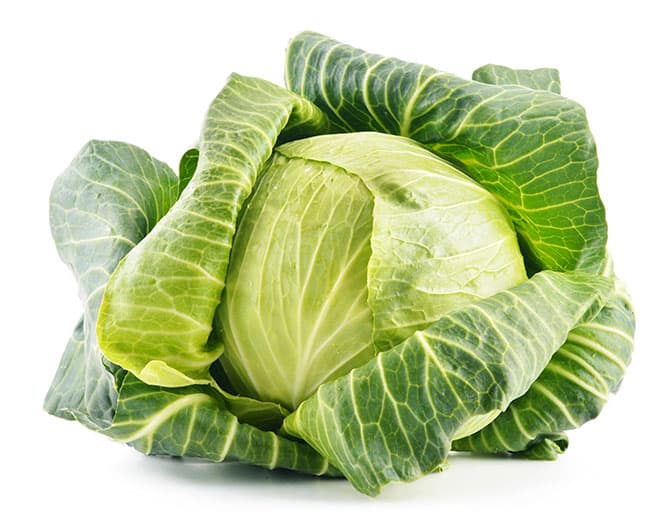 Green Cabbage is my favorite when it comes to making sauerkraut. This king of the cabbage world has wide fan-like leaves that are pale green in color and hold together well through the fermentation process. I almost always use the traditional round-headed green cabbage, because it is commonly grown by my local farmers, has a nice texture, and retains most of its crunch throughout the fermentation process.
Red Cabbage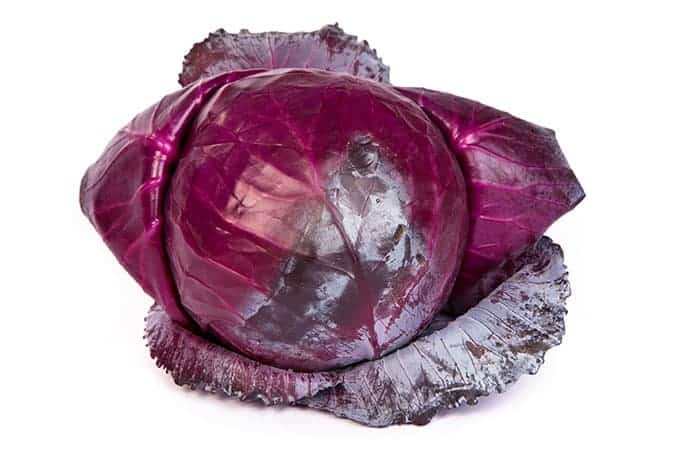 Red cabbage, though similar in shape to green cabbage, is a tad deeper and earthier in flavor, with tougher leaves. Its tougher leaves mean it will take longer to ferment than traditional green cabbage. In addition, red cabbage is rich in anthocyanins, the compound that gives red cabbage—and blueberries, Concord grapes, and black tomatoes—its distinctive dark color. Anthocyanins also act as antioxidants and are believed to have anti-inflammatory properties.
Napa Cabbage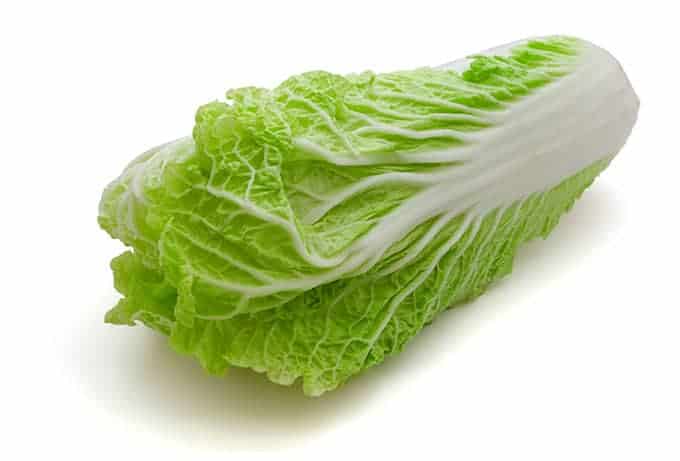 Napa cabbage, also called Chinese cabbage, is an oblong-shaped cabbage that is milder and sweeter than green cabbage. It has white stalks and crinkly, light yellow to pale green leaves. Napa cabbage is traditionally grown all over Asia and is prized for its soft, fleshy, juicy leaves, which form the core of any kimchi recipe.
Savoy Cabbage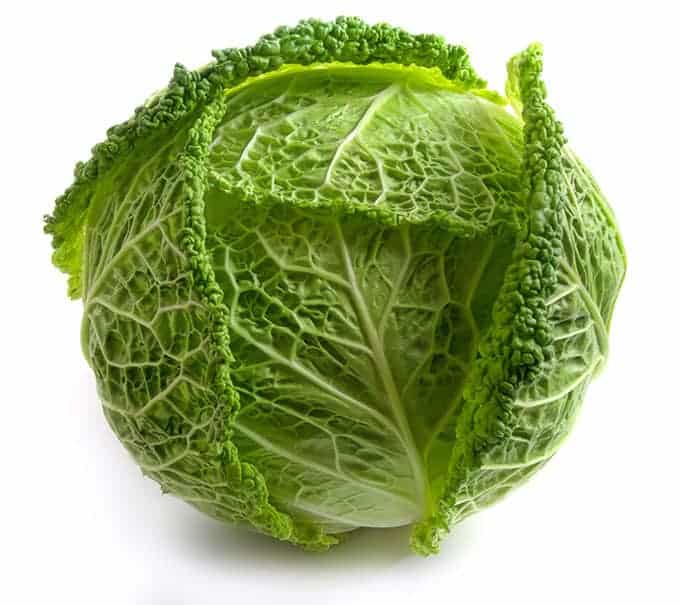 Savoy cabbage is a beautiful cabbage with textured leaves. It is shaped like green cabbage but with tender, deeply crinkled leaves that will ferment more quickly than common green cabbage.
Summer Cabbage vs. Winter Cabbage
Cabbage is available year-round in most markets, enabling you to make sauerkraut throughout the year. Specific varieties of cabbage fall into two broad categories: summer and winter.
Summer cabbage is sown in early spring and harvested throughout the summer. Summer cabbages grow faster and tend to have thinner leaves and overall lower moisture content.
Winter cabbage is usually sown in late summer and harvested in late fall. Winter cabbages grow slower and have thicker leaves and higher moisture content, making winter cabbage ideally suited for sauerkraut. Farmers usually wait until there have been a few light touches of frost to harvest winter cabbage. Cabbage reacts to cold conditions and frost by producing sugars, making it taste rather sweet.
Cabbage Selection Guide
When purchasing cabbage, select for size, sweetness, and freshness:
Size. Choose heads that seem heavy for their size, an indication of freshness. The tighter the cabbage leaves, the easier the head is to slice.
Sweetness. Sugar levels in your cabbage can vary quite a bit depending on variety and growing conditions. The sweeter the cabbage, the greater the depth of flavors obtained, and the better fermentation unfolds. Taste a few slices of the raw cabbage, staying away from heads that taste bitter.
Freshness. The fresher the cabbage, the more brine it will create. Most cabbage is grown in the fall, stored throughout the year, and shipped to the stores as requested. During storage, it dries out. This loss of moisture means the cabbage can create less brine. Cabbages that are light for their size, with outer leaves that are wilted, brown, or excessively torn, could be older. Check the bottom of the cabbage to be sure the leaves are not beginning to separate from the stem, an indication of age.
If You Must: Traditional Sauerkraut Spices
I've been fermenting sauerkraut for almost 20 years. Just this year, I made my first ever batch of "plain" sauerkraut. So, if anyone has a hard time leaving cabbage to shine on its own in sauerkraut, that would be me.
If you would like to add some traditional flavor to your sauerkraut, here are traditional spices to consider.
Note: Both juniper berries and caraway seeds are anti-fungal and help to keep mold, yeast, and other microorganisms from growing in your sauerkraut.
Caraway Seeds, a Classic Addition: Use 1 teaspoon (5 ml)
Old world flavor. Russia rye bread. German cooking. Visually appealing.
Juniper Berries: Use 1 tablespoon (15 ml)
Refreshing. Aromatic. A piney burst of flavor. Crush before adding.
Note: I've seen many recipes where both caraway seeds and juniper berries were used.
Dill: Use 1 tablespoon (15 ml) fresh, or 1 teaspoon (5 ml), dried
The addition of dill to my first batches of sauerkraut was inspired by the first sauerkraut I purchased—Bubbies Sauerkraut.
Sauerkraut Potato Soup
When I have a batch of sauerkraut that is a bit lackluster in flavor or one that I accidentally fermented for too long, I use recipes in which the sauerkraut is cooked as this one by a Very Good Friend of mine at Very Good Cook. He helps cooks make tasty vegetarian food using simple ingredients and easy-to-follow steps.
Yes, you lose the probiotic benefits but the flavors in the soup are incredible due to the tanginess of the sauerkraut. It's another way to add umami to a dish, just as when adding fish sauce to kimchi.
Sauerkraut-Potato Soup by Very Good Cook
The Five Tools I Grab Every Time I Make a Batch of Sauerkraut
Fermentation Weight and Airlock Lid
White Plastic Storage Caps
A Scale: MyWeigh KD-8000 Digital Scale
Quart (Liter) Jar: Wide-Mouth
The Trellis + Co. Pickle Helix Kit is strong enough to hold your ferment below the brine throughout fermentation. Its design leaves plenty of room for brine.
Use for storing sauerkraut or as your lid during fermentation.
A bit pricey but a workhorse. Makes weighing your ingredients and salt a breeze.
My favorite fermentation salt. Broad range of minerals. Add subtle flavor.
Quart (Liter) Jar: Wide-Mouth
Fermentation Weight and Airlock Lid
The Trellis + Co. Pickle Helix Kit is strong enough to hold your ferment below the brine throughout fermentation. Its design leaves plenty of room for brine.
White Plastic Storage Caps
Use for storing sauerkraut or as your lid during fermentation.
A Scale: MyWeigh KD-8000 Digital Scale
A bit pricey but a workhorse. Makes weighing your ingredients and salt a breeze.
My favorite fermentation salt. Broad range of minerals. Add subtle flavor.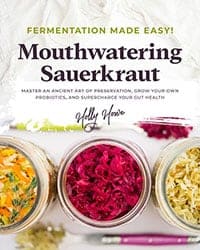 Bare-Naked Sauerkraut Recipe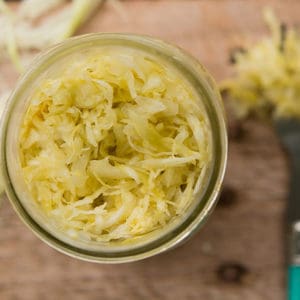 Bare-Naked Sauerkraut Recipe
When life gives you cabbage, you make sauerkraut. For those of you who want to keep life simple, this is your recipe. Shred cabbage, mix in salt, and pack the juicy mass—along with all those hardworking bacteria—into a jar. Easy peasy.
You Will Need
Instructions
1. SET UP: Gather Supplies and Set Up Scale
Using a scale to weigh your cabbage is the way to guarantee success. You'll be able to slice just the right amount of cabbage to fit in your fermentation jar.
Round up all your equipment so it is on hand as you work your way through the recipe.

You don't want to include the weight of your bowl in your measurements, so either zero out the scale or write down the weight of your bowl. 
2. CHOP: Slice Your Cabbage
If you are adding any seasoning to your sauerkraut, now is the time to sprinkle it into your bowl.

Discard the limp outer leaves of the cabbage, setting aside one of the cleaner ones for use during step 5, SUBMERGE.

Quarter, then slice cabbage crosswise into thin ribbons. I leave the core in because I find it helps to hold the layers of cabbage together making the slicing job easier. There are many ways to slice that cabbage as reviewed in this post.

Add sliced cabbage to your bowl until weight of cabbage is 1¾ pounds (28 ounces, 800 grams).
3. SALT: Create Your Brine
This is the fun part. Salt will put the moisture out of the cabbage cells to create a brine in which the salt loving bacteria grow and proliferate while the bad bacteria die off.
Sprinkle the cabbage with one tablespoon (15 ml) of salt.

OR...

Be a Fermentation Ninja! Measure Your Salt Like a Pro

You'll want to be working in grams for this. Your scale should read 800 grams, which is the amount of sliced cabbage you added to your bowl. You need to add 2% salt. For 800 grams, that is 16 grams of salt. Sprinkle salt into your bowl of sliced cabbage until the scale reads 816.

Mix well until salt is evenly dispersed.

Once the salt is dispersed, you can let the salt work on its own. At this point, I usually leave the salted cabbage sit for 10-15 minutes while I clean up the kitchen. (When you come back, you'll see the cabbage glistening with moisture and find that it requires very little massaging to create the brine.)

Massage your salted cabbage with strong hands until moist, creating the brine. The mixture will wilt, shrink in size, and start to "squeak" as your work it.

Work it until you see a 2-3 inch puddle of brine when you tilt the bowl to one side. If little or no brine is being created, see this post for some tips.
4. PACK: Pack Mixture into Jar
Grab handfuls of the salty, juicy cabbage mixture and pack it into your quart-sized (liter) wide-mouth canning jar, periodically pressing the mixture down tightly with your fist or a large spoon so that the brine rises above the top of the mixture and no air pockets remain.

Be sure to leave at lease 1 inch of space between the top of the cabbage and the top of the jar. Because we weighed out just the right amount of cabbage to fit in your jar, this should happen automatically.

Pour any brine left in your mixing bowl into the jar and scrape out any loose bits stuck to the sides of the bowl or to the side of your jar.
5. SUBMERGE & SEAL: Hold Ferment Below Brine
Now, it's time to make sure your fermenting mixture is in a safe anaerobic (no air) environment. This means that you need to keep the cabbage mixture submerged in the brine while it ferments, especially during the first 5-7 days.
Take that cabbage leaf you during the SETUP step, tear it down to just fit in the jar, and place it over the surface of the packed cabbage. Forgot to save a cabbage leaf? No problem. You can fold a narrow piece of parchment paper to size or even cut an old plastic lid to size. 

Place the 4-ounce jelly jar on top of the cabbage leaf, right side up with its lid removed. In this picture, I am using my favorite weight, the PickleHelix by Trellis + Co. with a link to it right above this recipe.

Lightly (to allow for escape of CO2 gases), screw on the white plastic storage lid.

I like to label my jars using green or blue painter's tape and a permanent marker. I note the flavor of sauerkraut I made and the date I started fermenting.
6. Ferment: Ferment for 1 to 4 Weeks
Time now for the friendly bacteria to transform salty cabbage into tangy sauerkraut. 
Place your jar of fermenting sauerkraut in a shallow bowl (to catch the brine that may leak out during the first week of fermentation), out of direct sunlight. Ideally, wait for 1 week before opening to sample.

Should the brine level fall (very unlikely) and remain below the level of the sauerkraut during this first week, 

dilute 1 Tbsp of salt in 2 cups of water 

and pour some of this brine over the sauerkraut (removing the little jar first) until it just covers the mixture. Put the little jar back in, screw the lid on lightly and let fermentation continue.

Don't worry if the brine disappears after the 7- to 10-day mark. By this time, you've created a safe environment in which the bacteria that would cause mold or slime has been chased away by the beneficial bacteria produced during the fermentation process.

You can ferment your sauerkraut for up to 4 weeks. The longer you ferment it, the greater the number and variety of beneficial bacteria that can be produced. One study shows bacteria levels peaking on day 21. 
7. STORE: Store in Refrigerator for Up to 1 Year
After your sauerkraut has fermented to your liking, it's ready to go into the refrigerator to then be effortlessly added to any meal or dish. 
Rinse off the outside of the jar. You can take the little jar - or whatever fermentation weight you used - out. Clean the rim if necessary (sometimes it can get sticky from the brine that overflows), and screw the lid back on tightly. If you used an airlock lid, clean that up and save it for another batch of sauerkraut.

Add to your label how long you fermented your sauerkraut.
Enjoy!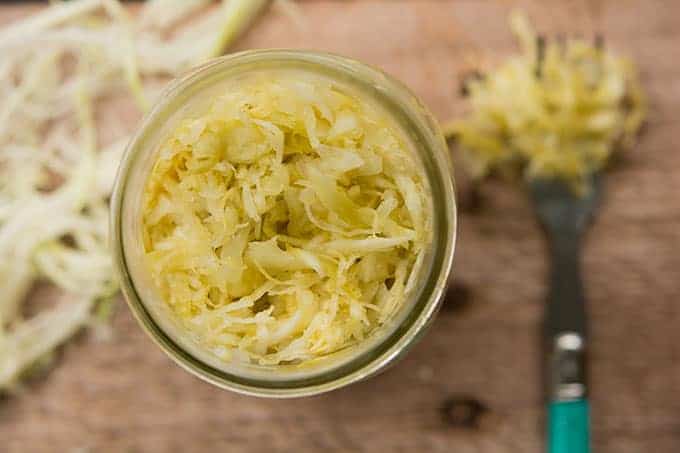 Enjoy a forkful or two of your sauerkraut with your meals. It will continue to ferment – aging like a fine wine – but at a much slower rate than before. If the flavors are too intense, leave it the jar for a month or two and then eat it. You will be amazed at how the flavors evolve.
Last update on 2020-09-20 / Affiliate links / Images from Amazon Product Advertising API